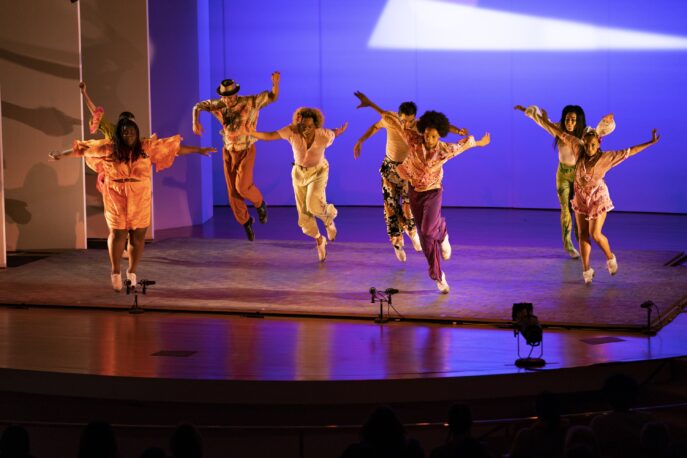 Guild Hall has selected the tap dance and live music company, Music From The Sole, as a 2023 Guild Hall William P. Rayner Artist-in-Residence. Music From The Sole celebrates tap's Afro-diasporic roots, particularly its connections to Afro-Brazilian dance and music, and its lineage to forms like house dance and passinho (Brazilian funk). Led by Brazilian dancer/ choreographer Leonardo Sandoval and by bassist/ composer Gregory Richardson, their work embraces tap's unique nature as a blend of sound and movement, incorporating wide-ranging influences like samba, passinho, Afro-Cuban, jazz, and house.
As William P. Rayner Artists-in-Residence, the company will develop material for a new evening-length work of tap, Afro-Brazilian and house dance, and original live music. This new piece, commissioned by The Joyce Theater, will dig deeper in the company's focus on creating and presenting tap dance as both movement and music, with their inseparable choreographic and compositional processes. Band members will be incorporated in aspects of the movement/ choreography, and dancers will play instruments as part of the band in various parts of the work, embracing and highlighting their role as active creators of the music they move to. The company will also develop narrative elements to continue celebrating tap's Afro-diasporic roots, while exploring themes central to the Black, immigrant, queer/ LGBTQ2IA+ identities that make up the company.
To aid in the development of this new work, Music From The Sole will receive weekly creative feedback and guidance from Guild Hall staff members and their creative mentors, Gina Gibney (Founder, Artistic Director & CEO, GIBNEY DANCE). Additionally, the company will be immersed in the creative community of the Hamptons through various salon dinners and workshop series with students from Our Fabulous Variety Show.