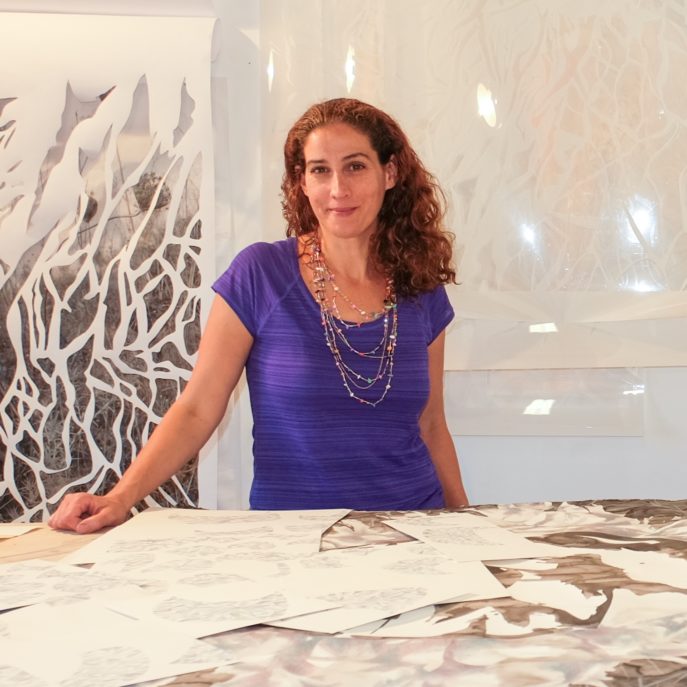 Keren Anavy is a New York based multidisciplinary visual artist, working in drawing, painting, installation and performance. A Member Artist at The Elizabeth Foundation for the Arts- EFA Studio Program, New York City.
Anavy's process and research-based practice scrutinize issues of the dynamic relationships between nature, culture and sites. Her paintings are the point of departure for large scale site-specific installations and, or performances that operate on an architectural scale.
Anavy has exhibited widely in solo and two person exhibitions including solo exhibitions at the Sunroom Project-Space, Wave Hill, Bronx, New York, ZAZ10TS Gallery space and billboards, Times Square, New York. The Janco-Dada Museum, Ein Hod, Haifa Museum of Art, both in Israel. Her interdisciplinary performances showed at Pioneer Works, Brooklyn, New York, Danspace Project, St. Mark's Church, New York City and at the Queens Museum, New York among many other venues.
Her two-person exhibitions include SPRING/BREAK Art Show 2018, New York, Autonomous University of Hidalgo State, Pachuca, Mexico, The Gallery of the Cultural Institute Mexico-Israel, Mexico City among others. Her artist book The Nature of Things in collaboration with Tal Frank was launched at Printed Matter's NY Art Book Fair 2019 at MoMA PS1 and was up on Times Square Billboard as part of a curated project by ZAZ10TS New York (2020).  
Group exhibitions include The Elizabeth Foundation for the Arts, Walsh Gallery NJ, The Pratt Institute New York, Flux Factory, New York, The Korean Cultural Center, New York and NARS Foundation Gallery, New York, The Israel Museum, Jerusalem, Tel Aviv Museum of Art, Israel and The 2nd International Biennale of Painting and Sculpture, Split, Croatia among others.
Anavy was selected to be Artist in Residence at Marble House Project, Dorset Vermont, Fall 2021. Residencies include Wassaic Project, Wassaic, New York (2019), The Studios at MASS MoCA, Massachusetts (2019), AIRIE Everglades, National Park, Florida (2018), The New York Art Residency and Studios (NARS) Foundation, Brooklyn, New York (2015-16) among others.
She participated as a Mentor at New York Foundation for the Arts (NYFA), IAP, 2020, and was a Mentee fellow in 2017. Anavy is a recipient of the Asylum Arts, New York Grant (2017-18).
Anavy received her MFA from Haifa University, Israel, and her BA in Art History from Tel Aviv University, Israel. She graduated at Hamidrasha School of Art, Beit Berl College, Israel and has an Art teaching certificate. 
She is the artistic director New York at Radio28, cultural exchange program located in Mexico City, and an art educator, often working closely with the community. Since moving to the U.S Anavy writes about art and culture in New York and North America at Basis for Art & Culture Magazine (Hebrew). 
http://www.kerenanavy.com/