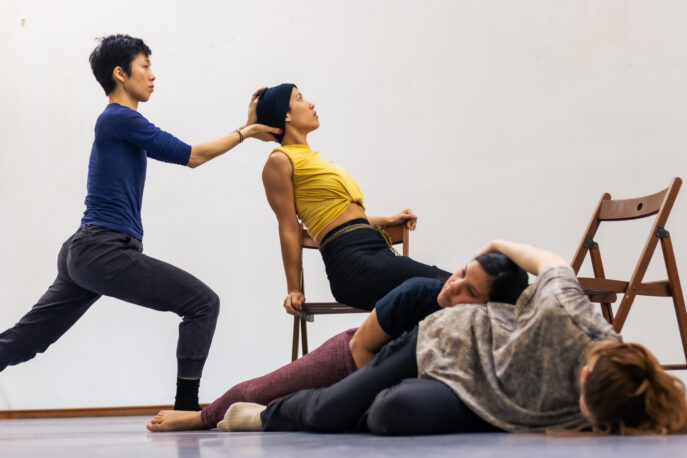 Catherine Galasso (Director) has been creating original dances for 15 years. Her works revolve around the inherent architectural and narrative qualities of the dancing body, granting equal influence to light, sound, and space. She embraces historical renderings and inspirations in a collaborative approach that values intuition and co-authorship. Galasso has personal roots in the avant-garde through her artist parents, evident in her unique style that is steeped in postmodern abstraction, combined with a pop sensibility that is playfully self-aware. Her work has been featured in the Oxford Handbook of Screendance Studies, and she has been commissioned by Danspace Project, River to River Festival, Arts Brookfield, ODC Theater and the Kohler Arts Center, a.o. Her 2015 collaboration with Andy de Groat was nominated for a 'Bessie' Award and her 2018 Alone Together was awarded a San Francisco "Izzie."
Indah Mariana (Performer & Co-Creator) is a choreographer, performer, and dance educator. She has danced in Taiwan, Singapore, Malaysia, Indonesia, Thailand, and across the US. Indah earned a BFA in dance from Purchase College Conservatory of Dance in 2008 and an MFA in dance from NYU Tisch School of the Arts in 2014. As a choreographer, Indah was awarded a Creative Engagement Grant from the Lower Manhattan Cultural Council in 2017. Indah has showcased work at venues and festivals including NYU Tisch School of the Arts, Lawrence University, Danspace Project, The Watermill Center, Seattle Asian Art Museum, LaGuardia Performing Arts Center, Dixon Place, and many others. Indah is currently a Visiting Assistant Arts Professor at NYU Tisch School of the Arts.
Martita Abril (Performer & Co-Creator) is a performer, choreographer, and teaching artist from the border city of Tijuana, México. She's worked with dance artists and companies throughout México, South America, and the US, including Lux Boreal, Cristina Baquerizo, Kim Brandt, Yoshiko Chuma, Rebecca Davis, Milka Djordevich, Daria Faïn, Allyson Green, Abigail Levine, Mina Nishimura, Cori Olinghouse, Okwui Okpokwasili, Will Rawls, and was a performer in Simone Forti's Dance Constructions at the Museum of Modern Art. Martita has been the recipient of a Mexican national fellowship (FONCA) and a Fresh Tracks Artist at New York Live Arts (NYLA). Her work has been seen at NYLA, The Knockdown Center, Movement Research at the Judson Church, CPR, NYFA, HERE Arts Center, Potiker Theater at UCSD, Instituto de Cultura de Baja California, and site-specific locations throughout NYC and Tijuana. She was mentor for the NYFA Immigrant Artist Program from 2015-2020, and is currently the Programs and Events Manager at Movement Research (MR).
Sheryl Sutton (Performer & Dramaturg) began her career as a performer with theater director Robert Wilson in the 1970s, starring in a number of productions including A Letter For Queen Victoria (1974), Einstein on the Beach (1976, 1984) and Zinnias (2013), among others. During this period she toured the world with Wilson's company, performing at venues like Brooklyn Academy of Music, Festival d'Avignon, Kennedy Center, Metropolitan Opera, Opera Comique, Spoleto Festival, and Théâtre de la Musique. She recently performed with Big Dance Theater in The Road Awaits Us, directed by Annie-B Parson, at NYU Skirball Center (2019). She is also the subject of a forthcoming play by writer and critic Hilton Als, Lives of the Performers.
Saori Tsukada (Performer & Co-Creator) is a New York based creator/performer who harnesses her ability in theater, dance and beyond. Born in America and raised in Japan, Tsukada's "virtuoso" (TimeOut NY) performance with "startlingly precise movements" (The New York Times) have been seen at venues like BAM, Public Theatre, The Kitchen, Japan Society, La MaMa and more. Among her many collaborators are choreographers Yoshiko Chuma and Catherine Galasso, playwright/directors Aya Ogawa and Keishi Nagatsuka, composer Joe Diebes and video artist Katja Loher. Her acclaimed duet performance with composer/theater artist John Moran (nominated for Best Actress at Dublin Fringe Festival) has toured across the U.S. and Europe. Tsukada is an alumni of Devised Theater Working Group, where she developed Club Diamond (premiered at The Public Theater as part of Under the Radar '17) with co-creator Nikki Appino. Currently, she is developing a stage adaptation of Kafka's Metamorphosis(Direction: Aya Ogawa, Music: Philip Glass).
Toni Carlson (Performer & Co-Creator) is a dancer and performance maker based in Brooklyn. She has appeared in the work of Yanira Castro, Moriah Evans, Ishmael Houston-Jones & Miguel Gutierrez, Brendan Fernandes, Alex Rodabaugh, and Ming Wong as well as her own. She has presented her own work as part of the Rooftop/GroundFloor Introducing Series, Hot Consumer Trash, curated by Alex Romania, and through Movement Research at the Judson Church.
RoseLee Goldberg (GH Academy of the Arts Mentor) is a world-renowned art historian, critic and curator, is Founding Director and Chief Curator of Performa. Launched in 2004 to create a highly visible public platform for contemporary art and performance by artists, Performa, has changed public and academic perception of performance art with its exciting city-wide Biennial, ground-breaking commissions, publications, and original arts-broadcasting platform. Performa has inspired the establishment of performance departments in cultural institutions around the globe. Goldberg's many publications include her pioneering book, Performance Art: from Futurism to the Present, first published in 1979 and now in fourteen languages; Laurie Anderson (2000), and Performance Now; Live Art for the 21st Century (2018). Former director of the Royal College of Art Gallery in London and curator at The Kitchen in New York, Goldberg has organized performance series at the Museum of Modern Art, The Guggenheim and Garage in Moscow. Her many awards include Chevalier of the Order of Arts and Letters from the French Government, Yoko Ono's Courage Award for the Arts, the Agnes Gund Curatorial Award, and the title of Honorary Advisor to the Ministry of Culture, Taiwan. A graduate of the Courtauld Institute, Goldberg has taught at NYU Steinhardt since 1987.