Exquisite Corpse Company in association with Guild Hall presents
Zoetrope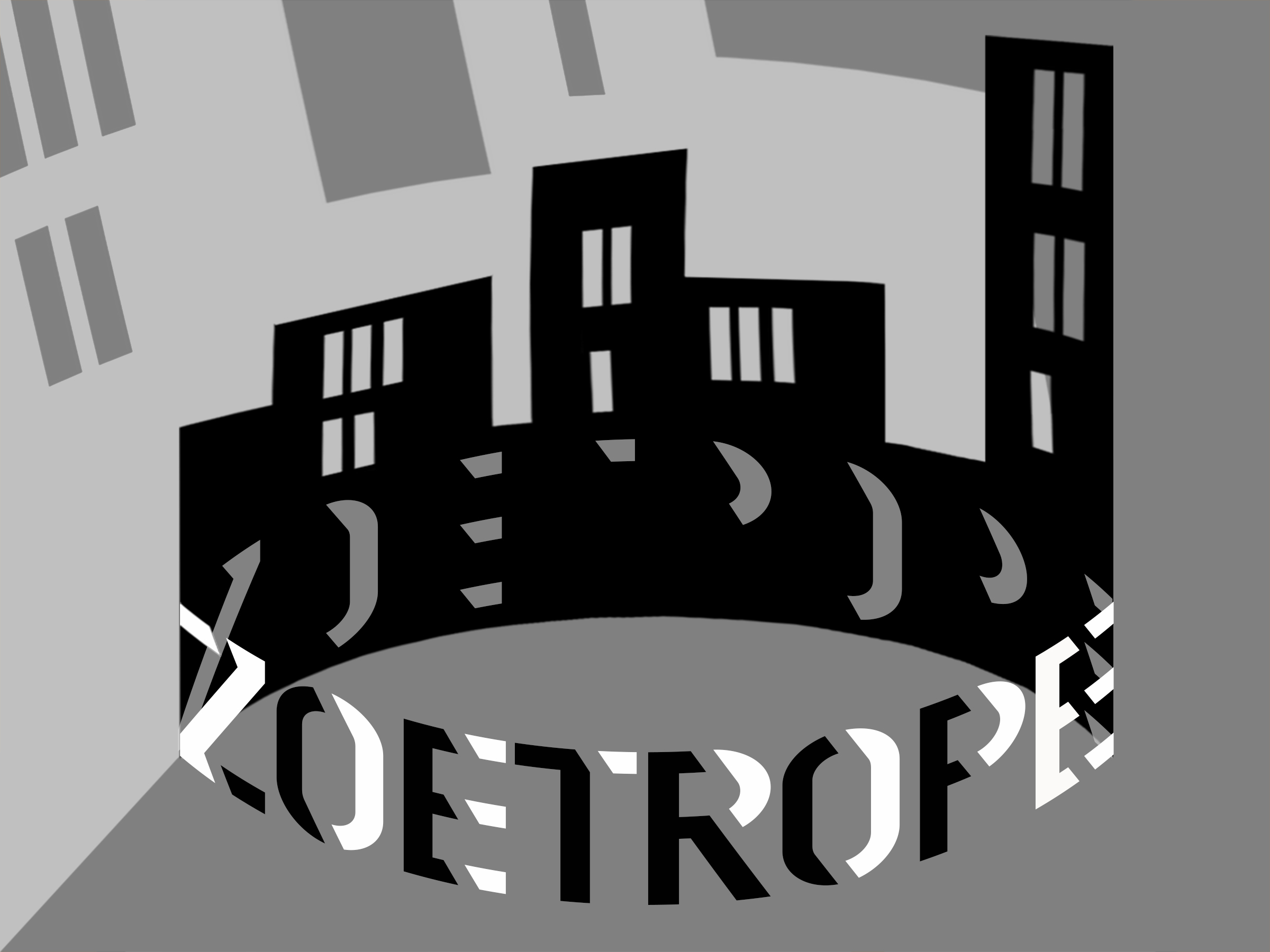 Overview
Two people, a fish, a New York City apartment on top of a trailer bed, and you. Exquisite Corpse Company is back with an interactive, immersive, and portable living diorama of 2020. Written by our writers in residence: Leah Barker, Emily Krause, and Elinor T Vanderburg, and co-directed by Porcia Lewis and ECC's Artistic Director Tess Howsam, Zoetrope will be on the streets, literally, of Brooklyn and beyond with socially distanced seating for a limited and lucky audience, summer 2021.
The mission of this project is to use our shared experiences as a nation and as individuals, to create an interactive performance that offers reflective healing and generative dialogue as we continue to process 2020 in 2021. Linking moments of connection and loneliness, with a surrealist twist, this mobile piece presents an accessible (Covid-19 conscious) platform for people across the New York City boroughs and state lines.
Over the course of 35 minutes, the audience experiences an interactive, COVID-19 safe, live performance, and plays a role in dictating the way the story plays out.  The project aims to explore interactivity and intimacy in a time of isolation. Functioning like a traveling peep-show, audience members peer inside a living room that is equal parts familiar and absurd as they experience a living room drama unlike any they've seen before.
Supported by and developed at Guild Hall's John Drew Theater in East Hampton, NY in the spring of 2021.
Tess Howsam

Brooklyn-based interdisciplinary artist, Tess Howsam curates and directs ekphrastic shows that blend theater, installation art, and performance. Howsam seeks to subvert theatrical expectations while building cross-disciplinary collaborations rooted in story and collaboration, viewing art as a dialogue to address contemporary sociological, political, and environmental issues.

Howsam is the Founding Artistic Director of the Exquisite Corpse Company (2012-present). Her installation Corseted Community is a part of an international exhibit Puentes - No Muros/ Bridges - Not Walls, (El Centro de las Artes de Querétaro (CEART) Querétaro, Mexico, March 2018/ Casa de Europa Mexico, San Miguel, Mexico, October 2018).

Ran Xia

Ran Xia is a Shanghai born, Brooklyn based playwright, director, and sound designer. She's a Resident Director at the Tank (inaugural Artist of the Year Award 2019) where she directed the world premiere Ben Gassman's Independent Study, US premiere of Ailís Ní Ríain's The Tallest Man in the World, her own play In Blue, and most recently, Howard Rubenstein's new adaptation of Prometheus Bound by Aeschylus, as a theatrical cinematic hybrid production. Alumnus of Pipeline Theater's Playlab 2020. Her works have been seen in physical and virtual spaces including The Tank, The Brick, Dixon Place, HERE Arts Center, Governor's Island, and more. Upcoming: Orlando by Sarah Ruhl at Barnard, Fall 2021. ranxia.info

Porcia Lewis

Porcia Lewis started her career in the arts at the tender age of 5. She was in theatre productions from elementary school throughout college. After dropping out of college, Porcia began to work with Moving Mountains Inc., a non-profit theatre company, focusing on acting and dance. She began to work on major productions with Moving Mountains, and eventually ventured into film with their professional sector. Porcia enjoys gaining perspective from each area in the industry, whether it's writing, acting, directing, and even enjoying craft services. She hopes to eventually secure a deal with Marvel as Misty Knight in future film productions.

Phillip Christian Smith

Phillip Christian Smith is a 2020-2021 Playwrights Realm Writing Fellow, Lambda Literary Fellow, Winter Playwrights Retreat, Blue Ink Playwriting Award Semi-Finalist, Finalist for The Dramatists Guild Fellowship and New Dramatists, Finalist and Semi-finalist PlayPenn, Two time Semi-finalist for The O'Neill (NPC), and runner- up in The Theatre of Risk Modern Tragedy writing competition for his play The Chechens, which also won Theatre Conspiracy's playwriting award, and will be produced in a future season. He has been a semi-finalist for Shakespeare's New Contemporaries (ASC), finalist for Trustus, Playwright in Residence Exquisite Corpse and founding member of The Playwriting Collective. 2021 Playwright in Residence: Quicksilver Theatre's Playwrights of Color Summit. 2021 Sewanee Scholar. His work has been supported by Primary Stages (Cherry Lane) ESPA, Fresh Ground Pepper, the 53rd Street New York Public Library, and Forge. He writes about black people, gay people, black gay people, and the issues which persistently follow them. MFA Yale School of Drama, BFA University of New Mexico.

Liz Frost

Liz Frost is theater producer based in New York City. A proud graduate from University of Puget Sound in Tacoma, Washington, she graduated with high honors with a Bachelor of Arts in Theater Arts and a minor in Mathematics. Liz is originally from Irvine, California where her love for the arts was nurtured and supported by her two loving parents. Liz is inspired by passionate and hard working people. Currently she is working with Tess Howsam and the amazing Exquisite Corpse Company. www.elizabethfrost.com

Leah Barker

Leah Barker's plays have been developed or performed by Hartford Stage, Troy Foundry Theatre, Capital Repertory Theatre, Dixon Place, Spark Creative Works, Mount St. Mary's University, Valley Players, and Exquisite Corpse Company. She created and edited the collection TECHNICAL DIFFICULTIES: PLAYS FOR ONLINE THEATRE, which is published by Dramatists Play Service. At ECC, she was a co-writer for WATER, WATER, EVERYWHERE and SECESSION 2015, participated in two Writers' Labs, and had two Corpse Revival productions of her work. She's thrilled to be a 2018–21 ECC playwright in residence. Her selected acting credits include THE CRIPPLE OF INISHMAAN (Centenary Stage Company, BroadwayWorld Regional Award nomination), A PRESENTATION BY THE PEOPLE OF LAKE VICTORY FOR OUR LEADER (the Gym at Judson), AS YOU LIKE IT (Theater 2020), and SUGAR!, a feature starring Alice Ripley and Robert Clohessy (Atlantic City Cinefest Award for Best Supporting Actress). She has also worked as an assistant director for Lincoln Center Education (MACBETH) and Amore Opera (DON GIOVANNI). Leah is a graduate of New York University's Tisch School of the Arts and studied at the Royal Academy of Dramatic Art in London. www.LeahBarker.com

Krista Smith

Krista Smith is a New York based Lighting Designer and Interdisciplinary Artist, dedicated to insightful visual storytelling. NYC credits include: Coop (Paradise Factory), At Black Lake (The Tank), Good Person of Setzuan (Atlantic Theater Company), Twin Size Beds(Public Theater's Under the Radar Festival & Joe's Pub), This American Wife (New York Theater Workshop Next Door), Doll's House Pt3 (Ars Nova). Regional work: Two River Theater Little Shakes, Triad Stage, Yale Repertory Theater, California Shakespeare Theater, Cinnabar Theater, Custom Made Theatre, Aurora Theatre, and Theatre FIRST. www.KristaSmithLD.com

Jesse Vance

Jesse Vance is a Sound Designer, multi-instrumentalist, composer, artist and Engineer with a specialty in immersive installations. He currently works as the AV Systems Engineer for the Icahn School of Medicine in Manhattan. His most recent works are original scores for streaming shows and short films under the alias "The Dead Kids."

Emily Krause

Emily Krause is a Brooklyn-based playwright, actor, and songwriter originally from Portland, Oregon. Her work has been read or developed with support from the Great Plains Theatre Conference, the Eugene O'Neill Theater Center, Exquisite Corpse Company, The Tank, the Playwriting Collective, the Bechdel Group, The Hearth, and TinyRhino. Her work has been produced at the Center for Performance Research, the IRT 3B Developmental Series, and on Governor's Island. She most recently wrote and developed the (virtual) play Do You Think About Me, Too? as a guest artist at Whitman College. BA: Whitman College. Proud alum of the National Theater Institute at the Eugene O'Neill Theater Center.

Emily Addison

Emily Addison is a self-taught painter, illustrator, and graphic designer. Her work is reflective of her value in equity, diversity, and inclusion. Addison runs a small media and publishing organization called Vital Information that works to empower people in her community in Brooklyn, through digital media and printed material. As a high school graduate, Addison has carved out a space for herself as a working professional regardless of her level of traditional education. It is her unique perspective as a creative that has shaped her art and work in activism. She is a staunch advocate for the rights of working people, queer folks, and black and brown people. Her work has been featured in the Corseted Community international exhibit Puentes - No Muros/ Bridges - Not Walls curated by ECC Artistic director and Founder Tess Howsam. (El Centro de las Artes de Querétaro (CEART) Querétaro, Mexico, March 2018/ Casa de Europa Mexico, San Miguel, Mexico, October 2018).

Elinor T Vanderburg

Elinor T Vanderburg is a Black-American writer, performer and voice artist born in Washington, D.C. She writes plays for and about misfits, creating troubled chimerical landscapes to call her audiences to real-world r/evolutionary action. Recent Stage: BLOODSHOT (Dir. Sanaz Ghajar, Exponential Festival/Target Margin Theater 2020); Dancing Girl (Dir. Jenny Beth Snyder, SheNYC 2019); Water, Water, Everywhere... (Dirs. Tara Elliot and Tess Howsam, Exquisite Corpse Company); K-A-A-R-O-N (FGP 2018); The Human Incubator (Dir. Martina Bonolis, SheNYC 2017). Recent COVID: BLOODSHOT: The Call (Dir. Sanaz Ghajar, Exponential Festival/underlords 2021); Voices From A Pandemic (Dirs. Christopher Windom, Nigel Semaj, and Sanaz Ghajar, Notch Theatre Company); HMLT (Dir. Sanaz Ghajar, The Weekly Weekly). Recent V/O: Bread Barbershop (Choco, Sausage; Netflix); World of Winx (Aisha; Netflix); Black Women Are Scary: And Then I Wake Up (by Wi-Moto Nyoka). Elinor is a Co-Creative Director of Fresh Ground Pepper, a writer-in-residence with Exquisite Corpse Company and The Shelter, the Art Director of SheNYC, and one half of the illusory theater company, underlords, alongside her partner, Drew. Elinor lives and works in Bushwick, Brooklyn. //@raisehelinor

Dominica Montoya

Dominica Montoya is a multi-media artist based in Crown Heights, Brooklyn. An NYU Alum, with a degree in history and education, she's channeled this passion for culture, community, and storytelling into a range of outlets including short stories, script development, and hip-hop collaborations as the one and only, Mini Smallz. Dominica has continued her studies with some of NYC's most legendary creative institutions including the Stella Adler Studio, UCB, and The New York School of Burlesque. Lover of tunes, treats, and fashion things, she can be found city-strolling, photo-snapping, and snacking in and around New York City. Enter the universe at smallzworldnyc.com & follow her adventures on Instagram @minilikesmall.

Danny Wilfred

Danny Wilfred is thrilled to be working with ECC again, this time as co-casting director. Previous collaborations with ECC include Untitled #3 (Lyle Ashton Harris), The Enchanted Realm of Renee Magritte (Choreographer/Fantomas/Paul), The ECC Writer's Lab, and Drunk 24 Hour Play Festivals. Danny is a graduate of the University of Michigan, where he received a Bachelor of Fine Arts Degree in Musical Theatre and is currently pursuing a Master of Arts degree in Counseling at Northwestern University. He is proud to share his diverse perspective with the Exquisite Corpse Company family and looks forward to the stories we'll get to share with you all. Follow Danny Wilfred on Instagram: @wannydilfred (personal feed) @wannymoonart (for multimedia/digital conscious collage art commissions).

Zachry J. Bailey

Zachry J. Bailey (COVID Consultant) is a Health & Safety Manager and COVID Compliance Officer with Vigilant EHS Solutions. He advises and works with arts organizations, film and TV productions, and studios as they create COVID protocols and operate safely and effectively during the pandemic. 

Zachry has worked with various companies including A24, C1 Media, Radical Rhinoceros Pictures, Exquisite Corpse Company, and Guild Hall, among others. Zachry helps producers and executives create and manage a cohesive plan forward, and oversees onsite compliance and guidance day-to-day. You can expect a well managed production, and efficient collaborator when working with Zachry. 

Zachry's other passions have led him to be an AEA Stage Manager, freelance Producer and Management Professional. In his free time, Zachry is a plant dad and amateur baker. Please email zachryjbailey@gmail.com to contact Zachry.
Event Sponsors
Zoetrope is supported by Bobbie Braun-The Neuwirth Foundation Theater Programming supported in part by the Helen Frankenthaler Foundation, Barbara Slifka, The Schaffner Family Foundation, Brown Harris Stevens, Michael Balmuth, Lang Insurance, and funding from The Ellen and James S. Marcus Endowment for Musical Programming and The Melville Straus Family Endowment John Drew Backyard Theater
Special thanks to Marty and Michele Cohen, Ben Krupinski Builder, Hollander Design, and Groundworks Landscaping Exquisite Corpse Company is fiscally sponsored by Fractured Atlas
Become a Sponsor