WordTheatre's
Hearts Aflame: Succesion's Brian Cox & more performing Love/Hate Letters & Torch Songs. An Original Production Benefitting The Pushcart Prize Fellowships and WordTheatre in the Schools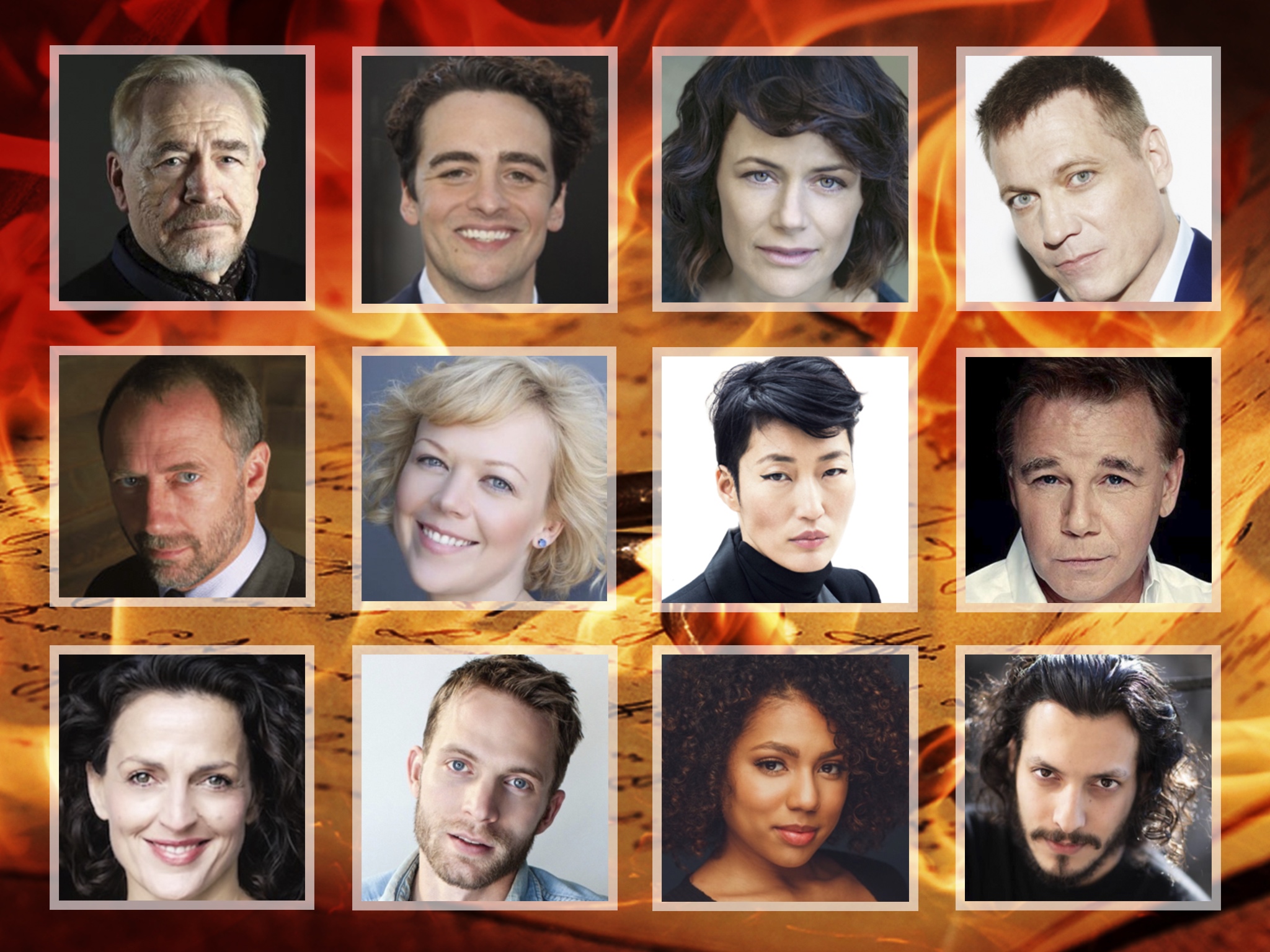 Overview
HEARTS AFLAME: Torch Songs & Love/Hate Letters by the Famous and Infamous
A One-Night-Only, Original, Music Infused WordTheatre® Production Benefitting WordTheatre in the Schools and The Pushcart Prize Fellowships.
Brian Cox, the outrageous Patriarch on 'Succession' and Holt McCallany, the serial killer tracking FBI agent on 'Mindhunter', are among the incendiary cast of performers who'll fire up some torch songs and ignite love and hate letters by the famous and infamous in a divine and ridiculous 90 minutes of fun!  Calling all cynics, these passionate communiques—from 12th century missives to 21st century emails—will have you weeping with laughter and recognition at the follies of the human heart.
Performers participating in this sexy and ofttimes ridiculous WordTheatre® production are donating their time and talents to benefit both WordTheatre in the Schools (WITS) and the Pushcart Prize Fellowships.
CAST
Brian Cox (Succession, X2: X-Men United)
Vincent Piazza (Boardwalk Empire, Jersey Boys)
Sarah Clarke (The Twilight Saga, Bosch, 24)
Holt McCallany (Mindhunter, The Losers, Fight Club)
Xander Berkeley (The Walking Dead, Salem, 24)
Emily Bergl (The Marvelous Mrs. Maisel, Shameless, Desperate Housewives)
Jihae (Mortal Engines, Altered Carbon)
Spencer Garrett (Once Upon a Time in Hollywood, Mad Men)
Nicole Ansari (The Blacklist, Deadwood)
David Call (The Sinner, The Magicians)
Liisi LaFontaine (London's West End Dream Girls, Broadway Bound Born for This)
Fernando Villegas (The Lesson, Off-Broadway)
Musical Accompaniment by Jonathan Mastro on Piano, Pedro Segundo on Drums, and Teddy Motz on Bass
Created, Directed and Produced by Cedering Fox.
This benefit is made possible with support from THE OSTER FAMILY FOUNDATION.
WordTheatre® gives voice to great writing. Since its creation in 2003 by founder Cedering Fox, WordTheatre has become an internationally renowned 501(c)(3) whose work celebrates contemporary literature through live performance in Los Angeles, New York and London. The organization's events feature esteemed authors, actors and musicians who capture the imagination of diverse audiences, spanning from underserved students to cultural enthusiasts. WordTheatre's mission: to inspire empathy, curiosity and conversation by sharing exquisitely crafted stories that remind us of what it means to be human.
WordTheatre in the Schools (WITS) serves underserved schools in the U.S. and the U.K., where English is commonly the second language and 40-90% of students live at or below the poverty line. By connecting underserved youth with curriculum-relevant literature, W.I.T.S. educates and connects communities in and out of the classroom and stimulates the imaginations of culturally, economically and racially diverse audiences.
The Pushcart Prize: Best of the Small Presses, published every year since 1976, is the most honored literary project in America. The Pushcart Prize is one of the last surviving literary co-ops from the 60's and 70's. Its legacy is assured by donations to its Fellowships endowment.
Event Sponsors
All Theater Programming is supported in part by Ellen Myers, Marders, the Daryl & Steven Roth Foundation, and funding from The Ellen and James S. Marcus Endowment for Musical Programming, The Harold and Mimi Steinberg Charitable Trust, Hess Philanthropic Fund, The Melville Straus Family Endowment, The Schaffner Family Foundation, and Vital Projects Fund, with additional support from Brown Harris Stevens, Saunders & Associates, and public funds provided by Suffolk County. All Musical Programming supported in part by The Ellen and James S. Marcus Endowment for Musical Programming.
Become a Sponsor