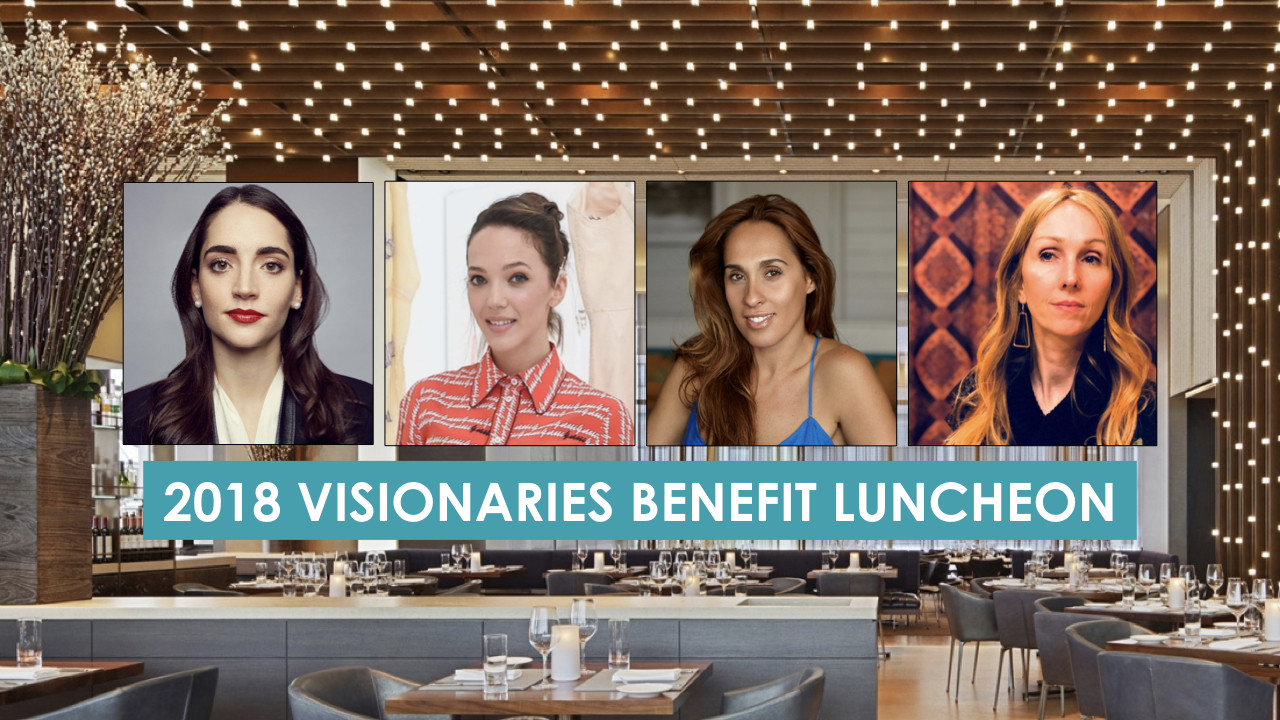 Overview
Photo Gallery
Visionaries Luncheon
Join us for an afternoon of compelling stories from creative visionaries who are charting new territory in design and the arts.
The panel spotlights artistic and tech vanguards who bring into play disruptive and innovative ideas in art, lifestyle, and conceptual design. Moderated by Andrea Grover, panelists include Zoë Buckman, Jayma Cardoso and Marcela Sapone. Enjoy the afternoon at Tom Colicchio's stunning Riverpark overlooking the East River.  To learn more about the panelists, see their bio's and websites below.
Hosts
Toni Bernstein, Phyllis Hollis, Christina Isaly Liceaga
Co-Chairs
Taylor Barton-Smith, Deborah Buck, Michele Cohen, Brian and Sarah Halweil, Susan Jacobson, Vajra Kingsley, Rachel Libeskind, NancyJane Loewy, Alice Netter, Pamela Pantzer, Toni Ross, Sheri Sandler, Rabbi Barton and Jane Shallat, Mary A. Susnjara, Fern Tessler, Madison Utendahl, Janet Winter, Joey Wölffer, Nina Yankowitz, Almond Zigmund
The Location
Riverpark is nestled on a unique garden plaza with romantic East River views. The restaurant represents a dynamic culinary destination reflecting Chef Tom Colicchio's overall vision as a restaurateur. The modern American menus highlight seasonal ingredients from their own Riverpark Farm.  The Farm is located just a few feet away from the kitchen as well as other local farms and green-markets.
Zoë Buckman

Multi-Disciplinary Artist

Zoë Buckman

(b. 1985 Hackney, East London) is a multi-disciplinary artist working in sculpture, installation, and photography, exploring themes of Feminism, mortality, and equality. Buckman's work has been shown in solo exhibitions including

Heavy Rag,

at Albertz Benda, New York,

Let Her Rave

at Gavlak Gallery Los Angeles,

Imprison Her Soft Hand

at Project for Empty Space, Newark;

Every Curve

at PAPILLION ART, Los Angeles; and

Present Life

at Garis & Hahn Gallery, New York. Buckman has shown in group exhibitions internationally including the Camden Arts Centre, London, The Studio Museum in Harlem, The Children's Museum of the Arts, Paul Kasmin Gallery NY, Goodman Gallery South Africa, Jack Shainman Gallery NY, Monique Meloche Chicago, NYU Florence Italy, Grunwald Art Gallery, Indiana University, and the Democratic National Convention, Philadelphia, the National Center for Civil and Human Rights, Atlanta, GA and The National Museum of African-American History & Culture, Washington, DC, The Tarble Arts Center, Illinois, The Visual Arts Center of New Jersey, and The Centre Regional D'Art Contemporain, Sete France. Buckman was a featured artist at Pulse Projects New York 2014 and Miami 2016, and was included in the curated Soundscape Park at Art Basel Miami Beach 2016. The artist completed an artist residency at Mana Contemporary. Public works include a mural,

We Hold These Truths To Be Self-Evident,

in collaboration with Natalie Frank at the Ford Foundation Gallery of New York Live Arts in Chelsea. In February 2018 Buckman unveiled her first Public Sculpture presented by Art Production Fund on Sunset Blv, Los Angeles, a large scale outdoor version of her neon sculpture

Champ,

which will rotate on the strip for a year. Buckman studied at the International Center of Photography (ICP), was awarded an Art Matters Grant in 2017, and lives and works in Brooklyn.

Jayma Cardoso

Entrepreneur – Founder, The Surf Lodge

Jayma Cardoso, a native of Brazil, came to New York 23 years ago to study at Rutgers University under their "English as a Second Language" program with little money and no friends. Jayma talked her way into her first nightclub job at Boom in Bridgehampton by saying she was an expert bartender and had a place to stay in the Hamptons for the summer –  neither was true. She worked her way up the nightclub chain to become a successful and innovative creator, owner, and operator of clubs and restaurants in New York. She is one of the few women at the top of her profession. In her career, Jayma has built and operated three famous New York venues with different partners. Her first was Cain on 27th Street, followed by Gold Bar in Nolita, and Lavo uptown. Eight years ago, Jayma and partners bought a dilapidated motel in the then sleepy hamlet of Montauk. She turned The Surf Lodge into the most talked about hotel, restaurant, art, and concert venue in the Hamptons and spearheaded the transformation of Montauk into a must-stop in the international fashion, music, and art circuit.

Marcela Sapone

Co-founder and CEO of Hello Alfred

Marcela Sapone is the co-founder and CEO of

Hello Alfred

. Through Alfred, she has redefined urban living and become a staunch advocate for pro-human, pro-labor policies. She is among the first founders in the sharing economy to write on the importance of meaningful work and a meaningful income for employees. As a thought leader, she worked with the Brookings Institute and the Secretary of Labor. She also worked at the White House under the Obama Administration to make this a reality. Named one of Goldman Sachs' "most intriguing entrepreneurs" and a winner of TechCrunch Disrupt SF, Marcela's work has not gone unrecognized. She was also nominated for the Financial Times' ArcelorMittal Boldness in Business Award, as well as Fast Company's Most Creative People list. She was the face of Consumer Tech for Forbes 30 Under 30. Marcela holds an MBA with distinction from Harvard Business School. Prior to founding Hello Alfred, she began her career as a consultant at McKinsey & Company. She then moved to working in private equity. Marcela co-created WHITESPACE, a seed-stage venture fund.

Andrea Grover

Andrea Grover is the Executive Director of Guild Hall, the cornerstone cultural institution of East Hampton, that combines a museum, theater, and education center. Guild Hall is presently undergoing a facility-wide capital improvements project to bring the 1930s-era building and grounds up to state-of-the-art performance and functionality. Grover has 25 years of experience in curatorial and nonprofit leadership with a focus on innovative and participatory arts programming. Most recently, she was the curator of the 2021 exhibition, Alexis Rockman Shipwrecks presented at Guild Hall, Peabody Essex Museum, Salem, MA, The Ackland Art Museum at UNC-Chapel Hill, NC, and Princeton University Art Museum, Princeton, NJ. Prior to joining Guild Hall in 2016, she was the Curator of Special Projects at the Parrish Art Museum, where she was awarded both a Tremaine Foundation and an AADA Curatorial Award for her exhibition, Radical Seafaring. At the Parrish, she established the extremely popular community-driven program PechaKucha Night Hamptons, and the exhibition series Parrish Road Show and Platform. Grover founded the nonprofit film center Aurora Picture Show, Houston, Texas, at age 27. With expertise in artists who work in scientific or technological spaces (art + science), she has served as a panelist or advisor for Pew Foundation for Arts & Heritage, Pulitzer Arts Foundation, Rauschenberg Foundation, and Bogliasco Foundation. She has taught interdisciplinary courses at the University of Houston, and Texas Southern University, and has been a guest speaker or juror at SXSW Interactive, Austin, Texas, and Ars Electronica, Linz, Austria, among many others. Grover has received fellowships from the Center for Curatorial Leadership, the Museum of Fine Arts, Houston, STUDIO for Creative Inquiry at Carnegie Mellon University, and the Warhol Foundation. She holds an MFA from the School of the Art Institute of Chicago, and a BFA from Syracuse University.