Visionaries 2020
Christina Isaly Liceaga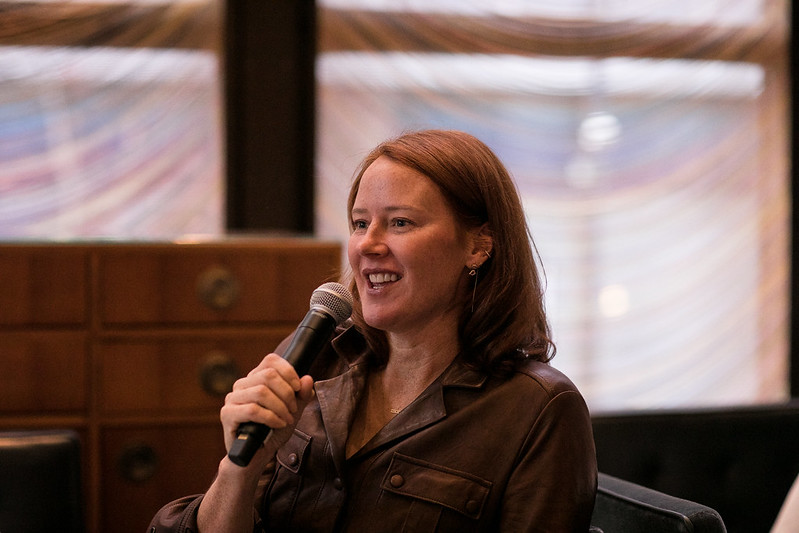 Overview
Visionaries 2020 is an intimate gathering that introduces an innovator and their personal stories of success. We follow the journeys of creative "visionaries" as they realize their dreams, break boundaries, and create businesses and organizations that reflect their values and histories. Conversations are moderated by someone close to the featured speaker and reveal extraordinary narratives about starting something new.
We join Christina Isaly Liceaga at her Amagansett restaurant, Rosie's, diving into her career in fashion, sales, Broadway production, and hospitality. Join us for a socially distanced conversation from 5:30PM to 7:30PM to learn what motivated Christina to create a restaurant based in a beach lifestyle, health, local produce, and family ties.

"Visionaries is an essential program at Guild Hall because it champions creativity, originality and resourcefulness and introduces new ways of thinking about business and the arts. Participants engage with next generation leaders and learn about how they are igniting change in their respective fields."
–Andrea Grover, Executive Director
Visionaries Membership (up to 2 people): $1,000
The Visionaries Membership offers special pricing for Visionaries attendees
Access to select performances, previews, talks, and exclusive visual, performing arts, and networking events
Members Opening Reception for each Museum exhibition*
Special discounts on tickets, classes, & workshops
Advanced ticket sale notice
Special invitation to select theater programs*
Eligibility to enter the Artist Members Exhibition
Season Program Guide
North American Reciprocal Museum (NARM) membership at over 1,000 museums 
Visionaries Members: For discounted ticket price, please email Kristen Curcie at kcurcie@guildhall.org to purchase.
*per availability 
Can't attend in person? Buy a livestream ticket and join us virtually from the comfort of your own home.
If you cannot attend the luncheon but would like to show your support for this event, DONATE NOW by clicking HERE.
Christina Isaly Liceaga

Christina Isaly Liceaga is a born and bred New Yorker who takes on every opportunity with the positive, go-getter mind of an athlete and the sensitivity of an artist.

Christina studied Industrial Design and History at Carnegie Mellon, spending most of her free time on the soccer field and basketball court as part of the University's Division III teams. After graduation she lived in Mexico City, teaching English, learning Spanish, and playing soccer with the women's national team feeder club. Upon her return to New York, Christina began a career in fashion with shoe designer Nancy Geist of ZeitGeist NYC, and later, Ralph Lauren.

After years in fashion, Christina ventured into new terrain, taking a finance position within her family's company, OrbiMed, and then running her own real estate development business, Fractal Management, overseeing more than 30 NYC properties.

Christina made her way to Amagansett 12 years ago, and it was love at first sight. She was immediately inspired to create a new type of place to eat, drink, and gather. In 2019, she opened Rosie's, a full-service farm-to-table restaurant right on Main Street.

She has most recently added the role of Broadway producer to her resume, with her first credit, Jagged Little Pill, earning 15 Tony Award nominations in 2020. She shares her time between Amagansett and New York, and is the proud mother of 5 children.

Andrea Grover

Andrea Grover is the Executive Director of Guild Hall. Prior to joining Guild Hall in 2016, she was the Curator of Special Projects at the Parrish Art Museum, where she was awarded both a Tremaine Foundation and an AADA Curatorial Award for her exhibition, Radical Seafaring. At the Parrish, she established the extremely popular community-driven program PechaKucha Night Hamptons, and the exhibition series Parrish Road Show and Platform. Grover founded the nonprofit film center Aurora Picture Show, Houston, Texas, at age 27. She has received fellowships from the Center for Curatorial Leadership, the Museum of Fine Arts, Houston, STUDIO for Creative Inquiry at Carnegie Mellon University, and the Warhol Foundation, and has served as a panelist or advisor for Pew Foundation for Arts & Heritage, Pulitzer Arts Foundation, Rauschenberg Foundation, and Bogliasco Foundation, among many others. She holds an MFA from the School of the Art Institute of Chicago, and a BFA from Syracuse University.