Virtual Art Salon
Eric Haze and Katherine McMahon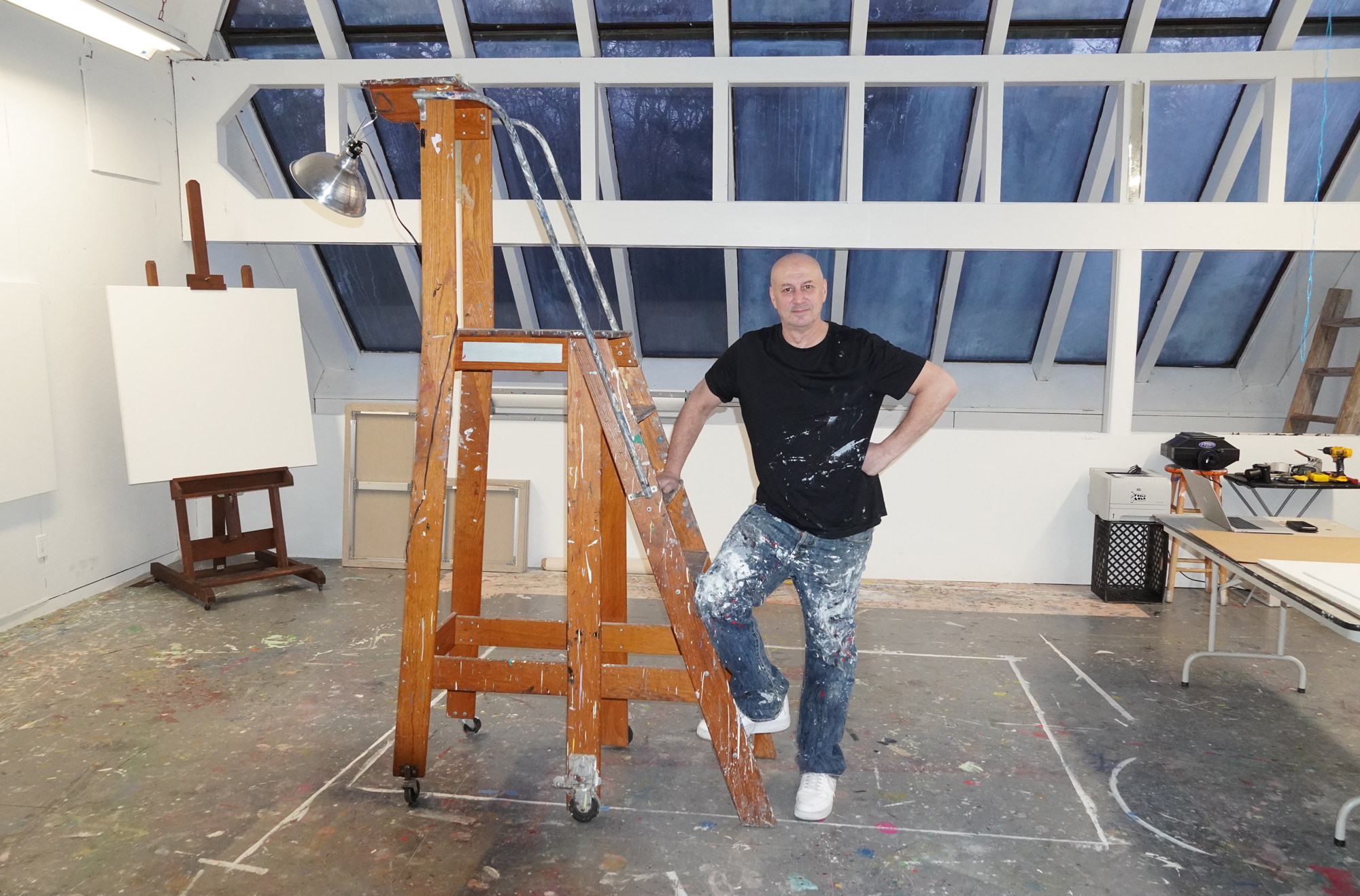 Overview
Join Guild Hall Curatorial Assistant, Casey Dalene as she engages with one of our most valuable resources during this time (and at all times): Artists. What better profession to teach us how to be at home, often times solitary, alone with our thoughts, finding ways to express ourselves, and looking towards the future. While we cannot mingle at our usual gatherings; art openings, gallery receptions, artist talks, studio visits etc., let's continue these conversations virtually as we pose the questions: What does the pandemic art world look like from the artist's perspective? How is this changing the creative practice? Are there ways artists are finding to help first responders and essential workers through their craft? How are artists continuing to find ways to make a living? What digital resources are out there? How can the general public help support them? What movements will manifest in the post-pandemic art world? Join us as we engage in conversation with artists during this historic time.
In the second iteration of the Guild Hall Virtual Art Salon Series, Guild Hall Curatorial Assistant and Salon Host, Casey Dalene, will be talking with current Artist in Residence at the Elaine de Kooning House in East Hampton, Eric Haze and the Elaine de Kooning House Director of Programming, Katherine McMahon. The talk will begin as we touch base with our friends Eric and Katherine and see how they are managing during this time of instability and isolation. We will then dive into the history of the Elaine de Kooning House, the venerable residency program, Eric's personal history with Elaine that sewed creative seeds in his youth and now emerges in his current body of work. Everyone who joins us during this Virtual Art Salon will have an opportunity to ask questions and engage in conversation with attendees, continuing our connection with one another on a topic that has always brought us firmly together: Art.
New York Times – Alone With Their Muses, Artists in Retreat Wonder if It's Too Much
artnetnews – In March, One Artist Began What Was Supposed to Be a Brief But Glamorous Residency in the Hamptons. He's Been Stuck There Ever Since
Eric Haze

Eric Haze's formative years were spent as a founding member of the influential New York City graffiti collectiveThe Soul Artists. In the early 80's he exhibited alongside friends Keith Haring and Jean-Michel Basquiat at MoMA PS1's "New York New Wave" show in 1981 and appeared in Tony Shafrazi's "Emerging Talent" exhibition in 1984. In 2011 his work was featured in Jeffrey Deitch's "Art in the Streets" exhibition at MoCA Los Angeles, as well as Deitch's large scale Brooklyn mural project "Coney Art Walls" in 2016. Along with solo exhibitions in New York, Los Angeles, Paris and Hong Kong over the last decade, Eric's paintings were featured in the monumental graffiti and street art exhibition "Beyond the Streets," which premiered in Los Angeles in 2017, followed by a show in the summer of 2019 in New York City.

Haze is the current Artist-in-residence at Elaine de Kooning House.Eric and his sister were painted by Elaine in her downtown New York City studio in 1972. Now almost 50 years later, he's creating a new body of work out of the East Hampton studio Elaine worked out of later in her life, until her death in 1989.

Katherine McMahon

Katherine McMahon is an artist whose primary subject matter is portraiture. Formerly the Creative Director and photography/writing contributor at ARTnews, she is now based in East Hampton, New York. Her work often explores society's relationship to imagery and portraiture through the channels of pop culture and social media. Her work ruminates on how these projections shape our understanding of the self and our interpretation of the outside world. She has shown with SITE: Brooklyn, Anna Kaplan Contemporary, and most recently mounted her paintings in the windows of the Silver Lining Diner in Southampton, NY. 

Casey Dalene

Casey Dalene grew up in Charlotte, North Carolina with a noticeable passion for the Arts from a very young age. Studying Painting, Drawing and Art History throughout High School and College, Casey received a BFA in Studio Art and Art History from the University of North Carolina at Chapel Hill in 2005. Continuing her education, Casey attended the Fashion Institute of Technology State University of New York and received an Associate's Degree in Textile/Surface Design in 2006. In 2007 Casey relocated to East Hampton and spent the next 5 years as Creative Director of Fabric and Wallcovering at the Elizabeth Dow Studio in Amagansett. With a passion for the arts as a common thread throughout her education and professional career, she has always been inspired by and involved in the local art community on the East End of Long Island. From the emerging Artists she met working in the Elizabeth Dow handmade wallcovering studio to the rich Art History of our community, she began to insert herself in the art world by creating an Online Art Gallery, artUNPRIMED.com, curating emerging and mid-career artists online as well as through 2 different pop-up exhibitions, one in Sag Harbor and one in East Hampton. Casey has also developed strong curatorial and marketing experience by working for a handful of Art Galleries on the East End including RJD Gallery in Bridgehampton, Markel Fine Arts in Bridgehampton, Roman Fine Art in East Hampton, and Sara Nightingale Gallery in Water Mill (now in Sag Harbor).

With young children entering school in East Hampton, and strong ties to the Local Art Community, Casey brings a fresh perspective to the Educational programming, Curatorial Department, and responsibilities of the Registrar. She hopes to enhance the programming at Guild Hall to include the local community and beyond, ensuring everyone has access to and can take advantage of all the resources that we have to offer, as their community Museum, Theater and Educational Center.

Elaine de Kooning House

In 1975, Elaine de Kooning reconciled with her husband Willem and purchased the house on Alewive Brook Road. She added the studio three years later and created her last important bodies of work -- the Cave Walls and Cave Paintings (1985-88). She also painted the portrait of the Brazilian soccer player Pele, Motown mogul Barry Gordy, and many others at this time. After her death, the sculptor John Chamberlain owned the property, followed by the painter Richmond Burton. Since 2011, the Elaine de Kooning House has hosted events, exhibitions, and informal artist residencies with the artists Charles Andresen, Aaron Aujla, Katherine Bernhardt, Lizzi Bougatsos, Joe Bradley, Jessie Dunahoo, Chris Duncan, Jonah Freeman and Justin Lowe, Mike Goodlett, Sedrick Huckaby, Kim "Mudman" Jones, Susan Te Kahurangi King, Laura and Rachel Lancaster, Sadie Laska, Jose Lerma, Liz Markus, Adam Marnie, Scott and Tyson Reeder, John Riepenhoff, Kambel Smith, Agathe Snow & Marianne Vitale, Celeste Dupuy-Spencer, Jerry "The Marble Faun" Torre, Michael Williams, and Anke Weyer.
Event Sponsors
All Museum Programming supported in part by The Melville Straus Family Endowment, The Michael Lynne Museum Endowment, Vital Projects Fund, Hess Philanthropic Fund, Crozier Fine Arts, The Lorenzo and Mary Woodhouse Trust, and public funds provided by New York State Council on the Arts with the support of Governor Andrew M. Cuomo and the New York State Legislature, and Suffolk County. Free admission is generously funded by BNB Bank and Landscape Details. All Education Programming supported by The Patti Kenner Arts Education Fellowship and Lucy and Steven Cookson, with additional funding by Kate W. Cassidy Foundation, Lewis B. and Dorothy Cullman Endowment Fund, The Melville Straus Family Endowment, and Catherine Freudenberg Traykovski – The Freudenberg Arts Foundation.
Become a Sponsor