Virtual Art Salon
Brianna Ashe and Kara Hoblin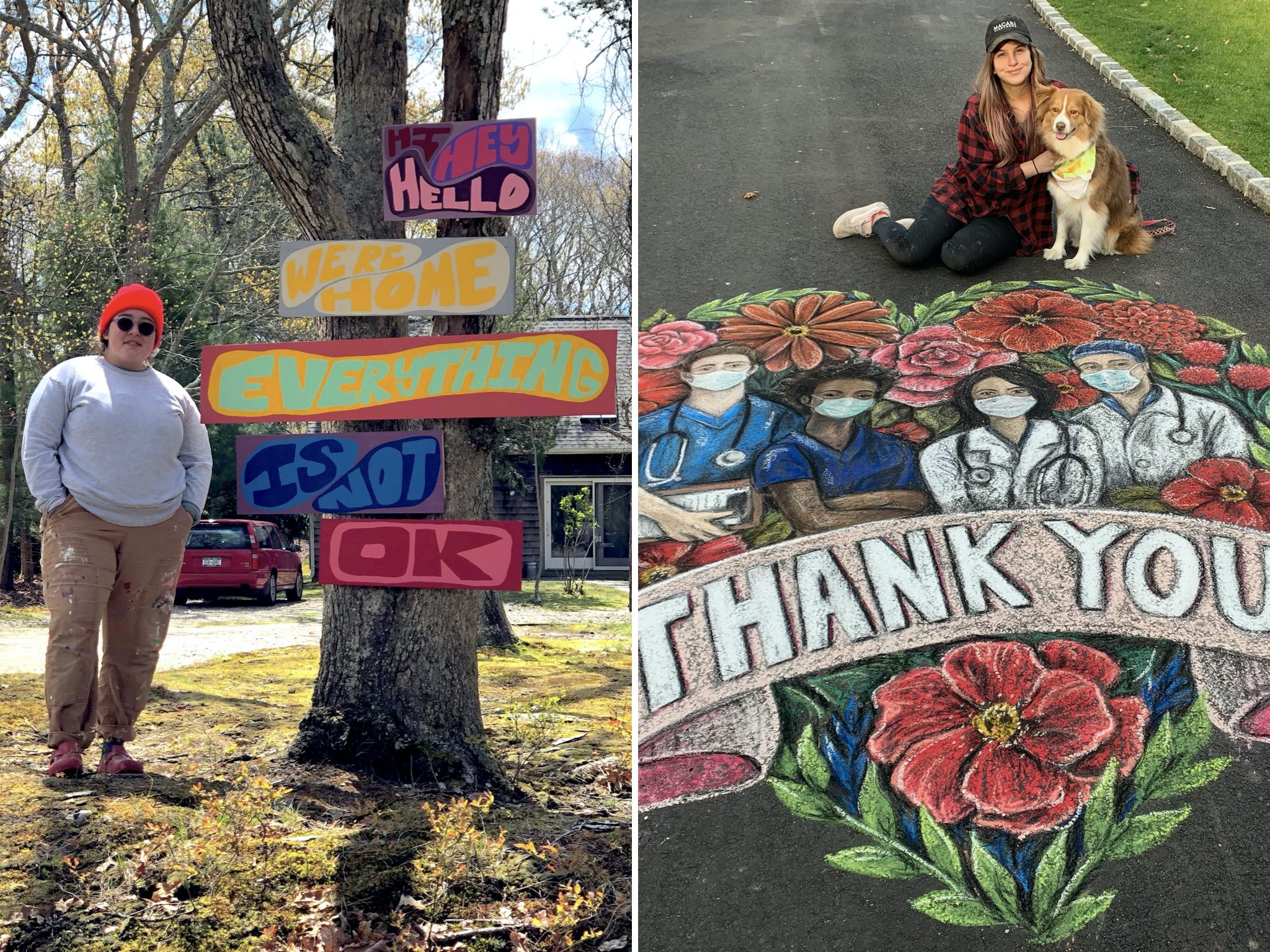 Overview
Join Guild Hall Curatorial Assistant, Casey Dalene as she engages with one of our most valuable resources during this time (and at all times): Artists. What better profession to teach us how to be at home, often times solitary, alone with our thoughts, finding ways to express ourselves, and looking towards the future. While we cannot mingle at our usual gatherings; art openings, gallery receptions, artist talks, studio visits etc., let's continue these conversations virtually as we pose the questions: What does the pandemic art world look like from the artist's perspective? How is this changing the creative practice? Are there ways artists are finding to help first responders and essential workers through their craft? How are artists continuing to find ways to make a living? What digital resources are out there? How can the general public help support them? What movements will manifest in the post-pandemic art world? Join us as we engage in conversation with artists during this historic time.
Virtual Art Salon hosted by Casey Dalene, Guild Hall Curatorial Assistant, Registrar and Lewis B Cullman Associate for Museum Education
Featuring:
Kara Hoblin, Artist 
Brianna Ashe, Artist
In the next Guild Hall Virtual Art Salon, Casey Dalene, Kara Hoblin and Brianna Ashe will lead a one-hour Arts Incubator for artists and creatives looking to increase their digital presence. Artists Kara Hoblin and Brianna Ashe have swiftly adapted to the times and expanded their presence online with screaming success. 
Kara Hoblin lives and works on the North Fork on Long Island and has increased her Instagram following 6x in the last month as well as launched a new website, and Etsy and Patreon accounts. Brianna Ashe, an Amagansett resident, has also launched a new website with products ranging from drawings and prints to mugs and hats, and as result of her exhibition in the Drive-By-Art show, has attracted new collectors of her work.  
Let's tap into how they achieved this by discussing the logistics and effects of a website, e-commerce, social media, and more; sharing tips and tools for both individual success and to assure the resurgence of the East End creative economy.  
When artists succeed, we all succeed. 
Free with required registration.  Private Zoom link will be emailed to registrants 24 hours prior to the Salon. Please be sure to sign up for a free Zoom account ahead of time.
Brianna Ashe

Brianna Ashe is an artist living in Amagansett. Her work plays with color, text and shape. When we are not in quarantine, Brianna assists other artists in their studios. 

"During quarantine I have been completely immersed in my own work for the first time in a long time. I have been spending equally as much time cooking and gardening. When quarantine began I started building my website, which is something I have actively avoided for the last ten years. I have always envisioned my work on other things, like mugs, bags, shirts and hats, but have never had enough time or money to invest in bulk orders of merchandise. With a push from a friend who teaches marketing, I dove in to creating and organizing my website and it was much less painful than I had expected. This has allowed me to share my work with people who like functional things, rather than a piece of art that is an original and maybe too expensive. 

With my website up, and staying active on Instagram, I have had a number of new opportunities fall in my lap. Graphic design, selling work to people other than my friends, and being asked to participate in shows when all of this cools off." 

Casey Dalene

Casey Dalene grew up in Charlotte, North Carolina with a noticeable passion for the Arts from a very young age. Studying Painting, Drawing and Art History throughout High School and College, Casey received a BFA in Studio Art and Art History from the University of North Carolina at Chapel Hill in 2005. Continuing her education, Casey attended the Fashion Institute of Technology State University of New York and received an Associate's Degree in Textile/Surface Design in 2006. In 2007 Casey relocated to East Hampton and spent the next 5 years as Creative Director of Fabric and Wallcovering at the Elizabeth Dow Studio in Amagansett. With a passion for the arts as a common thread throughout her education and professional career, she has always been inspired by and involved in the local art community on the East End of Long Island. From the emerging Artists she met working in the Elizabeth Dow handmade wallcovering studio to the rich Art History of our community, she began to insert herself in the art world by creating an Online Art Gallery, artUNPRIMED.com, curating emerging and mid-career artists online as well as through 2 different pop-up exhibitions, one in Sag Harbor and one in East Hampton. Casey has also developed strong curatorial and marketing experience by working for a handful of Art Galleries on the East End including RJD Gallery in Bridgehampton, Markel Fine Arts in Bridgehampton, Roman Fine Art in East Hampton, and Sara Nightingale Gallery in Water Mill (now in Sag Harbor).

With young children entering school in East Hampton, and strong ties to the Local Art Community, Casey brings a fresh perspective to the Educational programming, Curatorial Department, and responsibilities of the Registrar. She hopes to enhance the programming at Guild Hall to include the local community and beyond, ensuring everyone has access to and can take advantage of all the resources that we have to offer, as their community Museum, Theater and Educational Center.
Event Sponsors
All Museum Programming supported in part by The Melville Straus Family Endowment, The Michael Lynne Museum Endowment, Vital Projects Fund, Hess Philanthropic Fund, Crozier Fine Arts, The Lorenzo and Mary Woodhouse Trust, and public funds provided by New York State Council on the Arts with the support of Governor Andrew M. Cuomo and the New York State Legislature, and Suffolk County. Free admission is generously funded by BNB Bank and Landscape Details. All Education Programming supported by The Patti Kenner Arts Education Fellowship and Lucy and Steven Cookson, with additional funding by Kate W. Cassidy Foundation, Lewis B. and Dorothy Cullman Endowment Fund, The Melville Straus Family Endowment, and Catherine Freudenberg Traykovski – The Freudenberg Arts Foundation.
Become a Sponsor