Third Bird: Show and Tell Presentation at The Church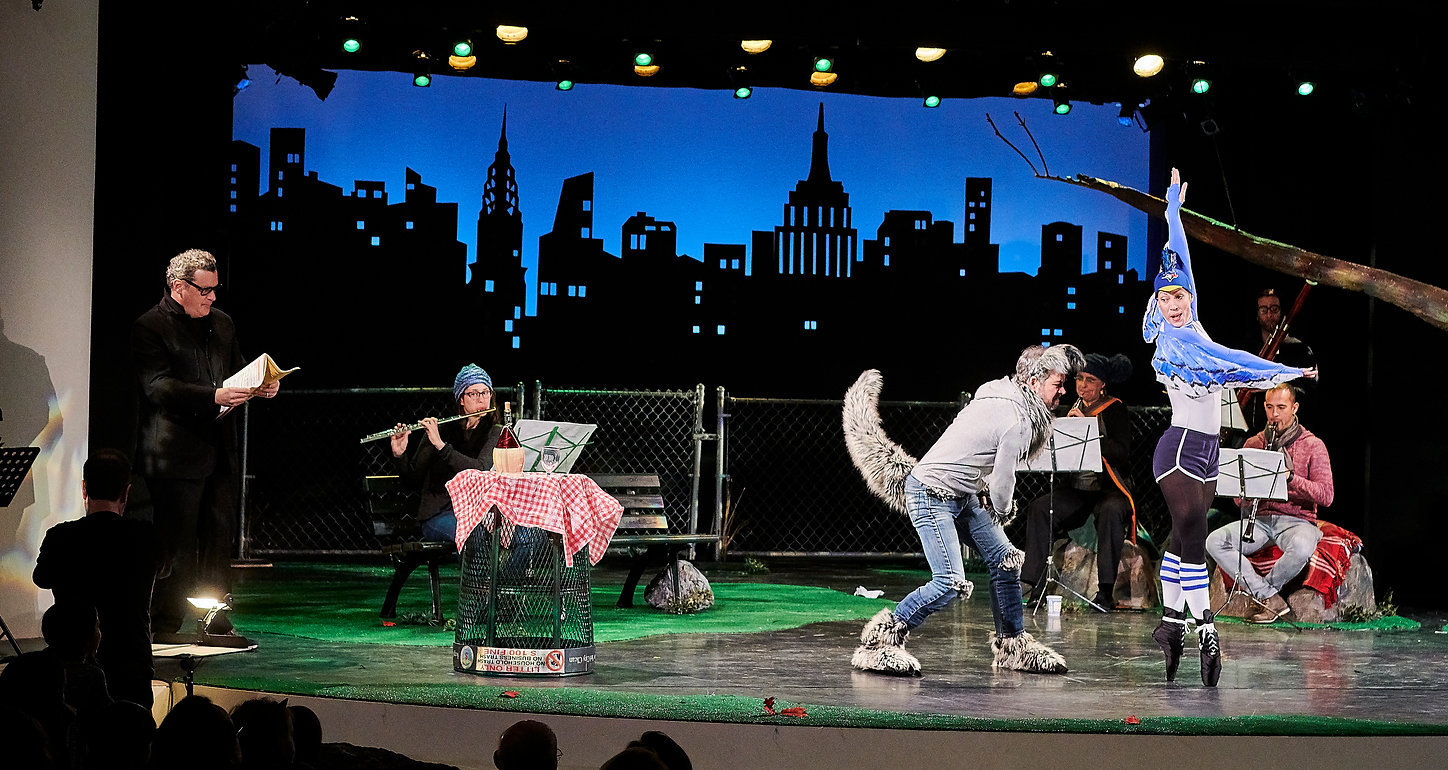 Overview
Libretto by Isaac Mizrahi
Music by Nico Muhly
Choreography by John Heginbotham
With a cast of 8, Third Bird tells the story of a flying bluebird, a swimming duck, and a running ostrich and celebrates each of their unique strengths. The work was commissioned by Work & Process – an organization led by Producer Caroline Cronson and General Manager Duke Dang, that nurtures and champions new works, amplifies underrepresented voices and performing arts cultures, and offers audiences unprecedented access to generations of leading creators and performers. Works & Process has previously worked with Isaac Mizrahi on a highly successful production of Sergei Prokofiev's charming children's classic Peter & The Wolf.
Commissioned by Works & Process Third Bird was developed in a Works & Process bubble residency at Catskill Mountain Foundation in Spring 2021, made possible through the generous support of The Andrew W. Mellon Foundation and Doris Duke Charitable Foundation. The Music for Third Bird was made possible, in part by the Ellis L. Phillips Foundation. Third Bird will receive a Works & Process LaunchPAD residency at The Church, Sag Harbor in early December 2021. The Church and Guild Hall are collaborating on a community event around Third Bird. Third Bird will have its world premiere at Works & Process at the Guggenheim Museum on June 3-5, 2022.
Proof of vaccination and masks will be required when visiting The Church.
Isaac Mizrahi

Isaac Mizrahi has worked extensively in the entertainment industry as an actor, host, writer, designer and producer for over 30 years. He is the subject and co-creator of Unzipped, a documentary following the making of his Fall 1994 collection which received an award at the Sundance Film Festival. He hosted his own television talk show The Isaac Mizrahi Show for seven years, has written three books, and has made countless appearances in movies and on television. He served as a judge on Project Runway: All-Stars for the series' entire seven-season run.

Mizrahi has directed productions of A Little Night Music and The Magic Flute for the Opera Theatre of St. Louis. Annually, he directs and narrates his production of the children's classic Peter and The Wolf at The Guggenheim Museum in New York. He has performed cabaret at Café Carlyle, Joe's Pub, The Regency Ballroom and City Winery locations throughout the country.

Mizrahi has his own production company, Isaac Mizrahi Entertainment, under which he has several projects in development in television, theatre and literature. His New York Times Bestselling memoir, I.M., was published in February 2019.

For more information, visit HelloIsaac.com.

John Heginbotham

Originally from Anchorage, Alaska, John Heginbotham is a Brooklyn-based choreographer, performer, and teacher.  John graduated from The Juilliard School in 1993 with a BFA in Dance, and was awarded the Martha Hill Prize for Sustained Achievement in Dance.  John was a member of the Mark Morris Dance Group (MMDG) from 1998 – 2012, performing lead roles in L'Allegro, il Penseroso, ed il Moderato; The Hard Nut; Four Saints in Three Acts; and Romeo and Juliet: On Motifs of Shakespeare. During his time with MMDG, he toured across the United States and abroad alongside artists including Mikhail Baryshnikov, Yo-Yo Ma, Emanuel Ax, The Bad Plus, and Zakir Hussain, and performed with opera companies including The Metropolitan Opera, New York City Opera, and the English National Opera. 

John received a 2018 Guggenheim Fellowship and in June 2014, he was awarded the prestigious Jacob's Pillow Dance Award in recognition of his unique choreographic vision and promise.  John is currently a Research Fellow at the National Center for Choreography at The University of Akron (NCCAkron), was awarded a 2017/18 New York City Center Choreography Fellowship, was a 2016 Fellow at NYU's Center for Ballet and the Arts, and is a two-time recipient of the Jerome Robbins Foundation New Essential Works (NEW) Fellowship (2010, 2012).  John and Dance Heginbotham have been invited to participate in creative residencies at BAM Fisher, The Banff Centre, Baryshnikov Arts Center, Brooklyn College, CUNY Kingsborough, Jacob's Pillow Dance Festival, The Krannert Center for the Performing Arts, LMCC's Extended Life program on Governor's Island, The Watermill Center, and White Oak.

Live music is an integral part of John's creative vision leading to collaborations with the new music ensemble Alarm Will Sound, string quartet Brooklyn Rider, the Raymond Scott Orchestrette, art/pop duo Fischerspooner; composers Tyondai Braxton, Ethan Iverson, and Colin Jacobsen; pianist George Shevtsov; multi-instrumentalist Nathan Koci; and vocalists Jesse Blumberg, Gabriel Kahane, and Shara Nova (also known as My Brightest Diamond). 

In addition to his work with Dance Heginbotham, John is active as a freelance choreographer. He created a new ballet, RACECAR, for The Washington Ballet as part of their NEXTsteps series, that premiered in October 2019.  In 2015, John choreographed Daniel Fish's highly-acclaimed Bard SummerScape production of Oklahoma!, which received its New York City Premiere at St. Ann's Warehouse in October 2018, and opened on Broadway at Circle in the Square on April 7, 2019 for a limited engagement through January 2020. Oklahoma! won the 2019 Tony Award for Best Revival of a Musical and will launch a National Tour in Fall 2021. In 2016, John was invited to return to Bard  to create the evening-length work Fantasque in collaboration with renowned puppeteer Amy Trompetter. Fantasque had its New York City premiere at the Skirball Center for the Performing Arts in November 2018.  In 2016, he was commissioned to create First for Juilliard Dance: New Dances. In July 2014, John created his first ballet, Angels' Share, for Atlanta Ballet's Wabi Sabi Project. In December 2013, he choreographed Isaac Mizrahi's Peter & the Wolf for Works & Process at The Guggenheim,  which has become an annual holiday event.  John's work has been featured in the music videos of Fischerspooner and NICKCASEY, and in the live performances of cabaret artists Lady Rizo and Our Lady J. 

John's growing list of opera commissions include:  John Adams' Girls of the Golden West, directed by Peter Sellars, at San Francisco Opera (2017) and Dutch National Opera (2019); Candide with the Orlando Philharmonic (2016) and The Knights (2018, 2019); The Magic Flute at the Opera Theatre of St. Louis, directed by Isaac Mizrahi (2014); Handel's Alceste with the American Classical Orchestra (2014); Macbeth with the Manhattan School of Music Opera Studies Department (2014); and Maria de Buenos Aires at the Cork Opera House (2013).  

As a teacher, John offers dance master classes in the United States and abroad. He has taught at institutions including Princeton University, Barnard College, George Mason University, Laban Centre in London, School of Visual Arts, University of California, Berkeley, University of Illinois at Urbana-Champaign, and the University of Washington. He was invited to give the keynote address to the Utah Dance Educator's Conference in November 2016. John is the Director of the Dartmouth Dance Ensemble, and is a founding teacher of Dance for PD®, an ongoing collaboration between the Mark Morris Dance Group and the Brooklyn Parkinson Group. 

Nico Muhly

Nico Muhly, born in 1981, is an American composer who writes orchestral music, works for the stage, chamber music and sacred music. He's received commissions from The Metropolitan Opera: Two Boys, (2011) and Marnie (2018); Carnegie Hall, the Los Angeles Philharmonic, the Tallis Scholars, King's College and St John's College, Cambridge, Wigmore Hall, and The Philadelphia Orchestra, among others. He is an avid collaborator, and has worked with choreographers Benjamin Millepied at the Paris Opéra Ballet, Bobbi Jene Smith at the Juilliard School, Justin Peck and Kyle Abraham at New York City Ballet; artists Sufjan Stevens, The National, Teitur, Anohni, James Blake and Paul Simon; and has written film scores for The Reader (2008) and Kill Your Darlings (2013), and the BBC adaptation of Howards End (2017). 

Among his concerti are works for violin, (Shrink, for Pekka Kuusisto), organ (Register, for James McVinnie), viola (Nadia Sirota) He collaborates with the same artists as a composer and performer of chamber music. He has written vocal works for Iestyn Davies, Renée Fleming, and Nicholas Phan, has collaborated with artists Maira Kalman and Oliver Beer, and has created site-specific pieces for the National Gallery, London, and the Art Institute of Chicago, and written articles for the Guardian, the New York Times, and the London Review of Books. Recordings of his works have been released by Decca and Nonesuch, and he is part of the artist-run record label Bedroom Community, which released his first two albums, Speaks Volumes (2006) and Mothertongue (2008). 

The Church

The mission of The Church is to foster creativity among the diverse communities on the East End and honor the living history of Sag Harbor as a maker village. It functions as an artist residency, exhibition space and creative center. Housed in a deconsecrated 19th century Methodist church, The Church aspires to be a place where local and national artists and creatives can work, meet and inspire each other. Founded by artists Eric Fischl and April Gornik, The Church began operation in 2021. Championing new and traditional technologies through collaboration, education and outreach, we strive to be an asset for the community in all its richness and heterogeneity.

Guggenheim Works & Process

Described by The New York Times as "forward thinking" and "an exceptional opportunity to understand something of the creative process," since 1984 Works & Process has welcomed New Yorkers to see, hear, and meet the most acclaimed performers and creators of the performing arts. Led by Producer Caroline Cronson and General Manager Duke Dang, Works & Process nurtures and champions new works, shapes representation, amplifies underrepresented voices and performing arts cultures, and offers audiences unprecedented access to generations of leading creators and performers. Artist-driven programs blending performance highlights with insightful discussions are, when permitted, followed by receptions in the rotunda, producing an opportunity for collective learning and community building, while also helping to cultivate a more inclusive, fair, and representative world.

Approximately fifty performances take place annually in the Guggenheim's Frank Lloyd Wright–designed, 273-seat Peter B. Lewis Theater. Every summer Works & Process produces a program at the Guggenheim Bilbao as well. In 2017 Works & Process established a residency program inviting artists to create newly commissioned performances made in and for the iconic Guggenheim rotunda. In 2020 Works & Process Artists (WPA) Virtual Commissions was created financially support 84 new works and over 280 artists and nurture their creative process during the pandemic. To forge a path for artists to safely gather, create, and perform during the pandemic, from summer 2020 through spring 2021 Works & Process pioneered and produced 25 bubble residencies supporting 247 artists, made possible through the generous support of The Andrew W. Mellon Foundation and the Doris Duke Charitable Foundation. On March 20, 2021, after over a year of shuttered indoor performances, with special guidance from New York State's Department of Health, Works & Process, in the rotunda of the Solomon R. Guggenheim Museum, was the first cultural organization to reopen live indoor ticketed performances.

About Works & Process LaunchPAD "Process as Destination"
An artistic incubator, Works & Process LaunchPAD pairs creators of the performing arts with a region-wide constellation of residency centers throughout New York State to develop new work and share works-in-progress. LaunchPAD supports today's leading performing artists, and equally will support a wide variety of performing arts disciplines and artists from historically marginalized backgrounds. Recognizing that performing artists continue to face vulnerabilities, such as unstable income, lack of access to rehearsal space, and difficulty in compensating collaborating artists to develop their craft outside of specifc product-driven work, LaunchPAD will provide artists with a sequence of "made to measure" and fully-funded, one to tree week residencies throughout the Hudson Valley and Long Island. With residency partners, LaunchPAD will provide artist fees, devoted rehearsal space, living accommodations for collaborators, transportation, and healthcare insurance coverage.

To foster greater understanding for the artistic process, LaunchPAD will include open rehearsals, classes, and conclude each residency with local in-process presentations and discussions designed to promote appreciation for the complexities of the artistic process, but also to build future audiences for its performing artists. Select works will also be presented in New York City at Works & Process at the Guggenheim.
Event Sponsors
Commissioned by Works & Process

Third Bird

was developed in a Works & Process bubble residency at Catskill Mountain Foundation in Spring 2021, made possible through the generous support of The Andrew W. Mellon Foundation and Doris Duke Charitable Foundation. The Music for Third Bird is made possible, in part by the Ellis L. Phillips Foundation.

Education Programming

at Guild Hall of East Hampton

is supported by The Patti Kenner Arts Education Fellowship, Lucy and Steven Cookson, The

Hearthland

Foundation, Stephen

Meringoff

, Milton and Sally Avery Arts Foundation, Susan and Stephen Scherr, and funding from the Lewis B. and Dorothy Cullman Endowment Fund, and The Melville Straus Family Endowment.
Become a Sponsor