The Met: Live in HD
Verdi's Aida (Encore Screening)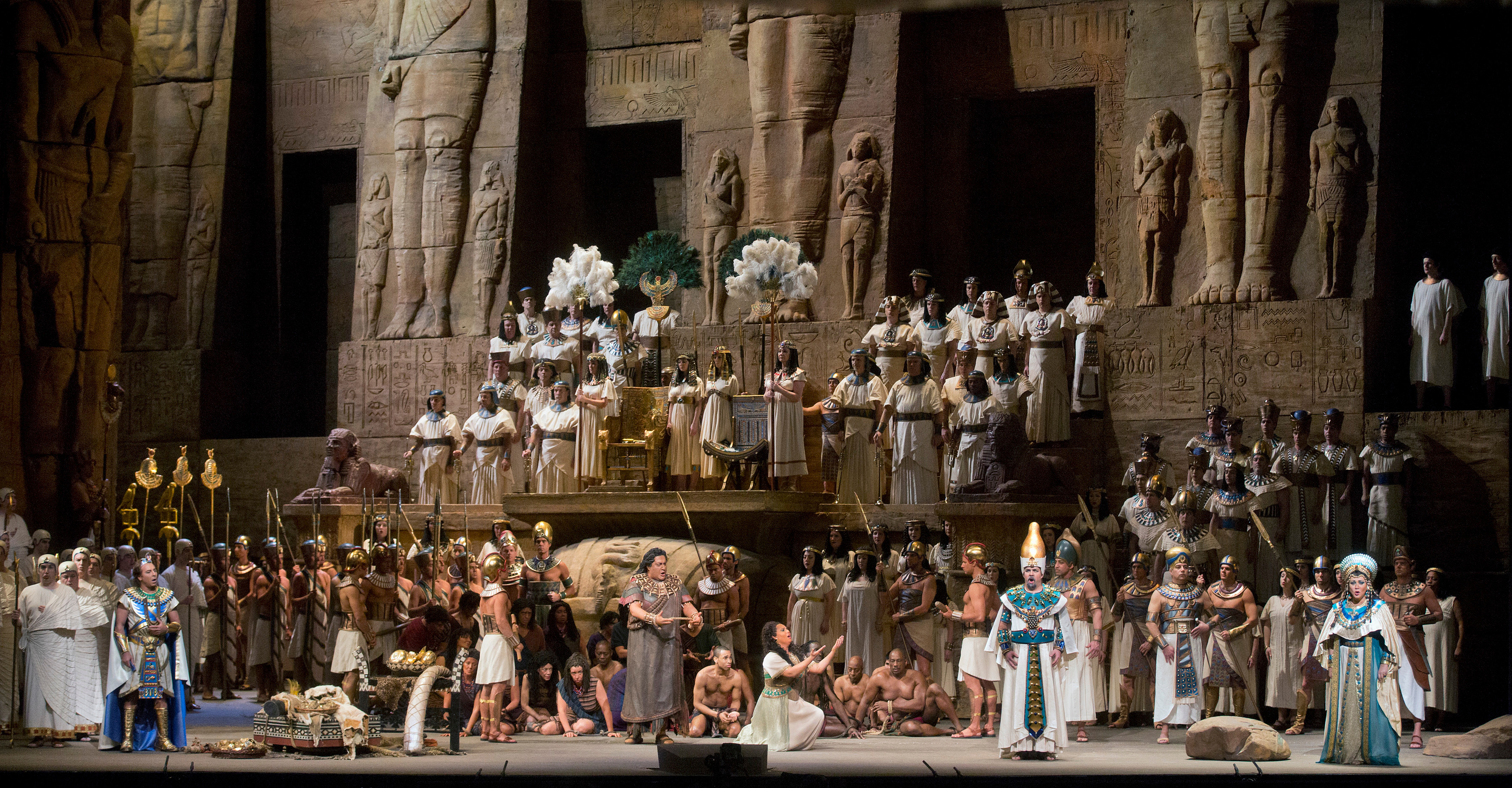 Overview
1 p.m. ET / Approx. runtime: 3:56 [2 Intermissions]
Nicola Luisotti; Anna Netrebko (Aida), Anita Rachvelishvili (Amneris), Aleksandrs Antonenko (Radamès), Quinn Kelsey (Amonasro), Dmitry Belosselskiy (Ramfis), Ryan Speedo Green (The King)
In what should be a highlight of the new season, soprano Anna Netrebko sings her first Met Aida, going toe-to-toe with mezzo-soprano Anita Rachvelishvili as Amneris. Later in the season, a second star-studded cast takes over, with Sondra Radvanovsky and Dolora Zajick as the leading ladies.Tenors Aleksandrs Antonenko and Yonghoon Lee alternate as Radamès, and Nicola Luisotti and Plácido Domingo take the podium for the Met's monumental production.
The libretto indicates merely that the opera takes place in "ancient Egypt, in the time of the pharaohs." This may sound vague, but it was a clear direction to approach the drama as myth rather than anthropology or history.
In a remarkable career spanning six decades in the theater, Giuseppe Verdi (1813–1901) composed 28 operas, at least half of which are at the core of today's repertoire. His role in Italy's cultural and political development has made him an icon in his native country. The story of Aida is thought to be the creation of Auguste Mariette (1821–1881), an extraordinary French archaeologist who was the founder of the Egyptian Museum of Cairo. Camille du Locle (1832–1903), who collaborated on the scenario with Mariette and suggested the story to Verdi, had worked with the composer on the libretto of Don Carlos. Aida's librettist, Antonio Ghislanzoni (1824–1893), was a novelist and poet as well as the creator of some 85 libretti.
The score of Aida is a sophisticated example of Italian Romanticism, imbued with a convincingly mysterious and exotic hue. Making no claims to authenticity, Verdi created a unique musical palette for this opera. The grandeur of the subject is aptly conveyed with huge patriotic choruses, most notably the unforgettable Triumphal Scene in Act II. These public moments often serve as frames for the solos of the leading tenor and soprano: his soaring "Celeste Aida" right at the beginning of Act I, her impassioned "Ritorna vincitor!" that follows, and her great internal journey, "Qui Radamès verrà! … O patria mia" in Act III.
Event Sponsors
The simulcasts at Guild Hall are made possible in part through the generosity of:

 
Grand Tier: The Ellen and James S. Marcus Endowment for Musical Programming,
Ann Cestone in memory of her sister Gloria, Phyllis Davis, Louise Phanstiel, The East Hampton Star
Dress Circle: Norma Giorgetti in memory of Mary-Anne Szabaga, Barbara Horgan, Patti Kenner, Judy and Alex Laughlin, Jim Potter, Maryam Seley, Anita Sheldon, Norbert Weissberg in memory of Dr. Josef Weissberg
Balcony Circle: Susan L. Blair, Maureen Bluedorn Frederic Cammann, Diane and Bill Dreher, Harriet Edwards, Ernest C. Leatherwood, Jr., Joan and Robert Osborne, Irene and Sidney Silverman, Veronica Stephens, Mary Stone, Sandra Thorn, Peter Van Hattum in memory of Harold K. Simmons, Anese Young, Jeannette and H. Peter Kriendler Charitable Trust 
Family Circle (*Gold): Julia Winston Adams, Paulette and Sanford Balsam, Carolyn and Gioacchino Balducci*, Gabrielle Bamberger*, Joanne Canary, Bonnie and Bob Cooperman*, Ann and George Davis*, James A. Fox*, Dr. and Mrs. Paul Garson, Francine Gluckman, Burton Greenhouse, Phyllis Kessler, Marsha Kranes, Robert F. Luckey*, Joan and Walter Marter, Marjorie A. Ogilvie, Carolyn Preische, Marcia Previti and Peter Gumpel *, David Rey, Connie and Larry Randolph, Beverly and Jerome Siegel, Nancy and Maurice Skurnik, Patricia and Andrew Steffan*, Jane Wood*
Donations made to Guild Hall's Met Opera Broadcast series in memory of Andy Jacobyansky: Norman Abell, Monika and Bill Akin, Barbara Alexander, Linda and Kenneth Brown, Thomas Buehler and Rosemarie Schiller, Nancy and Paul Buscemi, Robert Chaloner and Oscar Mandes, Ellen and Charles Collins, Jane and Bruce Collins, Carol and Tom Deane, Maria Dolecka, East Hampton Healthcare Foundation, Peter Gamby and Julie Small-Gamby, Eva and Walter Looss, Ellen and Arnie Jacobs, Carol Elaine Peterson and Richard Kahn, Elaine Peterson and Richard Kahn, Lynn and Alan Kaplan, Judy and Alex Laughlin, Suse and Peter Lowenstein, Linda and Lawrence Miller, Claire and Peter Odell, Mary Ann and Robert Stanutz, Susan and Gil Steckowski, Laura Stein and Eugene Wolsk, Florence Stone, the Symer-Rafferty Family, Patricia and Michael Tuths, and Joseph Wood  
Become a Sponsor