The Met: Live in HD
Donizetti's La Fille du Régiment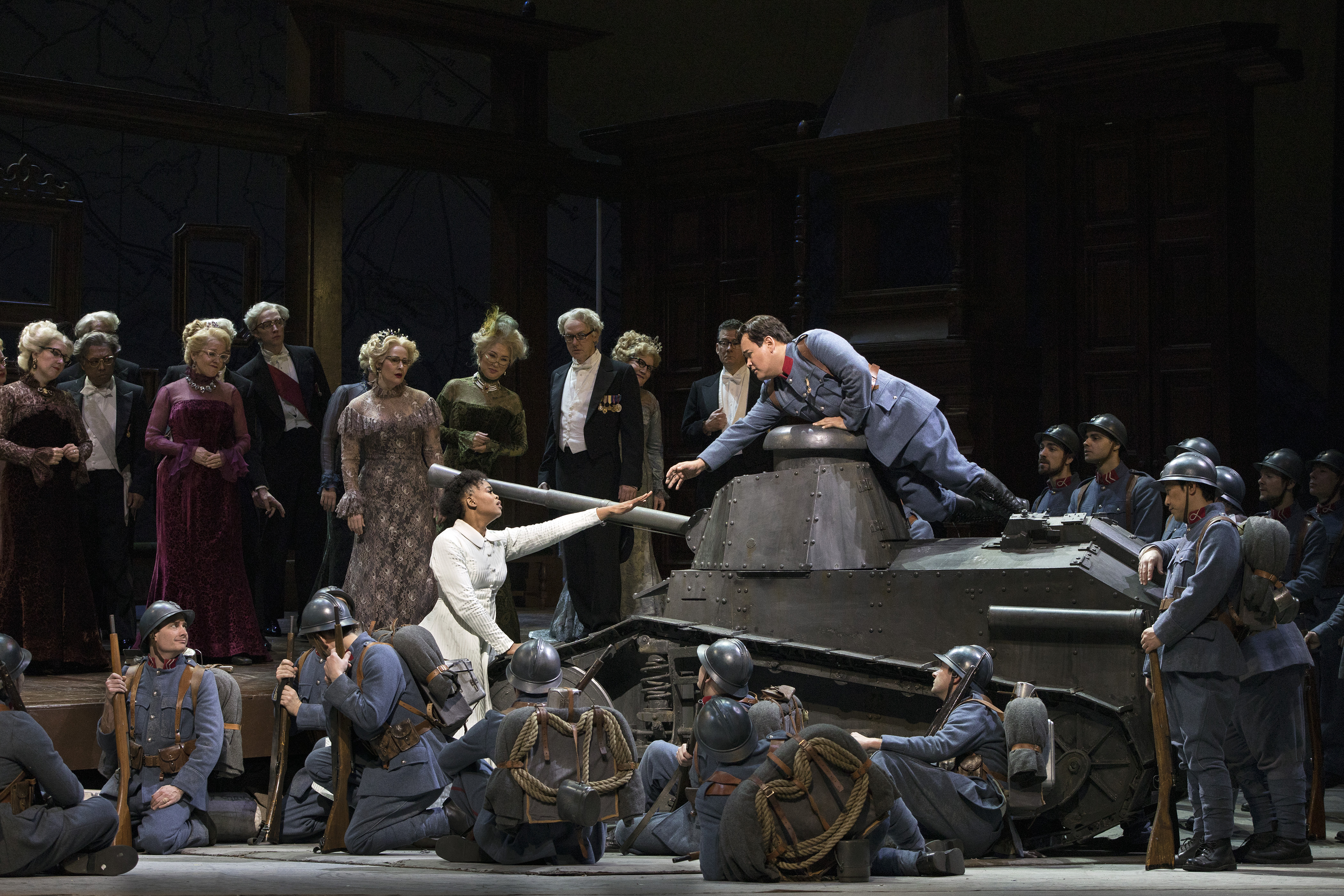 Overview
1 p.m. ET / Approx. runtime: 2:55 [1 Intermission]
Enrique Mazzola; Pretty Yende (Marie), Stephanie Blythe (Marquise of Berkenfield), Javier Camarena (Tonio), Maurizio Muraro (Sulpice)
Tenor Javier Camarena and soprano Pretty Yende team up for a feast of bel canto vocal fireworks—including the show-stopping tenor aria "Ah! Mes amis," with its nine high Cs. Alessandro Corbelli and Maurizio Muraro trade off as the comic Sergeant Sulpice, with mezzo-soprano Stephanie Blythe as the outlandish Marquise of Berkenfield. Enrique Mazzola conducts.
World Premiere: Opéra Comique, Paris, 1840. This frothy comedy mixes humor with a rush of buoyant melody and notorious vocal challenges. The story concerns a young orphan girl raised by an army regiment as their mascot and begins at the moment of her first stirrings of love. Complications (and comedy) ensue when her true identity is discovered. The action is startlingly simple and unencumbered by intricate subplots, allowing the full charm of the characters and their virtuosic music to come across in an uninhibited way.
Bergamo-born Gaetano Donizetti (1797–1848) composed about 75 operas, plus orchestral and chamber music, in a career abbreviated by mental illness and premature death. Apart from the ever-popular Lucia di Lammermoor and the comic gems L'Elisir d'Amore and Don Pasquale, most of his works disappeared from public view after his death. But critical and popular opinion of his huge opus has grown considerably over the past 50 years. The librettist Jules-Henri Vernoy de Saint-Georges (1799–1875) was a dramatist and the manager of the Opéra Comique. He also wrote the libretto for the enduringly popular ballet Giselle and was a frequent collaborator of the most successful theatrical personalities of his day.
Donizetti's score is a deft combination of jaunty military tunes, brisk comic numbers, enormously graceful ensembles and vocal solos, and sparkling arias. Not many singers have the technical ability and theatrical presence to deliver the famous fireworks arias (notably the soprano's Act I "Chacun le sait" and the tenor's Act I "Ah! Mes amis," with its notorious nine high Cs). Just as important as these, however, are the lyric beauty and pathos of the slower melodic gems (the soprano's "Il faut partir" in Act I and the tenor's "Pour me rapprocher de Marie" in Act II).
Event Sponsors
The simulcasts at Guild Hall are made possible in part through the generosity of:

 
Grand Tier: The Ellen and James S. Marcus Endowment for Musical Programming,
Ann Cestone in memory of her sister Gloria, Phyllis Davis, Louise Phanstiel, The East Hampton Star
Dress Circle: Norma Giorgetti in memory of Mary-Anne Szabaga, Barbara Horgan, Patti Kenner, Judy and Alex Laughlin, Jim Potter, Maryam Seley, Anita Sheldon, Norbert Weissberg in memory of Dr. Josef Weissberg
Balcony Circle: Susan L. Blair, Maureen Bluedorn Frederic Cammann, Diane and Bill Dreher, Harriet Edwards, Ernest C. Leatherwood, Jr., Joan and Robert Osborne, Irene and Sidney Silverman, Veronica Stephens, Mary Stone, Sandra Thorn, Peter Van Hattum in memory of Harold K. Simmons, Anese Young, Jeannette and H. Peter Kriendler Charitable Trust 
Family Circle (*Gold): Julia Winston Adams, Paulette and Sanford Balsam, Carolyn and Gioacchino Balducci*, Gabrielle Bamberger*, Joanne Canary, Bonnie and Bob Cooperman*, Ann and George Davis*, James A. Fox*, Dr. and Mrs. Paul Garson, Francine Gluckman, Burton Greenhouse, Phyllis Kessler, Marsha Kranes, Robert F. Luckey*, Joan and Walter Marter, Marjorie A. Ogilvie, Carolyn Preische, Marcia Previti and Peter Gumpel *, David Rey, Connie and Larry Randolph, Beverly and Jerome Siegel, Nancy and Maurice Skurnik, Patricia and Andrew Steffan*, Jane Wood*
Donations made to Guild Hall's Met Opera Broadcast series in memory of Andy Jacobyansky: Norman Abell, Monika and Bill Akin, Barbara Alexander, Linda and Kenneth Brown, Thomas Buehler and Rosemarie Schiller, Nancy and Paul Buscemi, Robert Chaloner and Oscar Mandes, Ellen and Charles Collins, Jane and Bruce Collins, Carol and Tom Deane, Maria Dolecka, East Hampton Healthcare Foundation, Peter Gamby and Julie Small-Gamby, Eva and Walter Looss, Ellen and Arnie Jacobs, Carol Elaine Peterson and Richard Kahn, Elaine Peterson and Richard Kahn, Lynn and Alan Kaplan, Judy and Alex Laughlin, Suse and Peter Lowenstein, Linda and Lawrence Miller, Claire and Peter Odell, Mary Ann and Robert Stanutz, Susan and Gil Steckowski, Laura Stein and Eugene Wolsk, Florence Stone, the Symer-Rafferty Family, Patricia and Michael Tuths, and Joseph Wood  
Become a Sponsor