The Listening Body: Workshop with Viv Corringham & Jolie Parcher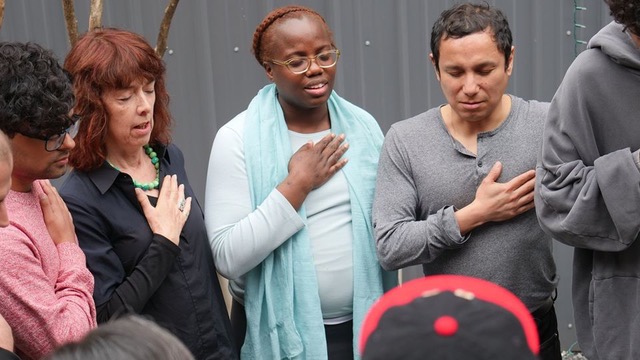 Overview
Drawing on a range of techniques from Deep Listening™, Yoga, Mindfulness, and more, THE LISTENING BODY workshops aim to find greater physical release, acoustical awareness, environmental connection, and overall playfulness in our breath, body, ears, and voice. 
Led by vocalist, composer, and Deep Listening™ Practitioner, Viv Corringham, and Director of Mandala Yoga Center for Healing Arts, Jolie Parcher, each session will uniquely combine exercises in sustained listening, vocal exploration, gentle yoga, and movement.  
The workshop is suitable for musicians and non-musicians; yogis and non-yogis alike.  
*Workshops will take place in Guild Hall's Minikes Garden (entrance on the right side of the building). Participants are asked to bring their own yoga mat or blanket, and required face covering.
FAQ: COVID PROTOCOLS FOR EDUCATION EVENTS & WORKSHOPS
Viv Corringham

Viv Corringham is a British vocalist, composer and soundscape artist who studied and worked with Pauline Oliveros for many years, and holds a Certificate to teach Deep Listening. She facilitates workshops in listening and sounding, most recently in Hong Kong, Mexico, London, Bangalore, New York, Kolkata and Manila. 

Her work includes concerts, soundwalks, and audio installations, exploring people's sense of place and the link with personal history and memory. She received an MA in Sonic Art from Middlesex University London and her awards include two Composer Fellowships from McKnight Foundation, through American Composers Forum. Her work has been presented in twenty-six countries including Hong Kong Arts Centre, Fronoteca Nacional de Mexico, Issue Project Troom New York, Onassis Centre Athens, ICA London, Serralves Museum Portugal, Ohrenhoch Berlin, Arts University Taiwan, Shantou University China, and Tempo Reale Florence. 

Jolie Parcher

Jolie Parcher is the Founder and Director of Mandala Yoga Center for Healing Arts since 2001.  She is a certified yoga teacher from The Patanjali Yoga Center in Khatmandu, Nepal since 1990 where she first began chanting in the yogic and hindu traditions. Jolie is also an Ayurvedic Practitioner, body worker and aromatherapist. She created Mandala Yoga as a space to practice and learn the full yoga experience and a variety of other healing modalities.  At Mandala community joins together for classes, kirtan chanting, reiki training, spiritual book clubs, ayurvedic lunches, philosophy studies and so much more.  Her personal yoga classes incorporate sanskrit chanting, essential oils and guidance from Ayurvedic daily wisdom into a more traditional vinyasa flow. As a student of the classic Ashtanga system she returns to that particular sequencing to shape her classes. It's a practice that celebrates a vibrant life both on and off the mat.
Event Sponsors
All Education Programming supported by The Patti Kenner Arts Education Fellowship, Lucy and Steven Cookson, and The Wunderkinder Foundation, with additional funding by Kate W. Cassidy Foundation, Lewis B. and Dorothy Cullman Endowment Fund, and The Melville Straus Family Endowment.

Media Sponsor: Purist
Become a Sponsor