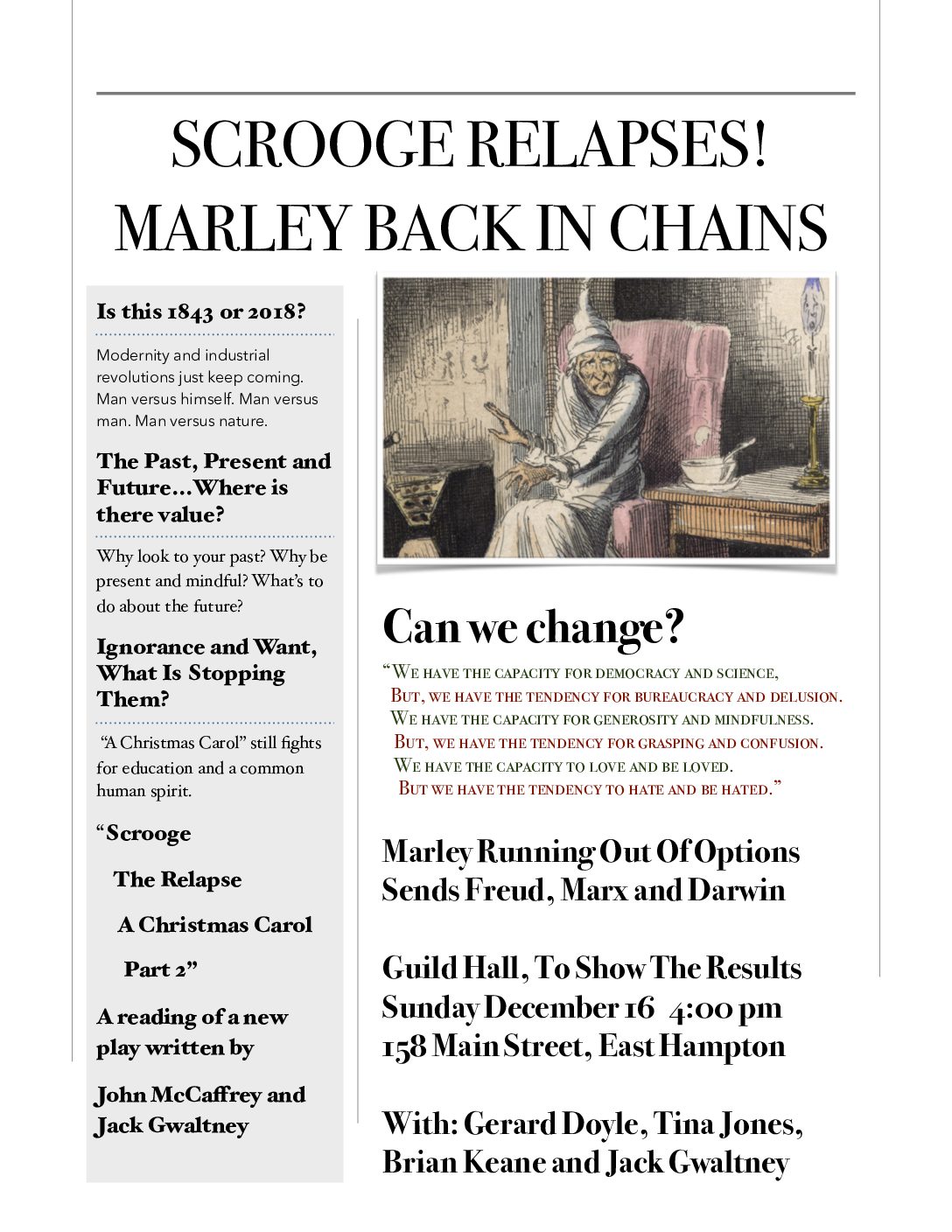 Overview
And Scrooge became as good a friend, as good a master, and as good a man, as the good old city knew. – A Christmas Carol
But did it stick? In an homage to Charles Dickens and his classic holiday ghost story, co-creators John McCaffrey and Jack Gwaltney conjure up a comic drama that imagines Scrooge backsliding into bitterness and miserdom after his holiday breakthrough, with Jacob Marley forced to send three new "spirits"…Sigmund Freud, Karl Marx, and Charles Darwin. Can they help Scrooge rekindle love in his heart for mankind? Can they help Scrooge learn about the past, the present and the future?
With: Gerard Doyle, Tina Jones, Brian Keane, and Jack Gwaltney
Jack Gwaltney was born in Virginia, went to UVa and lives in New York City. He is fortunate to perform as an actor on stage, television and in film. Jack spent nine years as a director and dramaturge for The Greylock Project at the Williamstown Theater Festival, an offshoot of Willie Reale's 52nd St. Project. Collaborating with John McCaffrey is one of the wisest things Jack does. Thanks to Josh, Guild Hall and all their team!
John McCaffrey grew up in Rochester, New York, attended Villanova University, and received his MA in Creative Writing from the City College of New York. He is the author of The Book of Ash and Two Syllable Men. He is the Director of Development for the Training Institute for Mental Health in New York City, and teaches creative writing at the College of New Rochelle's Rosa Parks Campus. He lives part-time in Wainscott, NY.
Tina Jones (Woman, Sigmund Freud) has performed on the east end at Guild Hall, Bay Street Theater and Hampton Theater Company. Ms. Jones has worked across the country. Regional theaters include Berkeley Repertory Theatre, Baltimore Center Stage, Cleveland Playhouse, American Conservatory Theatre, San Jose Repertory Theatre, Idaho Shakespeare Company, Arizona Theatre Company; as well as Broadway, Off-Off Broadway, film, and television. She holds a Masters Degree from the American Conservatory Theatre in San Francisco and studies with the Barrow Group in New York City.
Brian Keane (Jacob Marley, Karl Marx, Man 3) appeared in the North American tour of the National Theatre's War Horse. New York credits include Timon of Athens (Public/NYSF), Happy Now? (Primary Stages), The Misanthrope (Classic Stage Company), Cyrano de Bergerac and All My Sons (Roundabout). Regional credits include Frost/Nixon (Bay Street Theater), A Streetcar Named Desire (Guthrie), Macbeth (Old Globe), The Winters Tale (Yale Rep), Book of Days (Arena Stage), How I Learned to Drive (Centerstage). Television and film credits include House of Cards, Ray Donovan, The Young Pope, Chicago PD, Gypsy, The Blacklist, Elementary, Brain Dead, Gotham, The Good Wife, Person of Interest, Lights Out, Law & Order series, Queens Supreme, Downsized, Hustling, Urbania, Going Under, Brain Off, Public Property, and the BearCity trilogy.