Julianne Moore and Alec Baldwin in
Same Time, Next Year by Bernard Slade (Streaming Rental)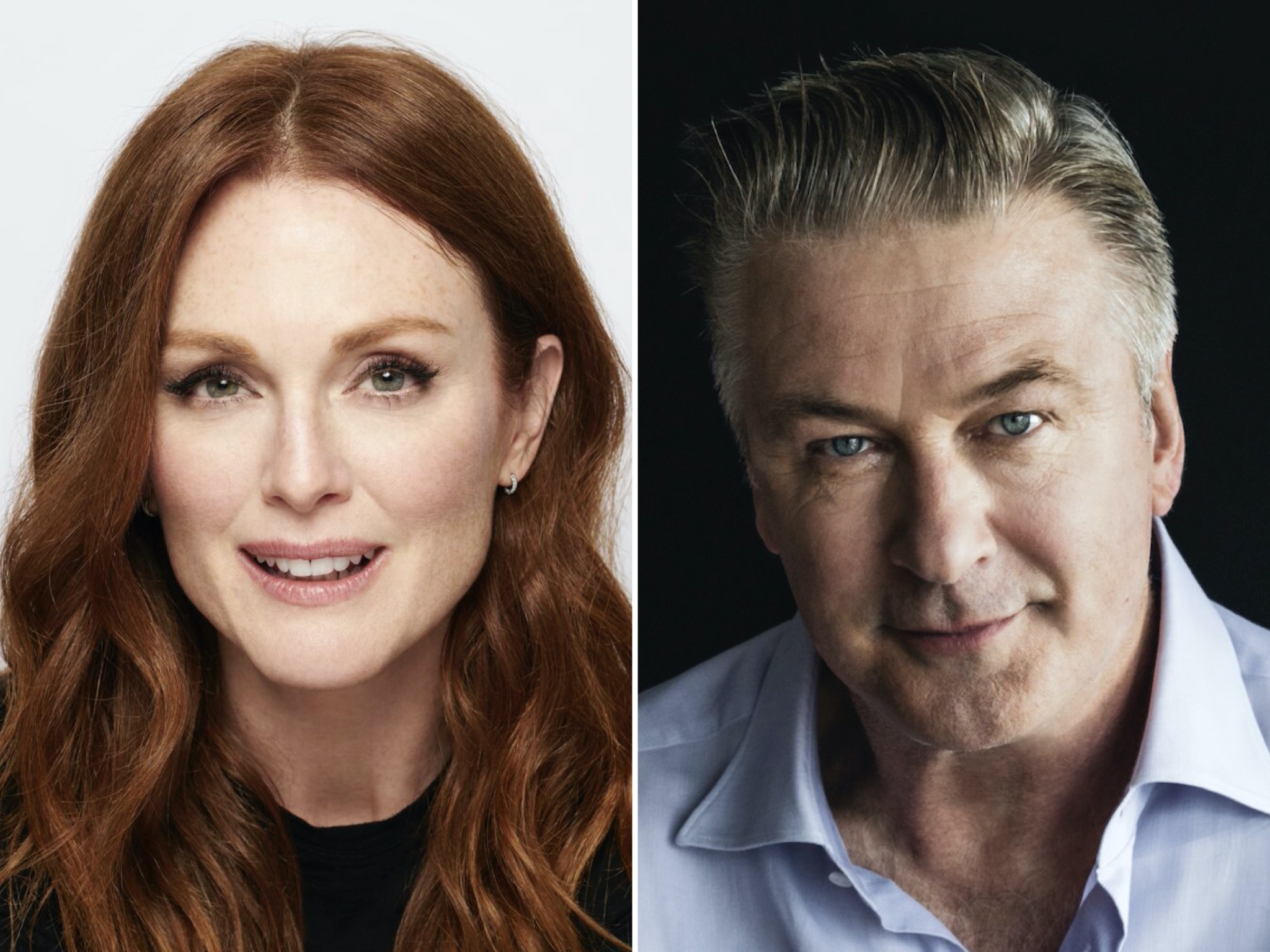 Overview
Directed by Bob Balaban
If you missed the brilliantly acted, hilarious and romantic virtual reading of Same Time, Next Year by Academy and Emmy Award winner Julianne Moore and Academy nominated and Emmy, SAG and Golden Globe award winner Alec Baldwin, you are in luck, for one month, the performance will be available for online streaming to be watched online anytime, anywhere from July 17 through August 16, 2020. Running time of the program is 90 minutes. The cost of streaming is $9.99, and proceeds from this on-demand offering benefit Guild Hall, the Hamptons legendary hub of arts, entertainment, and culture, greatly impacted by the Covid-19 pandemic but undeterred in creating art by any means necessary.
The online premiere took place on Sunday, July 12 with tickets at $100 per household. Under the direction of fellow actor and friend, Bob Balaban, Baldwin and Moore brilliantly reprised the roles of George and Doris, lovers who meets annually for 26 years as their individual lives evolve and mature. The real life friendship and rapport between Baldwin and Moore was palpable and transcended the medium. Dozens of viewers to the premiere heaped praise on the actors and the direction:
They succeeded, not only as impossibly charming and emotionally gripping, but as a rare glimpse into the commitment each actor felt for his//her craft, especially when done in service to a beloved institution. –Jody
Now you can catch the same program at your convenience with the knowledge that your rental is supporting Guild Hall.
Julienne Moore photo by Brian Bowen Smith. Alec Baldwin photo by Marco Vacchi.
Julianne Moore

Julianne Moore is an Academy Award and Emmy winning actor, and the first American woman to be awarded top acting prizes at the Cannes, Berlin, and Venice film festivals. Julianne also is a New York Times bestselling author, for her children's book series Freckleface Strawberry.  She is on the Advisory Council of The Children's Health Fund, a supporter of the Tuberous Sclerosis Alliance, and in 2015, became founding chair of the Everytown for Gun Safety Creative Council, a creative community established to help amplify the movement to end gun violence in America. Julianne has recently starred in The Woman in the Window (2020), The Glorias (2020), the Apple series Lisey's Story (2020), and Mothertrucker (2021).

Photo by Brian Bowen Smith

Alec Baldwin

Since 1980, Alec Baldwin has appeared in numerous productions on stage, in films and on television. He has received a Tony nomination (A Streetcar Named Desire, 1992) an Oscar nomination (The Cooler, 2004) and has won three Emmy awards, three Golden Globes and seven consecutive Screen Actors Guild Awards as Best Actor in a Comedy Series for his role on NBC-TV's 30 Rock. His films include The Hunt for Red October, Glengarry Glen Ross, Malice, The Edge, It's Complicated, Blue Jasmine, Still Alice, Mission Impossible: Rogue Nation, and The Boss Baby among many others.

Baldwin earned a Bachelor of Fine Arts degree from New York University's Tisch School of the Arts in 1994 and has received honorary doctorates from NYU (2010) and Manhattan School of Music (2012). He serves on numerous boards related to the arts, the environment and progressive politics including the Hamptons International Film Festival and the New York Philharmonic. He is also the radio announcer for the New York Philharmonic.

He has authored three books: A Promise to Ourselves, his memoir entitled Nevertheless, and, with Kurt Andersen, the Donald Trump parody You Can't Spell America Without Me.

He is the host of a podcast, Here's the Thing, for WNYC.

Baldwin is married to author and wellness expert Hilaria Thomas Baldwin. They have four children: Carmen, Rafael, Leonardo and Romeo, as well as his eldest, Ireland Baldwin. Baldwin hosts ABC's Match Game, the classic television game show; a portion of his fees are donated to charity through The Hilaria and Alec Baldwin Foundation.

Photo Credit: Marco Vacchi

Bob Balaban

Bob Balaban's directing credits include the long running off-Broadway play The Exonerated (Drama Desk award, Outer Critic's Circle award), The Blue Deep at Williamstown, and the world premiere of Lawrence Wright's play Cleo at Houston's Alley Theater.

He directed Susan Sarandon and Ralph Fiennes in HBO's Bernard and Doris (Emmy, Golden Globe and SAG nominations,) Lifetime's Georgia O'Keefe with Joan Allen and Jermey Irons (Emmy, Golden Globe and SAG nominations,) and created, produced, and co-starred in Robert Altman's Gosford Park (Academy Award, Bafta Award, SAG Award, Golden Globe Award).

Bob has appeared  in over a hundred movies including Midnight Cowboy, Close Encounters of the Third Kind, Absence of Malice, Waiting for Guffman, Moonrise Kingdom, Monuments Men, and Wes Anderson's soon to be released French Dispatch.
Event Sponsors
All

Theater

Programming

 supported in part by Marders, Barbara Slifka, and funding from The Ellen and James S. Marcus Endowment for Musical

Programming

, Hess Philanthropic Fund, The Melville Straus Family Endowment, The Schaffner Family Foundation, and with additional support from Brown Harris Stevens, Saunders & Associates, and Lang Insurance. 
Become a Sponsor