Salieu Suso & World Music Collective (FREE LIVESTREAM)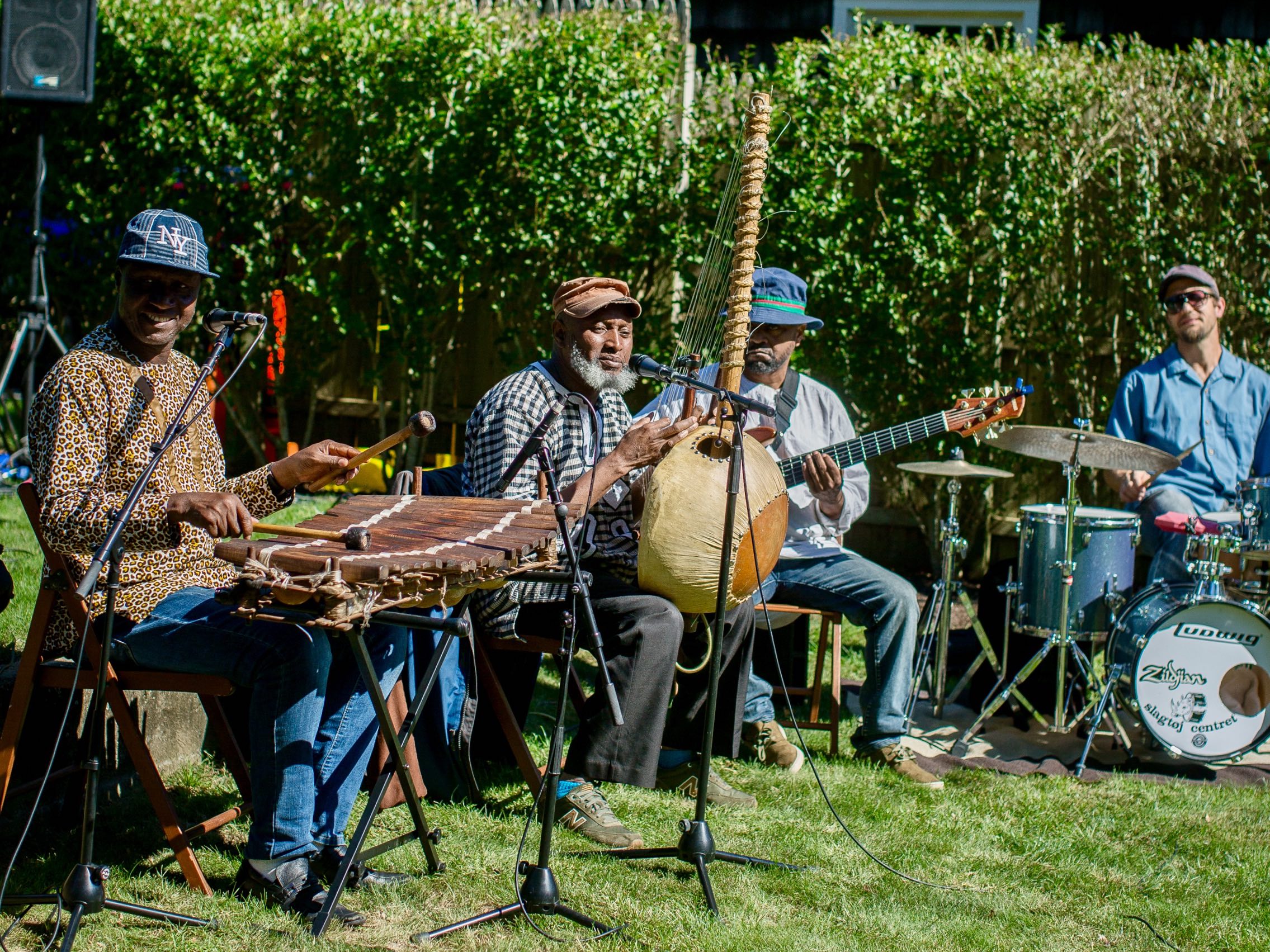 Overview

THIS PROGRAM WILL BE STREAMED LIVE FROM OUR JOHN DREW BACKYARD THEATER
Salieu Suso – Kora and vocal  / Ebrima Jassey – balafon / Jimmy Mngwandi – bass / Claes Brondal- drums 
Salieu Suso was born into a family of musicians from Gambia, West Africa. At the age of 8, he was trained to play the West African Harp, the 21 stringed Kora. He is also recognized as a descendant of the originator of the instrument, JaliMady Wulayn Suso. He performed throughout Africa and Europe before coming to the U.S. where he freelances with other musicians today. Ebrima Jassey, born in Namibia, West Africa, and currently residing in the Bronx, plays the balafon, a wooden xylophone. He took up learning the instrument at the age of 9 and performs with his brothers at various restaurants and colleges. He also plays as a street performer. Jimmy Mngwandi got his musical start at age 11 playing bass on the streets of Bophelong Townsip in South Africa to help his single mother. Discovered playing a guitar fashioned out of an oil tin and wood, Mngwandi made his way to Johannesburg where he quickly made his name. Today, he is among South Africa's most sought after bassists, writers and producers, He has performed with legends like Mirium Makeba, Hugh Masekela, saxophonist David Murray, flutist Yusef Lateef, bassist Rufus Reid, Jamaican Gutarist Ernest Ranglin and Sbongile Khumalo; and written and recorded platinum CDs for Sony/South Africa, Bongo Maffin, Brothers of Peace and Simphiwe Dana's album, Bantu Biko Street. Mngwandi has also recorded his own album, with the EMI/South Africa group Bezwaan. Claes Brondal was born in Denmark, playing the drums since early childhood. Studied with drumming greats such as Ed Thigpen, Gary Chaffee, Kenwood Dennard and others. Versatile in many styles of music – especially loving jazz, funk, Afro/Cuban, Brazilian and Rhythms of the World.
*Your purchase of one ticket is for one Lawn Circle, which can sit a party of up to two people. All lawn circles are 6 ft. in diameter and are distanced 6 ft. away from other parties. Please bring your own blankets and/or beach chairs. For more information, visit the Theater FAQ page.
Event Sponsors
Special thanks to Marty and Michele Cohen, Ben Krupinski Builder, Hollander Design, and Groundworks Landscaping All Theater Programming supported in part by Marders, Barbara Slifka, and funding from The Ellen and James S. Marcus Endowment for Musical Programming, The Melville Straus Family Endowment, The Schaffner Family Foundation, and with additional support from Brown Harris Stevens, and Lang Insurance.
Become a Sponsor