RING THE ALARM…A Conversation with Derrick Adams & Renee Cox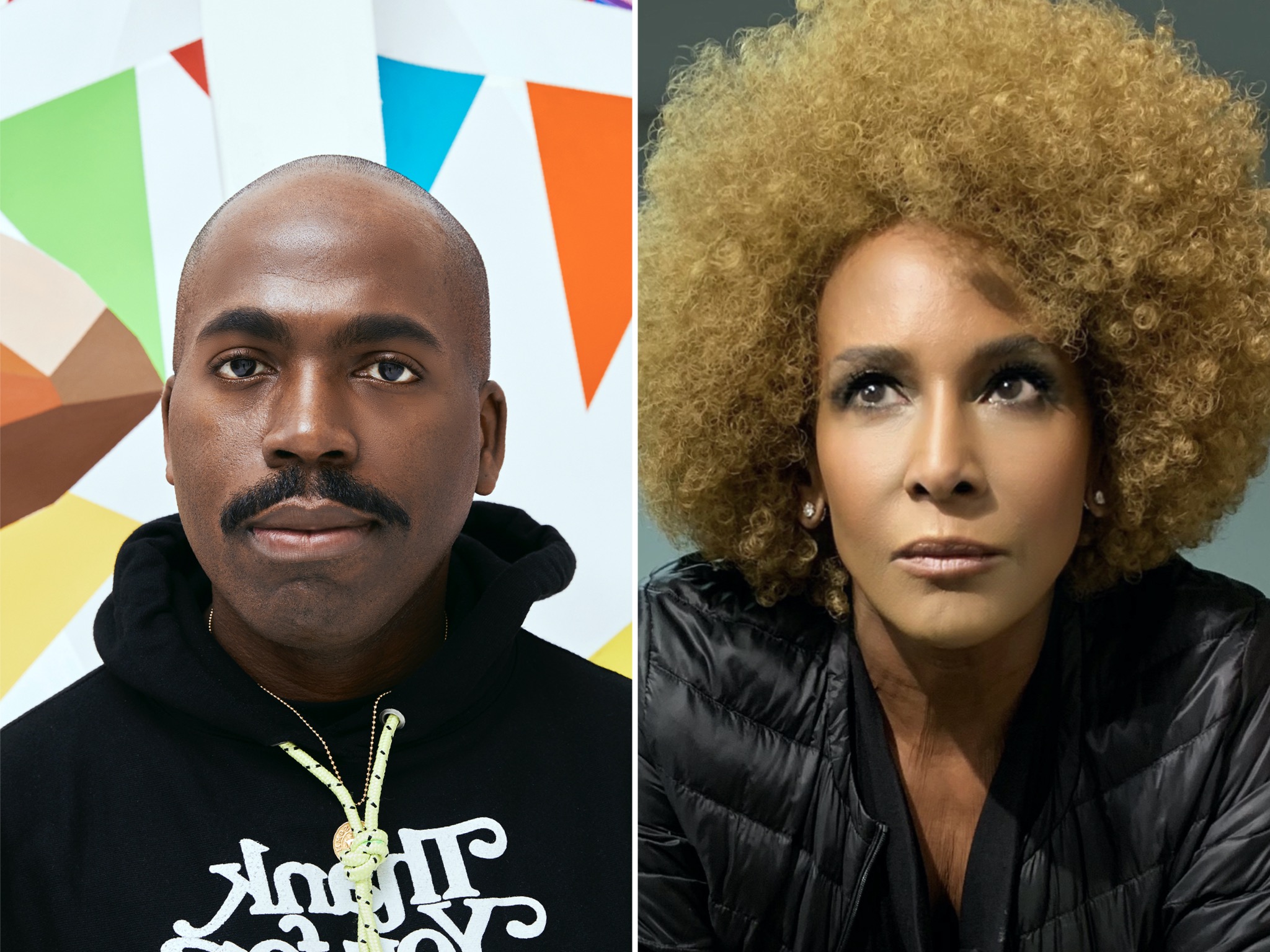 Overview
The idea for this program came about from discussions on a forthcoming Guild Hall exhibition of Black Artists that Renee Cox will be curating for the summer of 2023. Derrick Adams and Renee Cox, noted artists, colleagues and friends, both have a long history of exhibiting work and curating exhibitions that focus on empowerment, the black experience, and issues of contemporary life.
"The need for open dialogue on art, race and politics felt timely and something that we believe is needed by our community," notes Christina Strassfield, Museum Director/Chief Curator. We hope to continue this series of conversations next year, leading up to the 2023 Summer exhibition.
Derrick Adams

Multidisciplinary Artist

Derrick Adams was born in Baltimore, Maryland in 1970. He received his MFA from Columbia University and BFA from Pratt Institute. He is an alumnus of the Skowhegan School of Painting and Sculpture and Marie Walsh Sharpe Foundation's Studio Program. Adams is a recipient of a Robert Rauschenberg Foundation Residency (2019), a Gordon Parks Foundation Fellowship (2018), a Studio Museum Joyce Alexander Wein Artist Prize (2016), and a Louis Comfort Tiffany Award (2009).   Adams has been the subject of numerous solo exhibitions, including ​Buoyant ​ (2020) at the Hudson River Museum; ​Where I'm from ​ (2019) at The Gallery in Baltimore City Hall; ​Sanctuary (2018) at the Museum of Arts and Design, New York; ​Transmission ​ (2018) at the Museum of Contemporary Art, Denver; ​Network ​ (2017) at the California African American Museum, Los Angeles; and ​The Channel ​ (2012) at the Brooklyn Academy of Music. Adams' work has been presented in important public exhibitions, including ​Men of Change: Power. Triumph. Truth. (2019) ​a 10-city exhibition presented by the Smithsonian Institution​; ​PERFORMA ​ (2015, 2013, and 2005); ​The Shadows Took Shape ​ (2014) and ​Radical Presence ​ (2013–14) at The Studio Museum in Harlem; ​Greater New York ​ (2005) at MoMA PS1; and ​Open House: Working In Brooklyn ​ (2004) at the Brooklyn Museum. His work resides in the permanent collections of The Metropolitan Museum of Art, The Studio Museum in Harlem, the Virginia Museum of Fine Arts, the Birmingham Museum of Art, and the Whitney Museum of American Art.

Renee Cox

Renee Cox was born in Colgate, Jamaica in 1960. Renee Cox received her BA from Syracuse University, (Syracuse, NY) and MFA from the School of Visual Arts, (New York, NY). She was a participant in the Whitney Museum of American Art, Independent Study Program, (New York, NY). Her work has been included in solo and group exhibitions at prominent institutions to include Tate Liverpool (Liverpool, UK), The New Museum of Contemporary Art (New York, NY), Brooklyn Museum (Brooklyn, NY), and Harvard University (Cambridge, MA) and the Whitney Museum of American Art (New York, NY) to name a few. She received the Artists Fellowship Award, New York Foundations for the Arts, The MacDowell Colony, (Petersborough, NY) and the Aaron Matalon Award, The National Gallery of Jamaica (Kingston, Jamaica) among others. She is an associate professor at Columbia University and has lectured at Yale College of Art (New Haven, CT), New York University (New York, NY) and Parsons School of Design (New York, NY) to name a few. She lives and works in Manhattan and Amagansett.

 

Cox makes photographs, collages, and installations that draw on art history, fashion photography and popular culture. Her work invokes a critical vision of female sexuality, beauty, power and heroism through nudity, religious imagery and symbolism that inform her interdisciplinary process. She is most noted for her larger than life photographs of female bodies. She reexaminations the black female figure in the context of structures of power. Inspired by critical epochs and artistic styles, her works are often reimaginations of art history, ranging from the Italian Renaissance such as Michelangelo and Leonardo da Vinci, to Cubism (Picasso), Modernism (Édouard Manet) to traditional West African Art (Dogon, Mali, Cross River section of Nigeria). Cox utilizes a mélange of photographic styles in the vein of fashion photographer Richard Avedon, German portrait photographer August Sander, as well as summoning Harlem Renaissance photographic practices, inspired by James Van Der Zee, Gordon Parks to the obscure ritualistic three-dimensional sculptural collages of Bettye Saar. Cox's work is a celebration of the spectrum of the black female body. Her work challenges how women are seen respective to time, place and the intangible spaces between representation and reality. Instagram: @reneecoxstudio.

Cerebral Women

Cerebral Women, founded by Guild Hall trustee Phyllis Hollis, is an online marketing platform designed to promote emerging and mid-career artists of color and female artists. The weekly podcast, Cerebral Women Art Talks, is curated to offer art enthusiasts an intellectual journey into the visual art world and provides insights from various artists and the art professionals that feature them. https://www.cerebralwomen.com/about/  Instagram: @cerebral_women
Event Sponsors
Media Sponsor: Cerebral Women All Museum Programming supported in part by The Melville Straus Family Endowment, The Michael Lynne Museum Endowment, Crozier Fine Arts, The Lorenzo and Mary Woodhouse Trust, an anonymous donor, and public funds provided by New York State Council on the Arts with the support of Governor Andrew M. Cuomo and the New York State Legislature. Free admission is generously funded by BNB Bank and Landscape Details.
Become a Sponsor