RING THE ALARM… A Conversation with Shinique Smith & Renee Cox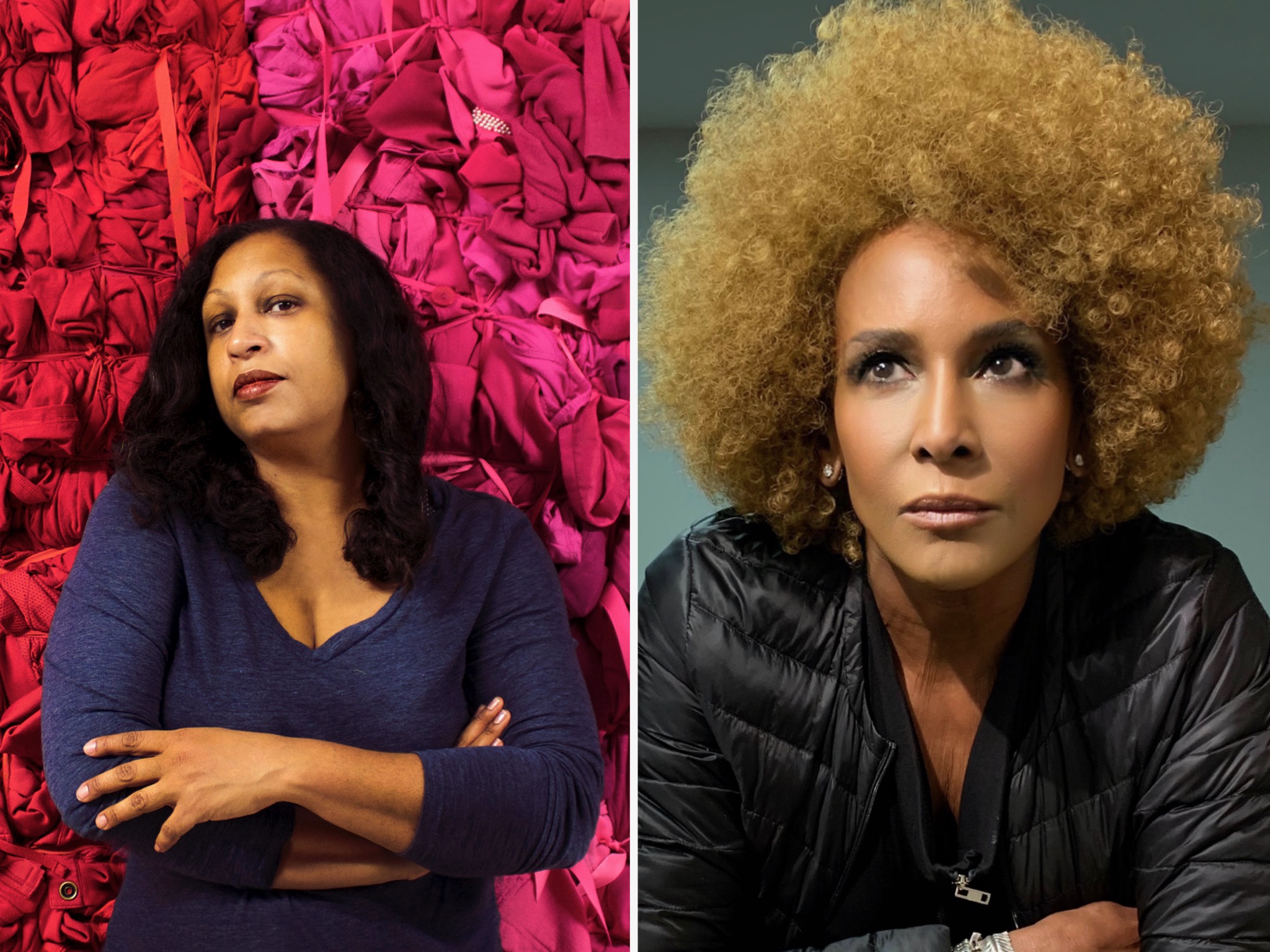 Overview
Q&A moderated by Phyllis Hollis, the founder and host of Cerebral Women Art Talks.
The idea for RING THE ALARM… A Conversation with series Renee Cox began with discussions on an exhibition of Black Artists that Renee Cox will be curating for the summer of 2023.
"Guild Hall is very excited to present this first installment of Ring the Alarm for 2021. We believe now more than ever that the need for open dialogue on art, race and politics is timely and something that we as a community at large need to engage in more. The response to the first 2 talks with Derrick Adams and Sanford Biggers was truly inspiring and we plan to continue this series of conversations leading up to the 2023 Summer exhibition that Renee Cox will guest curate." –Christina Mossaides Strassfield, Museum Director/Chief Curator
Shinique Smith

Shinique Smith is a Los Angeles based painter and sculptor known for her monumental abstractions of calligraphy textiles and collage. Smith's personal histories and belongings intertwine with thoughts of the vast nature of 'things' that we consume and discard and how objects resonate on an intimate and social scale. Over the last twenty years, Smith has gleaned visual poetry from vintage clothing and explored concepts of ritual through tying, writing and gestures inspired by her travels and her early graffiti roots in Baltimore. Through her process, Smith builds a complex material vocabulary that deftly interweaves brushstrokes, private narratives and symbolism for the viewer to divine and intuit. Smith's practice operates at the convergence of consumption, displacement and spiritual sanctuary, revealing connections across space, time, and place to suggest the possibility of constructing worlds renewed by hopeful delight. 

She has exhibited over 20 solo presentations at institutions such as California African American Museum, The Frist Center, MOCA North Miami, Los Angeles County Museum of Art and Studio Museum in Harlem. Her exuberant works are featured in many prestigious collections including Baltimore Museum of Art, The Brooklyn Museum, Denver Art Museum, Minneapolis Art Institute, Museum of Fine Arts, Boston and Whitney Museum. In 2020, Smith was awarded a Tufts Alumni Travel Fellowship and she has also received awards from Joan Mitchell Foundation Tiffany Foundation and Anonymous Was a Woman among others. Smith earned her BFA and MFA from Maryland Institute College of Art where she was also awarded the Alumni Medal of Honor. 

Renee Cox

Renee Cox was born in Colgate, Jamaica in 1960. Renee Cox received her BA from Syracuse University, (Syracuse, NY) and MFA from the School of Visual Arts, (New York, NY). She was a participant in the Whitney Museum of American Art, Independent Study Program, (New York, NY). Her work has been included in solo and group exhibitions at prominent institutions to include Tate Liverpool (Liverpool, UK), The New Museum of Contemporary Art (New York, NY), Brooklyn Museum (Brooklyn, NY), and Harvard University (Cambridge, MA) and the Whitney Museum of American Art (New York, NY) to name a few. She received the Artists Fellowship Award, New York Foundations for the Arts, The MacDowell Colony, (Petersborough, NY) and the Aaron Matalon Award, The National Gallery of Jamaica (Kingston, Jamaica) among others. She is an associate professor at Columbia University and has lectured at Yale College of Art (New Haven, CT), New York University (New York, NY) and Parsons School of Design (New York, NY) to name a few. She lives and works in Manhattan and Amagansett.

 

Cox makes photographs, collages, and installations that draw on art history, fashion photography and popular culture. Her work invokes a critical vision of female sexuality, beauty, power and heroism through nudity, religious imagery and symbolism that inform her interdisciplinary process. She is most noted for her larger than life photographs of female bodies. She reexaminations the black female figure in the context of structures of power. Inspired by critical epochs and artistic styles, her works are often reimaginations of art history, ranging from the Italian Renaissance such as Michelangelo and Leonardo da Vinci, to Cubism (Picasso), Modernism (Édouard Manet) to traditional West African Art (Dogon, Mali, Cross River section of Nigeria). Cox utilizes a mélange of photographic styles in the vein of fashion photographer Richard Avedon, German portrait photographer August Sander, as well as summoning Harlem Renaissance photographic practices, inspired by James Van Der Zee, Gordon Parks to the obscure ritualistic three-dimensional sculptural collages of Bettye Saar. Cox's work is a celebration of the spectrum of the black female body. Her work challenges how women are seen respective to time, place and the intangible spaces between representation and reality. Instagram: @reneecoxstudio.

Phyllis Hollis

Phyllis Hollis has more than thirty years' experience in the financial services industry. She was the President/ CEO of a minority-owned boutique broker-dealer before launching a weekly podcast, Cerebral Women Art Talks, to promote and provide marketing services to visual artists, mainly artists of color, female artists and art professionals.

Hollis began her career in technology working for IBM as a Systems Engineer. In 1983 she transitioned to the financial services industry working for Salomon Brothers in mortgage finance. In 1994, Hollis became a co-founder of the first minority investment bank, Utendahl Capital Partners, with Merrill Lynch as a strategic partner.

During her tenure at M.R. Beal & Co., Phyllis was involved with the Facebook IPO in 2012. This was her introduction to innovative marketing technologies and the catalyst to her interest in digital marketing strategies.

Since leaving her position as a CEO in 2018, Phyllis earned certifications in digital marketing from Cornell, Google and Harvard. She built upon these skills and launched her podcast, Cerebral Women Art Talks Podcast, which combines her passion for technology and the visual arts.

Phyllis is a trustee of Skowhegan School of Painting & Sculpture and GuildHall in East Hampton. She serves on various committees which include strategic planning, investments/finance, impact initiatives, and marketing. She is also a member of the Skowhegan Council and the MoMA Friends of Education council.
Event Sponsors
Guild Hall's Museum programs are made possible by the New York State Council on the Arts with the support of Governor Andrew M. Cuomo and the New York State Legislature, the Helen Frankenthaler Foundation, an anonymous donor, Crozier Fine Arts, and funding from The Michael Lynne Museum Endowment, and The Melville Straus Family Endowment. Free admission is generously funded by Dime Community Bank and Landscape Details. Media Partner: Cerebral Women
Become a Sponsor