Renée Cox in Conversation with Deborah Willis, Ph.D.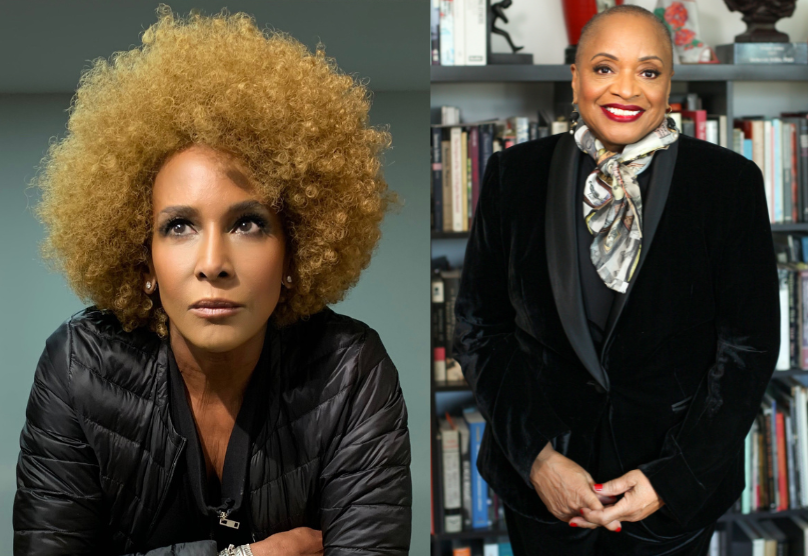 Overview
In conjunction with the exhibition,
Renée Cox: A Proof of Being
, artist Renée Cox and photographer, historian, educator, and MacArthur grantee Deborah Willis, Ph.D., will discuss their work, shared interests, and the representation of the Black body. Please join us in the Woodhouse Gallery for this unique opportunity to hear two renowned figures in American photography engage in conversation.
THIS PROGRAM IS SOLD OUT.
---
Renée Cox: A Proof of Being presents a selection of the best-known and most celebrated photographs produced by the artist since 1992. The exhibition traces the evolution of Cox's practice through a series of performative self-portraits, demonstrating the ways in which she has reclaimed art historical themes in order to explore notions of womanhood, beauty, and agency.
On view in the exhibition are photographs from some of the artist's most recognizable bodies of work, including her groundbreaking Yo Mama series (1992–94) and her monumental photograph The Signing(2017). Renée Cox: A Proof of Being also marks the New York premiere of a recent work, the immersive video installation Soul Culture (2022).
Organized by Monique Long, independent curator.
---
Renée Cox

Renée Cox is a visual artist, working foremost in photography and video. Her work arises at this intersection of history, race theory, and sexuality. In her practice, Cox works to deconstruct stereotypes, engage the viewer and to challenge their preconceived ideas about gender and race. She explores the possibilities of new and affirming self-representations for Black diasporic peoples as a visual corrective to both art history and history writ large—transforming dispossession into self-possession. By deconstructing the Black female body, she reveals the myths behind it.

Cox began her career as a commercial photographer, working for Condé Nast, and the music and film industries. She turned to fine art after receiving an MFA from the School of Visual Arts in 1992. Since then, Cox has worked as a visual artist, educator, curator, lecturer, and a frequent contributor to the New York Times Magazine. The Archives of American Art (Smithsonian, Washington, D.C.) acquired Cox's personal archive in 2019.

Renée Cox (b. Colgate, Jamaica) lives and works in Harlem, NY and Amagansett, East Hampton. Her work is included in several institutional collections including the Whitney Museum of American Art, the Brooklyn Museum, and the Princeton Art Museum.

Photo: Renée Cox

Deborah Willis, Ph.D.

Deborah Willis, Ph.D. is University Professor and Chair of the Department of Photography & Imaging at Tisch School of the Arts at New York University. She has affiliated appointments with the College of Arts and Sciences, Department of Social & Cultural Analysis and the Institute of Fine Arts, where she teaches courses on Photography & Imaging, iconicity, and cultural histories visualizing the black body, women, and gender. She is the director of NYU's Center for Black Visual Culture/Institute of African American Affairs. Her research examines photography's multifaceted histories, visual culture, the photographic history of Slavery and Emancipation, contemporary women photographers, and beauty.

She is the author of The Black Civil War Soldier: A Visual History of Conflict and Citizenship and Posing Beauty: African American Images from the 1890s to the Present, among others. Dr. Willis' curated exhibitions include: "Framing Moments in the KIA'' Kalamazoo Institute of the Arts, '' ''Home: Reimagining Interiority''  YoungArts Gallery, and "Free as they want to be: Artists Committed to Memory'' FotoFocus.

Dr. Willis was awarded the John D. and Catherine T. MacArthur Fellowship and was a Richard D. Cohen Fellow in African and African American Art, Hutchins Center, Harvard University; a John Simon Guggenheim Fellow, and an Alphonse Fletcher, Jr. Fellow. She was the Robert Mapplethorpe Photographer in Residence of the American Academy in Rome and is a member of the American Academy of Arts and Sciences. She is a recipient of the Don Tyson Prize for the Advancement of American Art by the Crystal Bridges Museum in 2022 and was named the Mary Lucille Dauray Artist-in-Residence by the Norton Museum of Art in 2023.

Photo: Laylah Amatullah Barrayn 
Event Sponsors
Museum programs are supported by Crozier Fine Arts, and funding from The Michael Lynne Museum Endowment, and The Melville Straus Family Endowment.

RENÉE COX: A Proof of Being
Lead Sponsors: Dorothy Lichtenstein, Fern and Lenard Tessler 


Additional Support: Agnes Gund, Allen Harvey and Ludlow Beckett, Bernard Lumpkin and Carmine Boccuzzi, Lori and John Reinsberg, Jane Wesman and Don Savelson, and Lyn and E.T. Williams, Jr.

Media Partner: Hamptons Magazine
Become a Sponsor