Portraits
Streaming with GE Smith, LeRoy Bell, & Joseph Arthur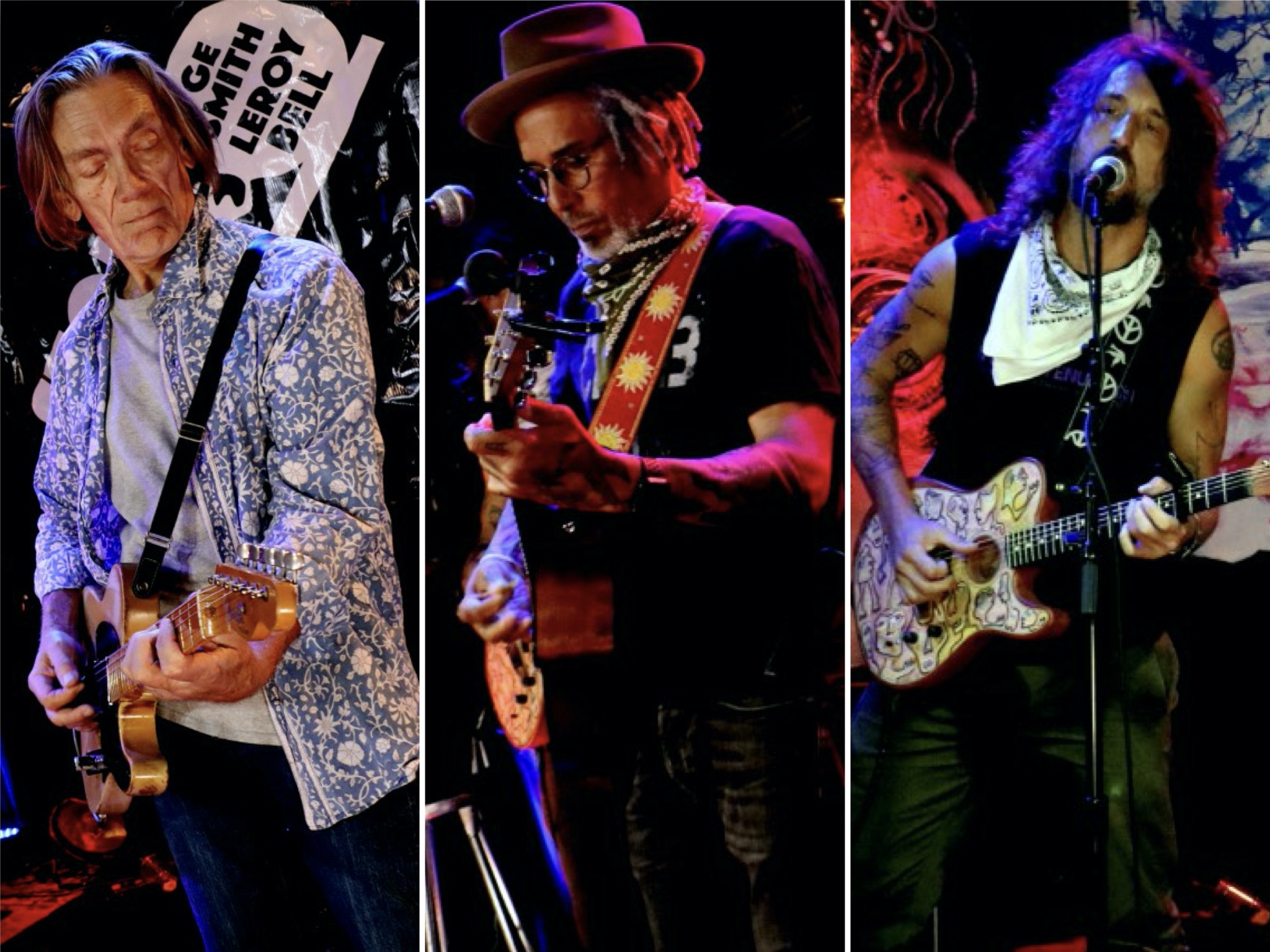 Overview
GE Smith presents PORTRAITS (streaming for the first time worldwide) featuring Joseph Arthur and LeRoy Bell; two very distinctly different singers. GE and LeRoy will serenade through some of their new songs to celebrate the release of their upcoming collaborative album, Stony Hill, out August 28th via BMG. Among the hits to be played is the stirring new song, "America", revered by Rolling Stone as a gamechanger on the state of affairs. GE says, "you will witness an amazing singer, the one I've been looking for thirty years, and how we came to make this amazing project." Joseph Arthur, who is known best for being discovered by Peter Gabriel, will open the show. Gabriel covered "In the Sun" for the album, Diana, Princess of Wales: Tribute, which was a big vote of confidence for this wise, soulful, singer-songwriter and painter. Watch Arthur paint GE as they move through an evocative, textured, acoustic landscape. This blockbuster virtually streamed concert is a must-see.
Pre-order Stony Hill here: https://gesmithandleroybell.lnk.to/StonyHill
GE Smith

GE Smith, known as Saturday Night Live bandleader, sideman to Dylan, Roger Waters, Jagger, Bowie, Hall & Oates and everyone far and between joins forces with LeRoy Bell who has shared the stage with Van Morrison, Ojays, The Wallflowers, Taj Majal, Huey Lewis, and vocalist for Carlos Santana. They have embarked on a powerhouse project coming from BMG this summer. Look out for first class stagemen who deliver stellar new songs penned by X Factor finalist LeRoy Bell. Both are highly regarded veterans of the music industry, and praised by all the critics. More to come.

Smith, an A list guitarist, was musical director and bandleader to some of the most highly watched events such as Dylans' 30 Anniversary in MSG, Rock N Roll Hall of Fame Induction, numerous high profile corporate events ( Pfizzer, and Novartis) The History of The Electric Guitar for the Smithsonian and has graced every stadium known in the world. LeRoy Bell makes a stunning contribution to this new duo with strong roots in songwriting. He has penned with the Ojays, Elton John and Temptations. He was a finalist on the X Factor embracing America with his soulful vocals and irresistible charm. Whether a gig, stadium or corporate event, these two will make you damn happy you booked them for hire. Simon Kirke (Bad Company and Free drummer) brings the whole band experience to top flight craftsman.

LeRoy Bell

LeRoy Bell is an American singer and songwriter. He and his friend Casey James played in Special Blend, and then went on to form their own duo Bell and James, also composing songs that were hits for other artists most notably two charting hit singles for Elton John. Later Bell became a member of the trio Only Friends. In 2011, Bell applied for the American The X Factor and was chosen for the Final 16 and went on to the live shows being mentored by Nicole Scherzinger. He was eliminated after the fifth live show finishing 8th overall in the inaugural season of the American The X Factor when he was in bottom three with Marcus Canty and Lakoda Rayne.

Joseph Arthur

Joseph Arthur released his first new solo album in three years last October - Come Back World. Produced by Joseph Arthur and Chris Seefried, the album features several other amazing artists including: Ben Harper, Patrick Carney, Jesse Malin and Greg Dulli.

"The interesting parts of our stories aren't the famous people we meet," Arthur remarked. Or the times when everything is basically working. Or when we get to lay in comfort with a partner watching Netflix and the world go by. The interesting parts are when all those things break down and you're left in isolation to finally deal with the roots of whatever had been thwarting your existence all along. The interesting parts are when the world has turned its back on you and you have turned your back on it or them. When darkness could seemingly swallow you whole if it hasn't already. When there is no such thing as hope and so you manufacture it from a dream which only angle is to survive. Come Back World is an album about rebirth and survival."

Over the course of his career to date, Joseph has released fourteen albums under his own name, eleven official EP's and has been involved with several high-profile side projects including last year's collaboration with Peter Buck under the name Arthur Buck, Fistful Of Mercy (with Ben Harper & Dhani Harrison), and RDNM with Jeff Ament and Richard Stuverud.

Recently Joseph Arthur also launched a new Podcast called "Come To Where I'm From" which to date has featured celebrities, comedians and musician from across the board. Recent guests include, Rosanna Arquette, Mark Lanegan, Todd Barry, Keith Morris and Joan Osborne to name a few. The podcast is available in both audio form everywhere Podcasts are found (iTunes, Spotify and Google podcasts) as well as multi-camera Video format on YouTube, with new episodes launching twice a week. All episodes can be found here: https://www.youtube.com/user/josepharthurofficial

Joseph's first passion is the visual arts, yet he is better known for his musical talents after being discovered by Peter Gabriel in the mid-nineties. Arthur's artwork is a spiritual quest expressed through form, lines, and color, involving a profound search for the 'thread' of life, binding even opposing forces of torment and beauty. As with Arthur's music, evocative of such vivid imagery and emotion, his paintings dance with a similar animated rhythm of form.
His artwork has received much attention from the artistic and musical community including a Grammy nomination for his album packaging for the 1999 release of Vacancy which led to the opening of his own gallery in Brooklyn, NY — the MOMAR (Museum of Modern Arthur).

Joseph Arthur's abstract renderings are a soulful voice of today, both intense and playfully serious. The artist calls his work "a spiritual quest expressed through form, lines, and color, involving a profound search for the 'thread' of life, binding even opposing forces of torment and beauty." As with Arthur's music, evocative of such vivid imagery and emotion, his paintings dance with a similarity of animated rhythm and form.

Michael Stipe of REM says:
"To riff off a riff; to update Ginsberg's holy HOWL; to stand this naked; to wrestle an attention deficit world into a moment's shivering standstill, just for a spiked breath of reflection. Joseph Arthur writes, builds, paints, draws, and creates because he has no choice."

The Akron, Ohio-born Arthur was a jazz fusion bassist when he first discovered the Velvet Underground in his late teens and forged an impressive solo career that began with 1997's Big City Secrets, as the first American signed to Peter Gabriel's Real World label, later joining Gabriel's WOMAD tour in Europe. Two years later, the EP Vacancy, earned a 2000 Grammy nomination for Best Recording Package. Joseph Arthur has released eleven studio albums and has been a member of several groups, including Fistful of Mercy with Ben Harper and Dhani Harrison. He collaborated with Pearl Jam's Jeff Ament to

form the band RNDM and most recently started a Band with Peter Buck called Arthur Buck.
Event Sponsors
All Theater Programming supported in part by Marders, Barbara Slifka, and funding from The Ellen and James S. Marcus Endowment for Musical Programming, The Melville Straus Family Endowment, The Schaffner Family Foundation, and with additional support from Brown Harris Stevens, and Lang Insurance. Sponsored in part by BMG, Purist, Green Mirror Corp., WEHM, and The Royal Poinciana Plaza.
Become a Sponsor