Virtual Staged Reading
Portrait of Tennessee: The Words of Tennessee Williams starring Mercedes Ruehl, Harris Yulin, Ebon Moss-Bachrach, & Tedra Millan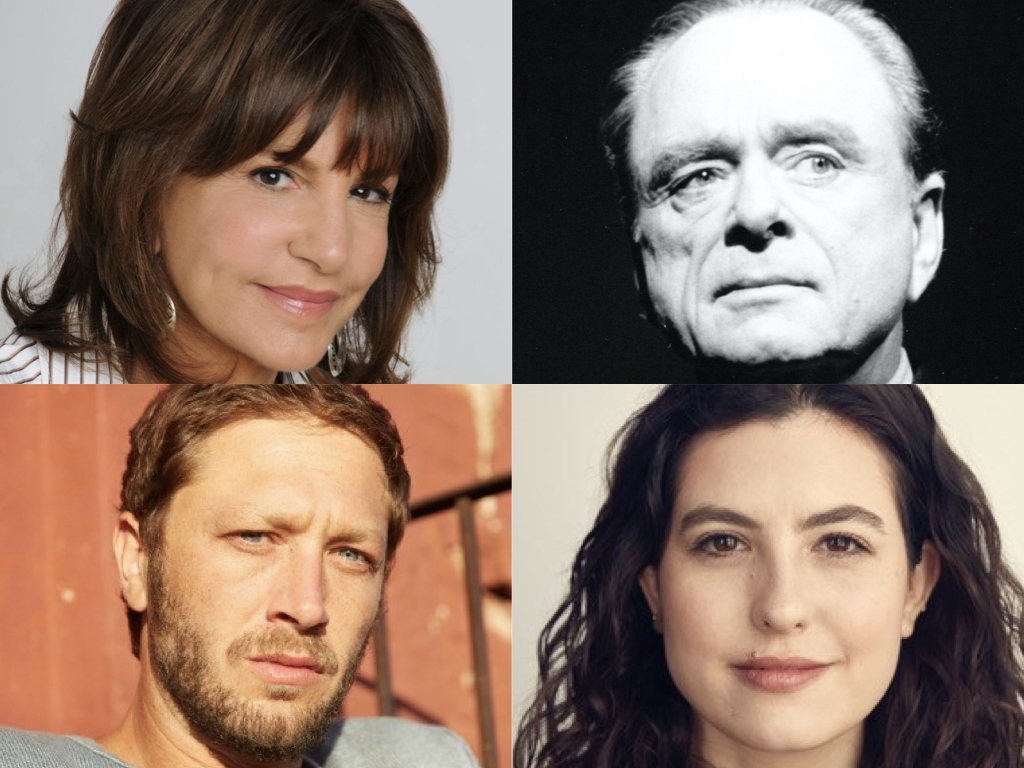 Overview
Four great actors – stars of Broadway, television and the cinema – reunite virtually for one night only in a very special LIVE online Zoom theatrical event to Benefit the John Drew Theater at Guild Hall, which has been closed since the start of the pandemic. Director Harris Yulin (Ozark) returns to Guild Hall where he directed a gorgeous production of Tennessee William's The Glass Menagerie starring Amy Irving and Ebon Moss-Bachrach that served to re-open the John Drew Theater after major renovations in 2009. Yulin has directed many readings at the Drew with stars such as Eli Wallach, Dianne Wiest, Edward Asner and F. Murray Abraham, including last season's sold-out reading of Jules Feiffer's A Bad Friend which celebrated the playwright's 90th birthday. Yulin is joined once again by longtime friend and collaborator Mercedes Ruehl. The legendary Academy, Golden Globe, Tony, Obie and Drama Desk-award winning Ruehl is herself no stranger to the Drew, having appeared in dozens of readings over the course of the last two decades, as well as starring in Guild Hall's production of Jenny Lyn Bader's comedy Manhattan Casanova in 2001. Joining this stellar ensemble are Ebon Moss-Bachrach (HBO's Girls and John Adams, The Punisher, NOS4A2) who in addition to starring in The Glass Menagerie appeared at Guild Hall alongside Ms. Ruehl, Richard Kind and James Earl Jones in a recent reading of the political thriller Are You Now…, also directed by Yulin. The final cast member is rising Broadway star Tedra Millan (Present Laughter with Kevin Kline and The Wolves at Lincoln Center) who returns to the Drew for this virtual reading, having made her actual Guild Hall debut last summer as the memorable lead in Feiffer's A Bad Friend. Yulin is a master interpreter of the work of Tennessee Williams, and he brings his prodigious knowledge, experience and passion to this project, which is artfully arranged and scripted entirely from Williams' essays, letters, journals and plays. This evening will shine a light on the brilliance of one of America's most impactful playwrights, and will reward viewers with an informal and intimate experience up close with four astonishing actors in a virtual event exclusive to Guild Hall. This event is produced by the Drew's Artistic Director Josh Gladstone, who will introduce the evening, and is stage managed and assistant directed by Amanda Kate Joshi.
Arranged by Harris Yulin and Jack Canfora
Starring Mercedes Ruehl, Harris Yulin, Ebon Moss-Bachrach, & Tedra Millan
Directed by Harris Yulin
Scripted entirely from Williams' essays, letters, journals and plays, this evening will shine a light on the brilliance of one of America's most impactful playwrights, Tennessee Williams.
Stage Manager: Amanda Kate Joshi
Preview article by Bridget LeRoy in The Independent Newspaper
Mercedes Ruehl

Mercedes Ruehl has appeared in the films The Fisher King (Academy Award, Golden Globe Award, Los Angeles and Chicago Film Critics Association Awards), Married to the Mob, The Warriors, Big, Heartburn, Slaves of New York, Another You, Last Action Hero, Lost in Yonkers, What's Cooking?, The Amati Girls, Roseanna's Grave, Chu and Blossom, Zedya and the Hitman, Spooky House, More Dogs Than Bones, and The Minus Man. She has been seen on Broadway in Neil Simon's Lost in Younkers (Tony, Drama Desk, Outer Critics Circle, and Helen Hayes Awards), The Goat, or Who is Sylvia? (Outer Critics Circle Award, Tony nomination), The Rose Tattoo, The Shadow Box (Tony nomination), and I'm Not Rappaport. Her Off Broadway credits include Woman Before a Glass (Obie Award), Other People's Money (Clarence Derwent Award), The Marriage of Bette and Boo (Obie Award), Coming of Age in Soho, The Vagina Monologues, and Edward Albee's The Occupant. Ruehl's television credits include HBO's Indictment: The McMartin Trial, Gia, Hallmark Hall of Fame's The Lost Child and Loving Leah, El Jefe, Doubt, Star Spangled Banners, Showtime's North Shore Fish, Guilt by Association, and A Girl Like Me. She also made guest appearances on Entourage, Law & Order, Monday Mornings, Luck, Psych, and Frasier, among others.

Harris Yulin

After studying in Los Angeles with the splendid, black-listed actor Jeff Corey, Yulin spent 20 months living in Europe and Israel, dubbing films into English, and performing a night club show with William Burroughs at the Club Montparnasse in Paris.

He made his New York debut in 1963 in James Saunders' Next Time I'll Sing To You, with James Earl Jones and Estelle Parsons at the Phoenix Theatre. Many plays, Broadway, off-Broadway and elsewhere followed.

Recent appearances: Long Day's Journey into Night at the Court Theatre, Chicago; Death of a Salesman at the Gate Theatre, Dublin; Cat on a Hot Tin Roof at the Chautauqua Festival, and ever trying to get it right, his third try at Claudius in Hamlet at the Classic Stage Company in New York.

He has appeared in and presented many evenings at Guild Hall including the initial production after the renovation in 2009, The Glass Menagerie with Amy Irving, and last September Are You Now or Have You Ever Been.

His production of Horton Foote's The Trip to Bountiful with Lois Smith and Hallie Foote played an extended run at the Signature Theatre in New York, receiving four Lucille Lortel Awards (Outstanding Lead Actress, Outstanding Featured Actress, Outstanding Production, Outstanding Director), and subsequently moved to The Goodman Theatre, Chicago.

His first film was in 1968, an adaptation by Terry Southern of John Barth's End of The Road, directed by Adam Avakian with longtime friends James Earl Jones and Stacy Keach. Other fondly remembered but not necessarily widely seen efforts include Candy Mountain directed by Robert Frank and Rudy Wurlitzer; Short History of Decay script by Michael Maren; 75% In July by Hyatt Bass; and more widely seen production including Clear and Present Danger directed by Philip Noyce; and Scarface directed by Brian de Palma.

He has many TV appearances including WIOU, about a CBS newsroom where he played a troubled anchorman; and Mister Sterling, set in the U.S. Senate, written by Lawrence O'Donnell.

He has taught, acted and directed at the Juilliard School for ten years.

He has narrated many films for PBS and others and done extensive work on radio including dramatizations of Ross MacDonald detective novels with casts of fifty subsequently released as audio books as was Norman Mailer's last novel, The Castle and
the Rock.

He has worked in all the venues and mediums available to him, even singing and dancing in John Osborne's The Entertainer, in which his efforts in these disciplines were properly third-rate.

Ebon Moss-Bachrach

Ebon Moss-Bachrach has acted in a wide range of film, television and theater productions. Most recently, Ebon stars as series regular Chris McQueen in the critically acclaimed AMC series NOS4A2. He recently finished shooting his second and final season. Ebon can currently be seen in a large recurring role on the new CBS Studios drama series INTERROGATION. He will next be seen in TESLA directed by Michael Almereyda opposite Ethan Hawke, which premiered at SUNDANCE 2020. Ebon starred as "Micro/Lieberman" in Season 1 of the Netflix/Marvel series PUNISHER, and was a series regular, in the final four seasons of HBO's GIRLS. Other previous TV roles include THE LAST SHIP, BELIEVE, DAMAGES, the HBO miniseries JOHN ADAMS among others.His other recent film credits include Dolly Wells' indie GOOD POSTURE which premiered at the 2019 Tribeca Film Festival, and the starring role opposite Elisabeth Moss in Richard Shepard's short film TOKYO PROJECT which aired on HBO. Prior films include WE'LL NEVER HAVE PARIS, LOLA VS, HIGHER GROUND, EVENING, THE ROYAL TENENBAUMS, AMERICAN SPLENDOR, MONA LISA SMILE, ROAD (for which Ebon received the LA Film Festival acting award) and more. On the stage, Ebon starred in LOST GIRLS at MCC Theater, VERITE at LCT3, Austin Pendleton's THREE SISTERS at CSC, THE GLASS MENAGERIE opposite Amy Irving directed by Harris Yulin, Chris Shinn's ON THE MOUNTAIN, FIFTH OF JULY, 36 VIEWS, Daisy Foote's WHEY THEY SPEAK OF RITA (directed by Horton Foote) and more. Born in Amherst, Massachusetts, Ebon is a graduate of Columbia University and resides in New York with his wife and two daughters.

Tedra Millan

Tedra Millan is happy to be teaming up with Harris and Mercedes again after working on Jules Feiffer's A Bad Friend at Guild Hall last summer. Other theatre credits include: Noel Coward's Present Laughter (Broadway), Sarah DeLappe's The Wolves (Lincoln Center, Playwrights Realm, New York Stage & Film- Drama Desk and Obie Awards), Jesse Eisenberg's Happy Talk (The New Group), Simon Stephens' On the Shore of the Wide World (Atlantic Theater Company), Annie Baker's The Flick (Barrow Street). Film/TV: Modern Persuasion (Tangerine Entertainment), "Fosse/Verdon" (FX), "Katy Keene" (CW), "Almost Family" (Fox), "Tales of the City" (Netflix), "The Goldbergs" (ABC). She has a BFA from the University of Michigan and a Masters in Classical Acting from LAMDA.
Event Sponsors
All Theater Programming is supported in part by Ellen Myers, Marders, the Daryl & Steven Roth Foundation, and funding from The Ellen and James S. Marcus Endowment for Musical Programming, The Harold and Mimi Steinberg Charitable Trust, Hess Philanthropic Fund, The Melville Straus Family Endowment, The Schaffner Family Foundation, and Vital Projects Fund, with additional support from Brown Harris Stevens, Saunders & Associates, and public funds provided by Suffolk County.
Become a Sponsor