PLAY IN THE GARDEN
"So It Goes": A Visit with Vonnegut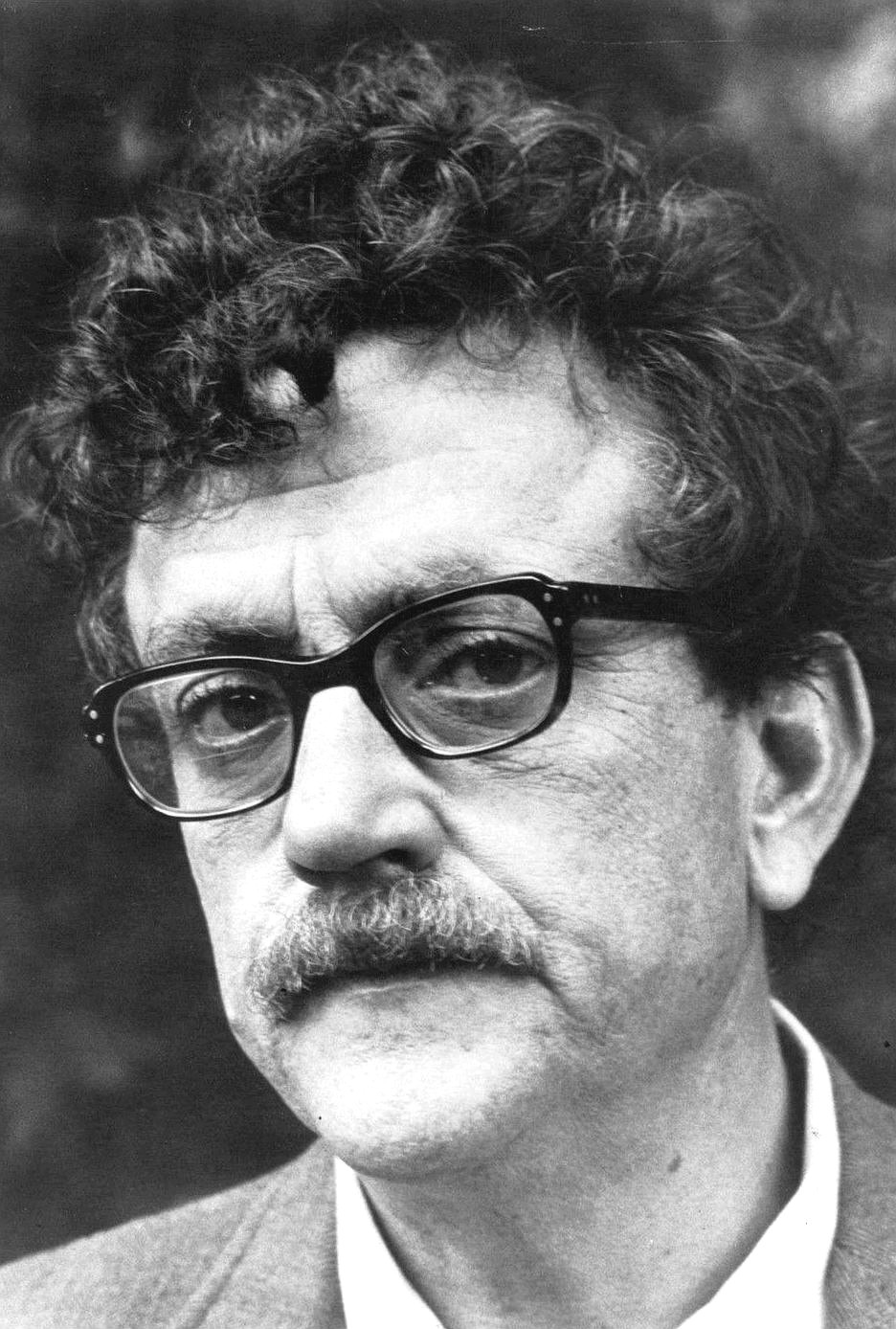 Overview
Following current New York State guidelines, Guild Hall will no longer require six feet of social distancing in the John Drew Backyard Theater (with the exception of our KidFEST shows). Guests ages 5 and up attending any show besides a KidFEST performance must show proof of full vaccination or recent negative COVID-19 test results. Scroll down for full details.
Directed by Lisa Rothe
Kurt Vonnegut, whose dark comic talent and urgent moral vision in novels like Slaughterhouse-Five, Cat's Cradle and God Bless You, Mr. Rosewater caught the temper of his times and the imagination of a generation…Graham Greene called him 'one of the most able of living American writers'….To Mr. Vonnegut, the only possible redemption for the madness and apparent meaninglessness of existence was human kindness." – The New York Times, April 11, 2007
Join us for an engaging, enjoyable, entertaining, and compelling evening of letters and readings of Kurt Vonnegut's work, performed by luminaries of stage and screen. Featuring Irene Glezos, Ingrid Griffith, Ronald Guttman, Paul Hecht, and John Kroft.
Run time: Approx 75 min
---
IMPORTANT ANNOUNCEMENT REGARDING PROGRAMS IN THE JOHN DREW BACKYARD THEATER
Following current New York State guidelines, Guild Hall will no longer require six feet of social distancing in the John Drew Backyard Theater (with the exception of our KidFEST shows). Guests ages 5 and up attending any show besides a KidFEST performance must show proof of full vaccination or recent negative COVID-19 test results. Face coverings are now optional for fully vaccinated guests and children under the age of 2 for all shows with the exception of KidFEST performances, when masks are required for all patrons over the age of 2 regardless of vaccination status. 
In order to attend non-KidFEST programs in the John Drew Backyard Theater, guests will be responsible for displaying proof of one of the following on arrival:
Full vaccination, meaning both doses of either the Pfizer or Moderna vaccine or one dose of the Johnson & Johnson vaccine received at least 14 days prior to the day of the program
A negative test result from a COVID-19 test taken within 72 hours of the day of the program
A negative test result from a COVID-19 Antigen test taken within six (6) hours of the program's scheduled start time
Current New York State Excelsior Pass with proof of vaccine or negative testing/Antigen results. Click HERE to download the free app for seamless entry.
Note: Social distancing will continue to be required indoors, for outdoor KidFEST performances, and on the rest of the grounds. Guests will not need to show proof of vaccination or negative test results in these spaces, and will be required to wear masks regardless of vaccination status. Please stay home if you don't feel well, have exhibited symptoms of COVID-19 in the past 10 days, have tested positive for COVID-19 within the past 10 days, or been in contact with someone with COVID-19 in the past 10 days.
As of 5/18/2021
Lisa Rothe

Lisa Rothe is a freelance theater director and acting/voice coach. She was nominated for SDC's Joe A. Callaway Award for Direction for Hold These Truths by Jeanne Sakata, starring Joel De La Fuente, which has toured the country and won multiple awards. Recent: Belly of the Beast (nominated for a Drama League Awards and presented by TodayTix, New York Theatre Workshop & 3AD (Daniel Dae Kim's production company); Steel Magnolias (The Guthrie Theatre); Fun Home and Cat on a Hot Tin Roof (Kansas City Repertory Theater); Amber Waves(Indiana Repertory Theatre); Irish Repertory Theatre, Cincinnati Playhouse, Theatreworks Silicon Valley, Two River Theater, People's Light, Playmakers Repertory Theatre, among others. Future: Pericles (Next Chapter Podcasts); The Names We Gave Him by Ellen McLaughlin and Peter Foley; Hold These Truths (Heritage Theatre, Charlottesville, VA); Another Revolution (Gulf Shore Playhouse). Previously, Lisa was the Director of New Works at Kansas City Repertory Theatre, co-Artistic Director of The Actor's Center (NYC), co-President of the League of Professional Theatre Women, a Drama League and Fox Fellow alum and is currently a Usual Suspect with New York Theatre Workshop, member of the National Theater Conference and Artistic Affiliate (and former Audrey Fellow) with New Georges. She was also the Director of Global Exchange at The Lark for over five years. www.lisarothe.com

Irene Glezos

Irene Glezos (Georgie)  Theatre: Lady in Tennessee Williams' ORPHEUS DESCENDING (directed by Austin Pendleton and Jef Hall-Flavin) for which she was nominated Best Actress by the Big Easy Entertainment Awards in 2017 and Maria Callas in Terrence McNally's MASTER CLASS for which she was nominated Outstanding Leading Actress by the Connecticut Critics Circle.  Other New York and regional theater credits include Fairouz in Naomi Wallace's IN THE HEART OF AMERICA (directed by Tony Kushner), Serafina in THE ROSE TATTOO for the 2018 Tennessee Williams Theatre Festival in Provincetown, Clare in Tennessee Williams' THE TWO CHARACTER PLAY (directed by Austin Pendleton) and Joyce/Isabella Bird in Caryl Churchill's TOP GIRLS.  She has appeared on numerous television series including LAW AND ORDER, SEX AND THE CITY and the upcoming comedy series, PARK SLOPE MOMS directed by Annetta Marion.  She's appeared in numerous films including the upcoming psychothriller DELIUSIONAL opposite Leon Pinkneye and Anais Almonte.

Ingrid Griffith

Ingrid Griffith is the writer and performer of new solo show, Unbossed & Unbowed, a story of the life and work of the social activist/trailblazer Shirley Anita (St. Hill) Chisholm. "I've been moved to write and share Shirley Chisholm's story in the hope that more people will become aware of her contributions and be inspired to take direct action," says Ingrid. Unbossed & Unbowed's first full staged production was at Hear Her Call Theater Festival in NY (March 2020), where Ingrid won the Award for Best Playwriting. Recently, a digital performance of Unbossed & Unbowed was hosted by NYPL, BPL Central, Bedford and Flatbush branches, and East Hampton Library and other branches on the east end. Ingrid is thrilled that theater is making its comeback and is looking forward to performing Shirley Chisholm's story in front of a live audience (unbossedunbowed.com).

Ingrid has been performing her internationally-acclaimed, award-winning solo show, Demerara Gold, of a Caribbean girl's immigrant experience, for the past six years throughout the U.S. and abroad (demeraragoldtheshow.com).  She has been in off-broadway staged productions in and around New York City. Some of her favorite roles are: Lady Reveller in the 18th century play, The Basset Table by Susanna Centlivre, Mrs. Muller in John Patrick Shanley's Doubt, Hedda Gabler in Henrik Ibsen's Hedda Gabler, Elaine Brown in Anna Deavere Smith's Twilight: Los Angeles", and Lena in Buckingham by Tina Andrews.

Ingrid is delighted to be participating in the celebration of Kurt Vonnegut this evening.  Thank you Josh and Lisa! 

Ronald Guttman

Ronald Guttman is a theatre, film, and television actor, originally from Brussels, and active in both America and Europe. He is currently appearing in Godfather of Harlem with Forest Whitaker on EPIX and streaming on Hulu in Sister of the groom.

He was recently seen in the Amazon series, HUNTERS starring Al Pacino. Recent film and TV credits include: On the Basis of Sex, the Netflix/BBC series Black Earth Rising with Michaela Coel, and Mr. & Mrs. Adelman. In addition, he has guest-starred in numerous television series, including PREACHER, The Good Wife, Mad Men, Baskets, Blue Bloods, Homeland and many others. Theater credits include: Second Stage, Circle in the Square, Long Wharf, The Mint, Bard SummerScape, and the National Theater (Brussels).

Paul Hecht

Paul Hecht has been an actor for quite a long time. He made his debut as the Player in Rosencrantz & Guildenstern are Dead (Tony nomination 1968).Other Broadway appearances include :  Night & Day  with Maggie Smith and Invention of Love. (Tom Stoppard), 1776 (original company), the Rothschilds, Shaw's Caesar & Cleopatra and Pirandello's Henry IV ( both with Rex Harrison). Off Broadway: Harold Pinter's Moonlight,(American Premiere) the title role in Pirandello's Henry IV (Obie award 1990). Humble Boy at the Manhattan Theater Club, and also in the National Theatre of Great Britain tour. Around the country: Cyrano at the Guthrie (world premiere Antony Burgess translation). Marc Antony, (Julius Caesar & Antony and Cleopatra) American Shakespeare Festival, and in plays by Shaw, Shakespeare, Chekhov, Turgenev, Harwood, Kaufman-Ferber,, at the McCarter (Princeton), Canada's Shaw festival, N.Y Shakespeare Festival, John Drew East Hampton, Bay Street Sag Harbor, and the Berkshire Theater Festival.

He has been  in several episodes of Law and Order, the first episode of the original Miami Vice, and in films with Bette Davis, Chris Rock,  and Howard Stern.

He has appeared in many literary/musical programs: Every Good Boy Deserves Favour (Stoppard-Previn) and Façade (Walton-Sitwell) with the Philadelphia Orchestra, Histoire du Soldat conducted by Bob Kraft, the Vertical Repertory  in Brooklyn, the Newberry  Consort (Chicago), the Allentown Symphony, Dryden players (Princeton). With the early music group Parthenia , he performs a program of Shakespeare and Donne sonnets. He has recorded dozens of books (www.recordedbooks.com).

He served as the  NY Branch President of the Screen Actors Guild from 1991- 1995 and is a graduate of the first class of the National Theatre School of Canada. He is a regular volunteer at ARF and lives in the Springs with the lighting Designer Peggy Eisenhauer.

John Kroft

John Kroft is a New York based actor where he has appeared in "Dan Cody's Yacht" (MTC), "Arcadia" (Juilliard) and "Troilus and Cressida" (Columbia). Regionally, he has performed in such shows as "Dutch Masters (Northern Stage),  "Lifespan of a Fact" (Pioneer Theater Company), "The Great Gatsby" (Bay Street Theater), and "Bram Stoker's Dracula," (Williamstown Theater festival), as well as a number of workshops for The Sundance Institute, Eugene O'Neil's National Playwright's Conference, and The Chautauqua Theater Company. He has appeared on TV in "Blue Bloods" and "Red Oaks," as well as in handful of independent and short films. You can also find his work as a narrator on several audiobooks at Recordedbooks.com or Audible.com. John is a proud graduate of the Juilliard school and is grateful to be here at Guild Hall reading the work of one of his favorite writers.
Event Sponsors
Theater Programming supported in part by the Helen Frankenthaler Foundation, Barbara Slifka, The Schaffner Family Foundation, 

Straus Family Foundation,

 Brown Harris Stevens, Michael Balmuth, Blythe Danner, Lang Insurance, and funding from The Ellen and James S. Marcus Endowment for Musical Programming and The Melville Straus Family Endowment

  John Drew Backyard Theater
Special thanks to Marty and Michele Cohen, Ben Krupinski Builder, Hollander Design, and Groundworks Landscaping  Play in the Garden Print Media Partner: James Lane Post
Become a Sponsor