Play in the Backyard
Heisenberg by Simon Stephens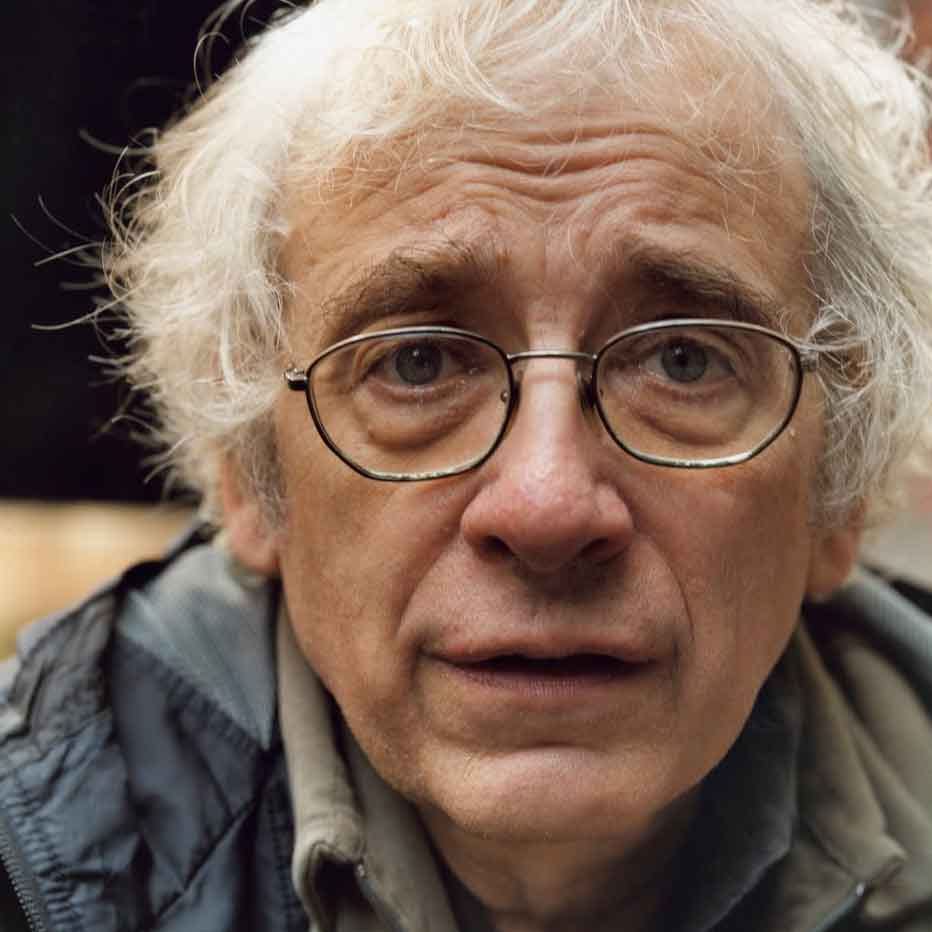 Overview
Directed by Austin Pendleton and starring Irene Glezos and Albert Insinnia
Amidst the bustle of a crowded London train station, Georgie spots Alex, a much older man, and plants a kiss on his neck. This electric encounter thrusts these two strangers into a fascinating and life-changing game. Tony Award winning playwright Simon Stephens (The Curious Incident of the Dog in the Night-Time) presents a refreshing look into just how unpredictable life can be, especially when examined closely! Directed by Tony Award-nominated and Drama Desk Award winner Austin Pendleton, this staged reading stars Broadway and TV veteran actors Irene Glezos and Albert Insinnia. "Quirky, lovely, funny, and powerful" – Associated Press.
Heisenberg is presented by special arrangement with Dramatists Play Service, Inc., New York.
HEISENBERG was originally commissioned by the Manhattan Theatre Club, (Lynne Meadow, Artistic Director; Barry Grove, Executive Producer) and received its world premiere there on May 19, 2015.
*Your purchase of one ticket is for one Lawn Circle, which can sit a party of up to two people. All lawn circles are 6 ft. in diameter and are distanced 6 ft. away from other parties. Please bring your own blankets and/or beach chairs. For more information, visit the Theater FAQ page.
Simon Stephens

Simon Stephens (playwright) began his theatrical career in the literary department of the Royal Court Theatre, where he ran its Young Writers' Programme. His plays for theatre include Bluebird (Royal Court Theatre, London, 1998, directed by Gordon Anderson); HERONS (Royal Court Theatre, 2001); PORT (Royal Exchange Theatre, Manchester, 2002); ONE MINUTE (Crucible Theatre, Sheffield, 2003 and Bush Theatre, London, 2004); CHRISTMAS (Bush Theatre, 2004); COUNTRY MUSIC; COUNTRY MUSIC (Royal Court Theatre Upstairs, 2004); ON THE SHORE OF THE WIDE WORLD; ON THE SHORE OF THE WIDE WORLD (Royal Exchange Theatre and National Theatre, London, 2005); Motortown (Royal Court Theatre Downstairs, 2006); PORNOGRAPHY; PORNOGRAPHY (Deutsches Schauspielhaus, Hanover, 2007; Edinburgh Festival/Birmingham Rep, 2008 and Tricycle Theatre, London, 2009); HARPER REGAN (National Theatre, 2008); SEA WALL (Bush Theatre, 2008/Traverse Theatre, Edinburgh, 2009); HEAVEN (Traverse Theatre, 2009); PUNK ROCK (Lyric Hammersmith, London, and Royal Exchange Theatre, 2009); THE TRIAL OF UBU (Essen Schauspielhaus/Toneelgroep Amsterdam, 2010); A THOUSAND STARS EXPLODE IN THE SKY (co-written with David Eldridge and Robert Holman; Lyric Hammersmith, London, 2010); MARINE PARADE (co-written with Mark Eitzel; Brighton International Festival, 2010); T5 (Traverse Theatre, 2010); WASTWATER (Royal Court Theatre Downstairs, 2011); MORNING (Lyric Hammersmith, 2012); an adaptation of A DOLL'S HOUSE (Young Vic, 2012); an adaptation of THE CURIOUS INCIDENT OF THE DOG IN THE NIGHT-TIME (National Theatre, 2012); BLINDSIDED (Royal Exchange, 2014); and BIRDLAND (Royal Court, 2014). His radio plays include FIVE LETTERS HOME TO ELIZABETH (BBC Radio 4, 2001) and DIGGING (BBC Radio 4, 2003). His screenwriting includes an adaptation of Motortown for Film4 (2009); the two-part serial Dive (with Dominic Savage) for Granada/BBC (2009); and a short film adaptation of PORNOGRAPHY for Channel 4's 'Coming Up' series (2009). Awards include the Pearson Award for Best New Play, 2001, for PORT; Olivier Award for Best New Play for ON THE SHORE OF THE WIDE WORLD 2005; and for MOTORTOWN German critics in Theater Heute's annual poll voted him Best Foreign Playwright, 2007. His adaptation of CURIOIUS INCIDENT OF THE DOG IN THE NIGHT-TIME won the 2015 Tony Award for Best Play.

Irene Glezos

Irene Glezos (Georgie)  Theatre: Lady in Tennessee Williams' ORPHEUS DESCENDING (directed by Austin Pendleton and Jef Hall-Flavin) for which she was nominated Best Actress by the Big Easy Entertainment Awards in 2017 and Maria Callas in Terrence McNally's MASTER CLASS for which she was nominated Outstanding Leading Actress by the Connecticut Critics Circle.  Other New York and regional theater credits include Fairouz in Naomi Wallace's IN THE HEART OF AMERICA (directed by Tony Kushner), Serafina in THE ROSE TATTOO for the 2018 Tennessee Williams Theatre Festival in Provincetown, Clare in Tennessee Williams' THE TWO CHARACTER PLAY (directed by Austin Pendleton) and Joyce/Isabella Bird in Caryl Churchill's TOP GIRLS.  She has appeared on numerous television series including LAW AND ORDER, SEX AND THE CITY and the upcoming comedy series, PARK SLOPE MOMS directed by Annetta Marion.  She's appeared in numerous films including the upcoming psychothriller DELIUSIONAL opposite Leon Pinkneye and Anais Almonte.

Albert Insinnia

Albert Insinnia (Alex) first appeared on Broadway in the original company of Joseph Papp's Tony Award-winning musical TWO GENTLEMEN OF VERONA and was a member of the original cast at The Delacorte Theater.  He played Sonny in the original Broadway production of GREASE, co-starred as Mordred with Richard Harris in the revival of CAMELOT, and co-starred in JACQUES BREL...with the Village Gate cast. As Caliban in DREAMSTUFF, a rock musical by Howard Ashman born of Shakespeare's THE TEMPEST, Albert received critical acclaim, which led to his career moving to television and film.    On television he played the re-curring character Lt. Pizelli on LAW & ORDER SVU; made guest appearances on THE MYSTERIES OF LAURA, SWEEPSTAKES, and other network shows.  He appeared as Sgt. Ray Tornberg in M*A*S*H, was a co-star on THE STOCKARD CHANNING SHOW and played the leading role in the NBC series LAST CHANCE. He appeared as Deacon in the ABC Movie of the Week CRAZY TIMES. His films include co-starring roles in CORVETTE SUMMER, ROLLER BOOGIE, OVER THE G.W., RUSH IT and the upcoming release PINK CITY.  Off-Broadway roles include the title role in LENNY, TROLLS, Lyle Britton, in James Baldwin's BLUES FOR MR. CHARLIE, Don Severo in TEMPLE OF THE SOULS, a recent adaptation of Chekov's THE SEAGULL directed by Austin Pendleton and numerous others. Albert is founder and Artistic Director of Oasis.ny.TheatreGroup whose productions have received outstanding reviews from audiences and critics alike. He has directed and produced throughout his career in New York and in regional theaters across the country.
www.albertinsinnia.com/

Austin Pendleton

Austin Pendleton is an actor, a director, a playwright, and, at HB Studio in New York City, a teacher of acting.  He has acted and directed on and off-Broadway, as well as off-off-Broadway, and in regional theaters, notably the Williamstown Theatre Festival (where he also apprenticed, under the guidance of Nikos Psahcaropoulos, for many years the Artistic Director of the Festival), Chicago's Steppenwolf Theatre (where he has been a member of the Ensemble since 1986), and the Long Wharf Theatre (under the leadership of Arvin Brown).  His last Broadway acting appearance was in Choir Boy, last year.  He also, on Broadway, among other appearances, originated the role of Motel the Tailor in Fiddler on the Roof, and later appeared opposite Natalie Portman and Linda Lavin in The Diary of Anne Frank.  As a director, he was nominated for a Tony for directing The Little Foxes, starring Elizabeth Taylor and Maureen Stapleton.  As a playwright, his plays include Orson's Shadow, Uncle Bob, and Booth, all produced in New York, around the country, and in Europe, and all published.  
Event Sponsors
Special thanks to Marty and Michele Cohen, Ben Krupinski Builder, Hollander Design, and Groundworks Landscaping All Theater Programming supported in part by Marders, Barbara Slifka, and funding from The Ellen and James S. Marcus Endowment for Musical Programming, The Melville Straus Family Endowment, The Schaffner Family Foundation, and with additional support from Brown Harris Stevens, and Lang Insurance.
Become a Sponsor