Operatif
Exploring Puccini's Operatic Style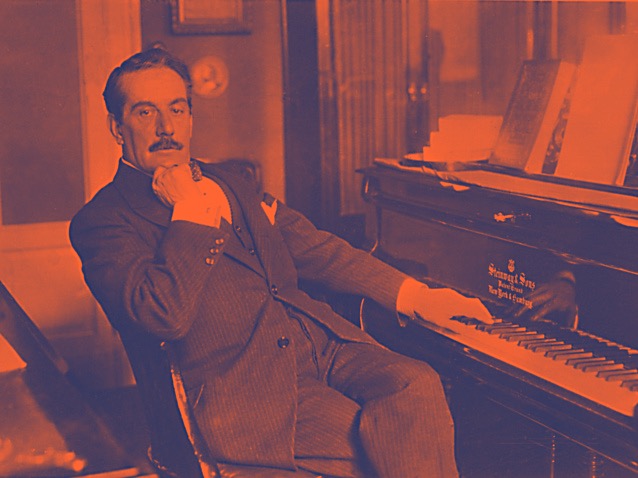 Overview
Puccini's Turandot is a classic example of the height of the Italian romantic style – through-composed opera with lush orchestral textures, demanding larger voices to declaim highly emotional themes.  Most of Puccini's operas are truly verismo operas in their conception, like La bohème and Tosca, recounting in 'real time' tales of love and sometimes violence rather than the mythological and real kings and queens or counts and countesses of the earlier operas. Turandot breaks the mold and is based on a Persian myth which Puccini sets in China. Here Puccini fits the ancient tale of the Princess Turandot in the operatic sound-world that he helped propel. Join pianist Derrick Goff and tenor Cameron Schutza as we explore how to listen to this changing operatic style. 
Please join us for the Season Opener Breakfast Reception at 11:30am in the Wasserstein Gallery prior to the lecture-recital at 12pm.
Derrick Goff

Coach/Pianist

Derrick Goff is a coach/pianist currently with the Metropolitan Opera's Lindemann Young Artist Development Program. Prior to joining LYADP, Goff was an Apprentice Coach and Pianist at Florida Grand Opera for the 2017-18 season. He has been a coach, pianist, and chorus master for Bel Canto at Caramoor for the past six seasons, and continues his work with Maestro Crutchfield at Teatro Nuovo. He has also worked at Opera Theatre of St. Louis where he prepared and accompanied their Opera Tastings series.

He served as Director of Music at St. Thomas' Church in suburban Philadelphia for nine years where he played the organ and conducted a semi-professional adult choir and chorister program. As Artistic Director of the Princeton Opera Alliance, he conducted performances of Idomeneo, Don Pasquale, Faust, L'elisir d'amore, and I Capuleti e i Montecchi, among others, in the Princeton area, and has also conducted Don Giovanni in Lawrence, Kansas.

Cameron Schutza

Tenor

Praised by Opera for his "ringing high notes" and "clarity of tone," Cameron Schutza recently made both a role and company debut as Pinkerton in Puccini's Madama Butterfly with Baltimore Concert Opera.  Mr. Schutza also made a company and role debut singing the challenging role of Chairman Mao in The Princeton Festival's production of Adams's Nixon in China, was described as having "endless power" and "the Heldentenor Adams imagined for Chairman Mao."  He sang excerpts from the title role of Siegfried for The Metropolitan Opera Guild's Wagner Ring Showcase at Lincoln Center's Bruno Walter Auditorium, and made his company debut as Pollione in Norma with Sarasota Opera and joined the New Jersey Festival Orchestra for a concert of arias and holiday favorites in the 2017-18 season. He is the third place winner of the 2017 Lauritz Melchior International Singing Competition in Denmark, having performed excerpts of Wagner's heroic tenor leads with the Aalborg Symphony Orchestra, as well as the 2016 recipient of the top award, the Robert Lauch Memorial Fund Endowment Award, from the Wagner Society of New York. Recent highlights for the tenor include the role of Narraboth in Salome with the Orquesta Sinfònica Nacional at the Palacio de Bellas Artes in Mexico City with Carlos Prieto conducting, Manrico in Il trovatore with both Portland Summerfest and the Astoria Music Festival alongside soprano Angela Meade, Don José in Carmen with the Walla Walla Symphony, and previous performances of Pollione in Norma with Opera in the Heights.

In recent seasons, the tenor has joined the MetropolitanOpera roster for its productions of Die Meistersinger von Nürnberg, Tannhäuser, and Salome and joined the Caramoor International Music Festival as the First Prisoner in Fidelio – while also responsible for the role of Florestan, Danieli in Les vêpres Siciliennes, Rustighello in Lucrezia Borgia, and for the cover of the title role of Don Carlos and the Duca in Rigoletto. His other credits include Jaquino in Fidelio with Michigan Opera Theatre and, on the concert stage, Beethoven's Symphony No. 9 with the Park Avenue Chamber Symphony at Carnegie Hall, Verdi's Requiem with Houston Masterworks, and Mozart's Requiem with the Northeastern Pennsylvania Philharmonic. He joined Rockport Music and soprano Elizabeth Blancke-Biggs for a recital entitled Strauss: Celebrating 150 years.

The Texas native is an alumnus of the young artist programs of Santa Fe Opera, Arizona Opera, and Palm Beach Opera and a two-time winner of the Arizona District of the Metropolitan Opera National Council Auditions. 
Event Sponsors
All Theater Programming is supported in part by Ellen Myers, Marders, the Daryl & Steven Roth Foundation, and funding from The Ellen and James S. Marcus Endowment for Musical Programming, The Harold and Mimi Steinberg Charitable Trust, Hess Philanthropic Fund, The Melville Straus Family Endowment, The Schaffner Family Foundation, and Vital Projects Fund, with additional support from Brown Harris Stevens, Saunders & Associates, and public funds provided by Suffolk County. The Met Opera simulcasts at Guild Hall are made possible in part through the generosity of: Grand Tier: Dr. Ralph Gibson, in memory of Andy Jacobyansky, who generously shared his passion, knowledge and support for the opera. The Ellen and James S. Marcus Endowment for Musical Programming, Phyllis Davis, Howie and Louise Phanstiel, and The East Hampton Star Dress Circle: Maureen Bluedorn, Ann Cestone in memory of her sister Gloria, Norma Giorgetti in memory of Mary-Anne Szabaga, Barbara Horgan, Patti Kenner, Judy and Alex Laughlin, Jim Potter, David Seeler and Ngaere Macray, Maryam Seley, Irene and Sidney Silverman, and Norbert Weissberg in memory of Dr. Josef Weissberg Balcony Circle: Gabrielle Bamberger, Susan L. Blair, Lacy Davisson, Diane and Bill Dreher, Harriet Edwards, Jeannette and H. Peter Kriendler Charitable Trust, Ernest Leatherwood, Jr., Mr. and Mrs. Robert Osborne, Anita Sheldon, Veronica Stephens, Mary Stone, Sandra Thorn, Peter Van Hattum in memory of Harold Simmons, and Anese Young Family Circle (*Gold): Julia Winston Adams, Carolyn and Gioacchino Balducci*, Paulette and Sanford Balsam, Arlene Bujese and Marcel Bally*, Joanne Canary*, Bonnie and Bob Cooperman*, Ann and George Davis*, Francine Gluckman, Marsha Kranes, Robert F. Luckey, Joan and Walter Marter*, Marjorie A. Ogilvie, Marcia Previti and Peter Gumpel*, Cornelia and Lawrence Randolph*, Nancy and Murray Skurnik, Mr. and Mrs. Andrew Steffan*, and Jane Wood
Become a Sponsor