Monica Banks
Cloud Garden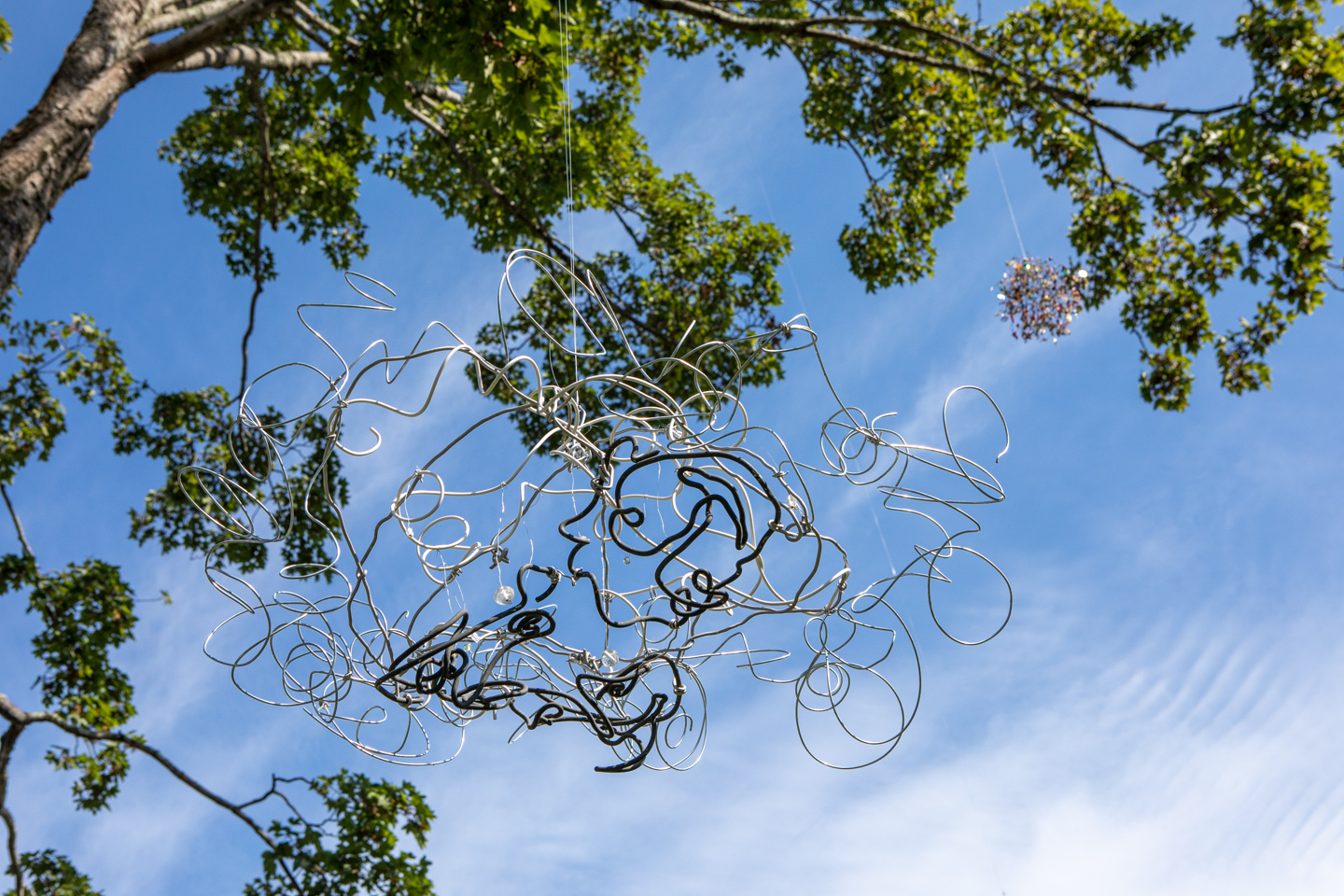 Overview
Cloud Garden is a site-specific outdoor installation and community project by artist, Monica Banks. Installed in the trees of Guild Hall's Furman Garden, tangles of wire, balled-up deer fencing, feathers, pop tops from seltzer cans, unidentifiable pieces of hardware, and other artifacts from the artist's everyday life hang as mobiles, creating dangling objects that shimmer in the air like the stories we tell about ourselves. 
Banks' "Cloud" series began in 2006 when the artist received boxes of her childhood toys, jewelry and trinkets. Wanting to give meaning to her history through sculpture, Banks combined souvenirs of her present life with these fragments of her past in tangles of wire that hang, cloud-like, from ceilings or tree branches. She is revisiting this process during the Covid–19 pandemic, when like most of us, she is spending more time at home immersed in the minutia of domestic life. The work in this installation updates her materials as a record of this extraordinary time, and includes samples from the bag of orphan socks she discovered in the back of a closet, pieces of a wall sculpture she made for her infant son (now 24 years old), fingertips of unused gloves, tufts of fur from her new puppy, and shards of the Nerf soccer ball he attacked, along with other items unearthed during the prolonged quarantine. 
The installation expands into Guild Hall's Minikes Garden with an exhibit of student work; Saturday, September 19 – Monday, October 12. Through remote workshops with The Bridgehampton Childcare & Recreational Center, Banks has shared her work and process with children of The Center, resulting in an installation of the children's own cloud sculptures. 
Curator
Christina Strassfield, Museum Director/Chief Curator 
Project Coordinator
Anthony Madonna, The Patti Kenner Fellow in Arts Education  
Cloud Garden is on view during regular Museum Hours. The Guild Hall Gardens are self-monitoring spaces; we ask that patrons observe proper physical-distancing, observe maximum capacity signage, and wear face-coverings on the grounds.
Monica Banks

Monica Banks has been creating public works, site-specific installations, and showing work in museums, galleries, and other venues for 30 years. She has won awards for recent work from Jocelyn Miller, assistant curator at MOMA PS1; Benjamin Genocchio, former art critic for The New York Times; Marla Prather while curator in the Department of Modern and Contemporary Art at the Metropolitan Museum of Art NYC; and the curators at the Heckscher Museum of Art. In 2016 Jorge Pardo selected her work to be shown alongside his own work at the Parrish Art Museum "Artists Choose Artists." Her work has recently been featured in The New York Times, Brooklyn Rail, Smithsonian Magazine, Timeout New York, The Baltimore Sun, East Hampton Star, Sag Harbor Express, and Hamptons Art Hub, and she has had solo or dual shows at Sara Nightingale Gallery in Sag Harbor every year since 2015.

She created "Faces: Times Square," a block-long sculpture which stood in Times Square from 1996-2009, for which she won an award from The Public Design Commission of the City of New York. Her permanent public works are located in the Bronx, Binghamton NY, Charlotte NC, and West Nyack NY. She has done site-specific installations at The Carriage House at the Islip Art Museum, The Rockland County Center for the Arts, The American Craft Museum, Spring Break Art Show, and other venues. Permanent collections holding her work include the Parrish Art Museum, The University Museum of Contemporary Art at University of Mass. Amherst, the Islip Art Museum, and the Daura Gallery at Lynchburg College. 
Event Sponsors
Education Programming supported by The Patti Kenner Arts Education Fellowship, Lucy and Steven Cookson, The Wunderkinder Foundation, the Helen Frankenthaler Foundation, Kate W. Cassidy Foundation, Milton and Sally Avery Arts Foundation, and funding from the Lewis B. and Dorothy Cullman Endowment Fund, and The Melville Straus Family Endowment Museum Programming supported in part by the Helen Frankenthaler Foundation, public funds provided by New York State Council on the Arts with the support of Governor Andrew M. Cuomo and the New York State Legislature, an anonymous donor, Crozier Fine Arts, and funding from The Michael Lynne Museum Endowment, The Melville Straus Family Endowment, and The Lorenzo and Mary Woodhouse Trust This project and installation is supported in part by the National Endowment for the Arts, Jackson Dodds & Company, Inc., and Golden Eagle Art Suppy.
Become a Sponsor