LUNCH BREAK: Chart of the Inner Warp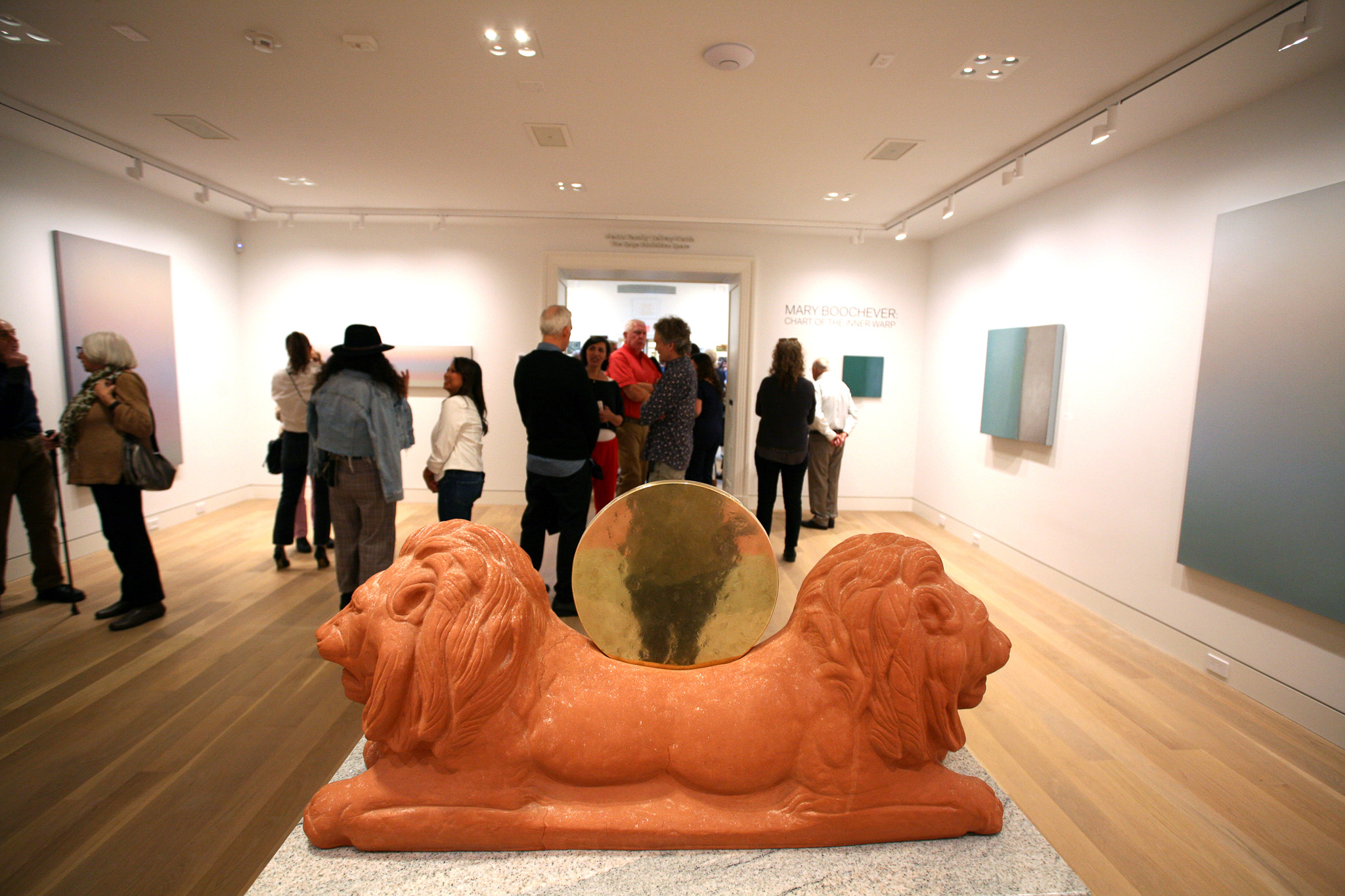 Overview
Lunch Break is a series of open, insightful, participatory, and short discussions about art. Each Lunch Break is led by Guild Hall's Patti Kenner Director of Learning + New Works, Anthony Madonna and focuses on various ways to absorb and interpret the work of the artists on exhibit.
Participants are welcome to join staff for lunch in the Guild Hall Pantzer Gallery or Minikes Garden after the program. Attendees may bring their own lunch or purchase small bites from Louise & Howie's Coffee Bar in the lobby. *
FRIDAY, OCTOBER 13, 12 PM: Leo Villareal: Celestial Garden
FRIDAY, NOVEMBER 10, 12 PM: Mary Boochever: Chart of the Inner Warp
FRIDAY, DECEMBER 15, 12 PM: 84th Artist Members Exhibition
*Small croissant sandwiches from Tutto Caffè, will be available, first come, first served.
---
Mary Boochever was chosen by MoMA PS1 Associate Curator Jocelyn Miller as the winner of the 2019 81st Artist Members Exhibition. Deeply rooted in research and investigations of color systems, Boochever creates color experiences for the viewer through her paintings, sculptures, and installations.
Anthony Madonna

Anthony Madonna is an interdisciplinary collaborative artist, educator, and creative producer, Anthony strives to construct experiences that both critically challenge our individual beliefs and bring awareness to our responsibility as a community. 

This ambition has led him to work in various roles and contexts: a music-theater workshop leader amongst diverse age groups and learning developments; a music practitioner within hospitals and rehabilitation centers; a concert and festival producer; a composer/performer of experimental vocal works; and a collaborative installation artist. Anthony has worked within institutions such as The McCarter Theatre Center, The Juilliard School, and the Barbican Centre. His projects have been shown and/or performed as part of the Tate Modern: Tate Exchange (London), the Barbican Centre's Dialogue, UnFinished, and Curious festivals (London), Guild Hall of East Hampton (Long Island, NY), and The Arts Center at Duck Creek (Long Island, NY).

Anthony currently serves as the Patti Kenner Director of Learning + New Works at Guild Hall of East Hampton. In this role he manages all Guild Hall (GH) initiatives on site, and in schools, the Guild Hall Teen Arts Council (the first paid teen arts program in the region), and Guild Hall's three residency programs: the Guild Hall William P. Rayner Artist-in-Residence program; Community Artist-in-Residence program; and the Guild Hall & Bel Canto Bootcamp Resident Artist series.

Anthony is a graduate of the Beth Morrison Projects Producer Academy, the Guildhall School of Music & Drama (M.M. Music Leadership), The Juilliard School's Professional Apprenticeship Program, and Westminster Choir College (B.M. Music Education & Vocal Performance).

https://www.anthonymadonna.com

Photo: Jessica Dalene Photography

Mary Boochever

In developing her own color language, Mary Boochever has explored sources as diverse as the Kabala and Goethe's Color Theory. Boochever's paintings, sculptures, and installations draw the viewer into the immediacy of the color experience. Born into a Washington, D.C., Foreign Service family in 1954, she later studied at the Akademie der Bildenden Künste in Munich, Germany, under Mac Zimmerman, Günther Fruhtrunk, and Paul Meyer-Speer. Relocating to New York City in 1978, she taught at the School of Visual Arts and guest-lectured at Yale University. After moving to Long Island in 1993 she taught at Suffolk Community College in Riverhead and Lacoste School of the Arts in France. The artist has shown extensively in galleries and museums in the U.S. and Europe. She currently lives and works in Sag Harbor, New York.

Photo: Tanya Mallott
Event Sponsors
Guild Hall's Learning + New Works programs are made possible by the New York State Council on the Arts with the support of the Office of the Governor and the New York State Legislature.

Additional major support comes from The Patti Kenner Arts Education Fellowship, the Lewis B. and Dorothy Cullman Endowment Fund, and The Melville Straus Family Endowment. 

Museum programs are supported by Crozier Fine Arts, and funding from The Michael Lynne Museum Endowment, and The Melville Straus Family Endowment.

Free gallery admission is sponsored, in part, by Landscape Details. 
Become a Sponsor