Lonnie Holley: Concert and Conversation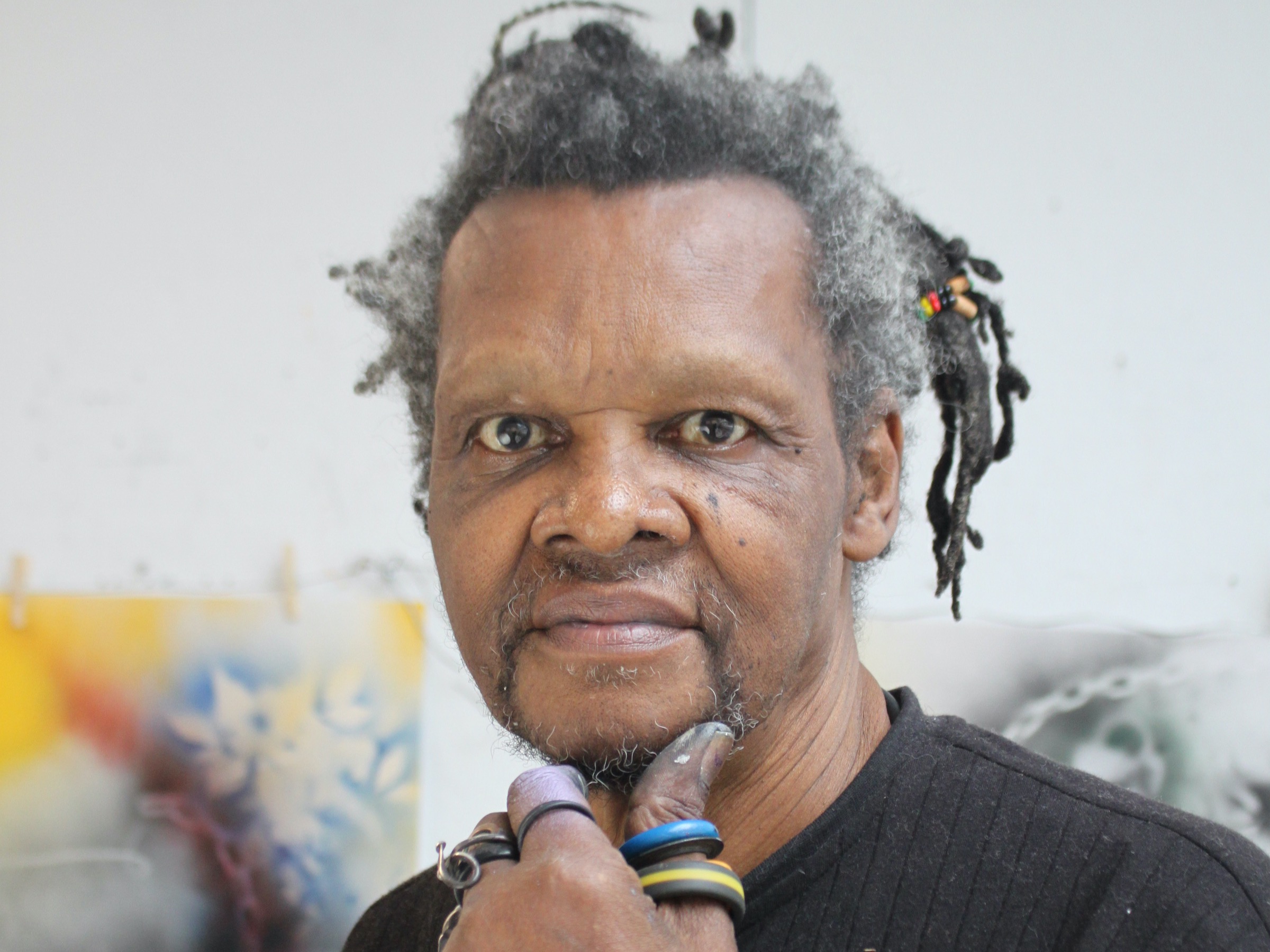 Overview
Lonnie Holley, the sculptor/artist/musician/filmmaker/educator is an Artist-in-Residence at the Elaine de Kooning House in East Hampton, NY. The residency will culminate with a conversation/performance that will run virtually in collaboration with Guild Hall on November 22.
Holley grew up in Jim Crow-era Birmingham, Alabama; the 7th of his mother's 27 children. His life history reads like fiction, though it's all true. Taken from his birth family at one and a half by a burlesque dancer who offered to help his mother; left at a "whiskey house" at the age of four; locked up in the notorious Alabama Industrial School for Negro Children at eleven for violating the city's curfew imposed by Eugene "Bull" Connor.
Holley emerged from the industrial school, which was more of a "slave camp" than a school, a "Little Lost Child." After a series of odd jobs for the next decade, Holley discovered his true talents as an artist after carving tombstones for his niece and nephew who had been killed in a house fire. He'd never look back. Perhaps best known for his immersive sculptures, his work was recently included in the American Academy of Arts and Letters' 2020 Invitational Exhibition of Visual Arts. His installation Lost Child was featured at Pennsylvania Academy of Fine Arts from January-August 2020.
Though he's been making and self-recording music since the early 1980s, his first album was released in 2012. In late 2018, he released the critically acclaimed third album, Mith, which was named one of the dozen best records of the decade by the New Yorker. In July 2020, he released the album National Freedom. His visual art is in the permanent collections of numerous museums, including the Metropolitan Museum of Art, The Philadelphia Museum of Art, LA County Museum of Art, and many others. His acclaimed short film, I Snuck Off the Slave Ship, his first as a director, premiered at the 2019 Sundance Film Festival.
Elaine de Kooning House

In 1975, Elaine de Kooning reconciled with her husband Willem and purchased the house on Alewive Brook Road. She added the studio three years later and created her last important bodies of work -- the Cave Walls and Cave Paintings (1985-88). She also painted the portrait of the Brazilian soccer player Pele, Motown mogul Barry Gordy, and many others at this time. After her death, the sculptor John Chamberlain owned the property, followed by the painter Richmond Burton. Since 2011, the Elaine de Kooning House has hosted events, exhibitions, and informal artist residencies with the artists Charles Andresen, Aaron Aujla, Katherine Bernhardt, Lizzi Bougatsos, Joe Bradley, Jessie Dunahoo, Chris Duncan, Jonah Freeman and Justin Lowe, Mike Goodlett, Sedrick Huckaby, Kim "Mudman" Jones, Susan Te Kahurangi King, Laura and Rachel Lancaster, Sadie Laska, Jose Lerma, Liz Markus, Adam Marnie, Scott and Tyson Reeder, John Riepenhoff, Kambel Smith, Agathe Snow & Marianne Vitale, Celeste Dupuy-Spencer, Jerry "The Marble Faun" Torre, Michael Williams, and Anke Weyer.
Event Sponsors
Museum Programming supported in part by the Helen Frankenthaler Foundation, public funds provided by New York State Council on the Arts with the support of Governor Andrew M. Cuomo and the New York State Legislature, an anonymous donor, Crozier Fine Arts, and funding from The Michael Lynne Museum Endowment, The Melville Straus Family Endowment, and The Lorenzo and Mary Woodhouse Trust
Become a Sponsor