Invented Sounds: Viv Corringham & Gian Carlo Feleppa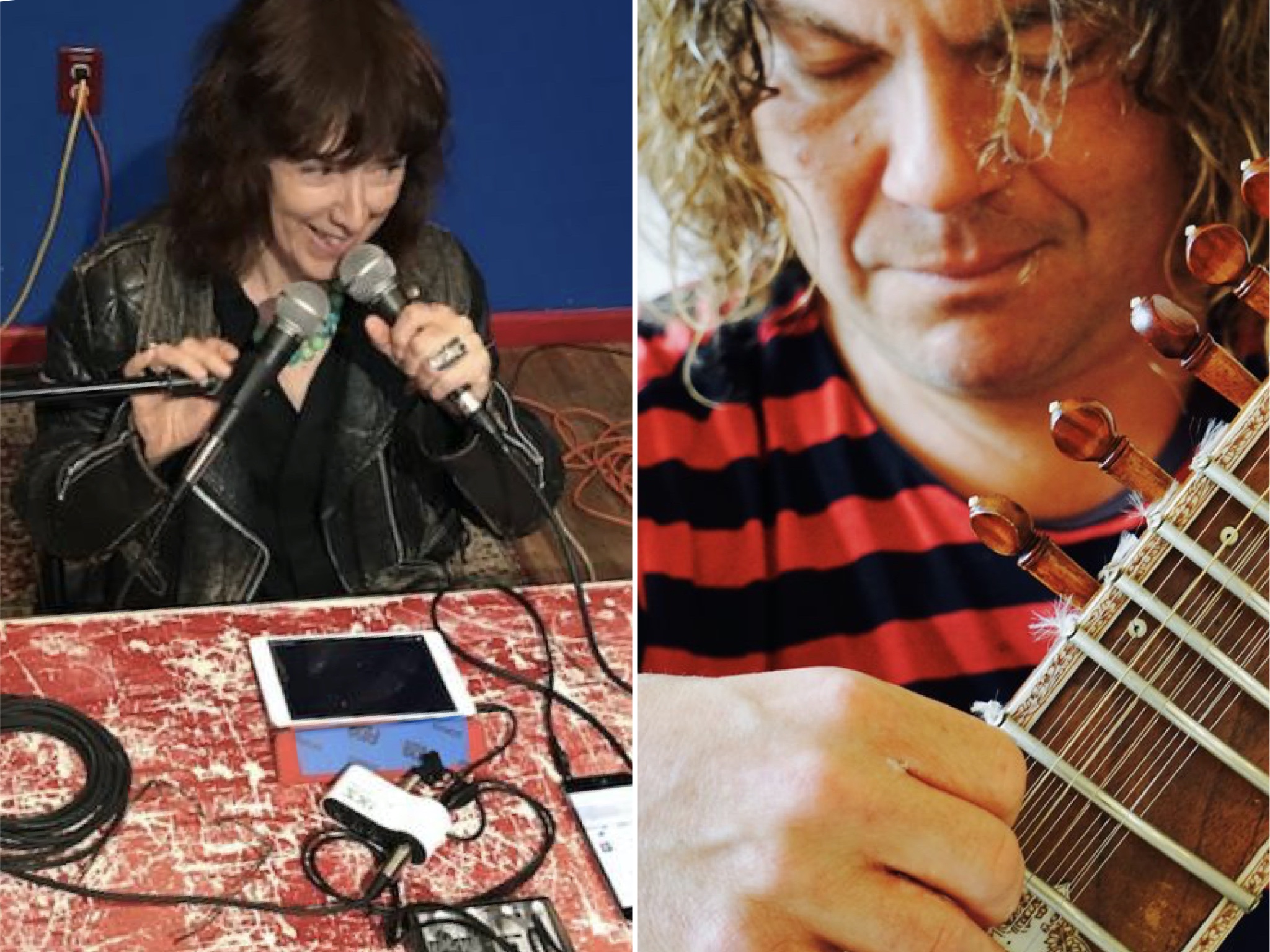 Overview
Guild Hall presents the debut collaborative performance from vocalist, composer, and soundscape artist, Viv Corringham, and multi-instrumentalist and electronic musician, Gian Carlo Feleppa. The artists perform solo and collaborative works ranging across their shared interest in improvised, found, and responsive sound. Corringham's set-up centers on her voice, collected field recordings from her ongoing "sound-walk" project, and personal writings; exploring both the artist's and listener's sense of place and link to personal history and memory.
"Fragments of her voice flicker like the light bouncing over water…later drifting into ambiguous urban sound, a backdrop for her intermittent vocal solo. It's a gorgeous, calming piece, new age in the best sense."  –The Wire, August 202 Issue
A contortionist of sound, Feleppa defies description. Playing sitar, keys, drums, vocals, and looping it all through a series of pedals, he creates original and spontaneous music; from traditional Indian ragas to original acoustic ballads to electronic looping mania.
*Your purchase of one ticket is for one Lawn Circle, which can sit a party of up to two people. All lawn circles are 6ft. in diameter and are distanced 6ft. away from other parties. Please bring your own blankets and/or beach chairs. For more information, visit the Theater FAQ page.
Gian Carlo Feleppa

Gian Carlo Feleppa grew up in Amagansett obsessed with music, records, and The Beatles since the very beginning. Writing songs, playing guitar, and multi-track recording became a way of life, leading to years of listening and learning. 

After receiving a degree in Songwriting and Composition at Berklee College of Music, Feleppa moved to New York City; starting multiple bands, releasing records, touring, working in record stores, instrument shops, and record pressing plants. In 2003, Feleppa purchased his first sitar and his life was forever changed. He accompanies yoga classes on sitar, performs and teaches multiple instruments and recording techniques to children of all ages at local schools and camps. 

Currently, Feleppa is focused on his new band, Student Body, his 10 year old daughter, Ea, and sharing the joy of hearing sound with children in the Hamptons communities. 

Viv Corringham

Viv Corringham is a British vocalist, composer and soundscape artist who studied and worked with Pauline Oliveros for many years, and holds a Certificate to teach Deep Listening. She facilitates workshops in listening and sounding, most recently in Hong Kong, Mexico, London, Bangalore, New York, Kolkata and Manila. 

Her work includes concerts, soundwalks, and audio installations, exploring people's sense of place and the link with personal history and memory. She received an MA in Sonic Art from Middlesex University London and her awards include two Composer Fellowships from McKnight Foundation, through American Composers Forum. Her work has been presented in twenty-six countries including Hong Kong Arts Centre, Fronoteca Nacional de Mexico, Issue Project Troom New York, Onassis Centre Athens, ICA London, Serralves Museum Portugal, Ohrenhoch Berlin, Arts University Taiwan, Shantou University China, and Tempo Reale Florence. 
Event Sponsors
Special thanks to Marty and Michele Cohen, Ben Krupinski Builder, Hollander Design, and Groundworks Landscaping. All Education Programming supported by The Patti Kenner Arts Education Fellowship, Lucy and Steven Cookson, and The Wunderkinder Foundation, with additional funding by Kate W. Cassidy Foundation, Lewis B. and Dorothy Cullman Endowment Fund, and The Melville Straus Family Endowment. All Theater Programming supported in part by Marders, Barbara Slifka, and funding from The Ellen and James S. Marcus Endowment for Musical Programming, The Melville Straus Family Endowment, The Schaffner Family Foundation, and with additional support from Brown Harris Stevens, and Lang Insurance.
Become a Sponsor