Hamptons Observatory and Guild Hall present
A Sky Full of Poems with Dava Sobel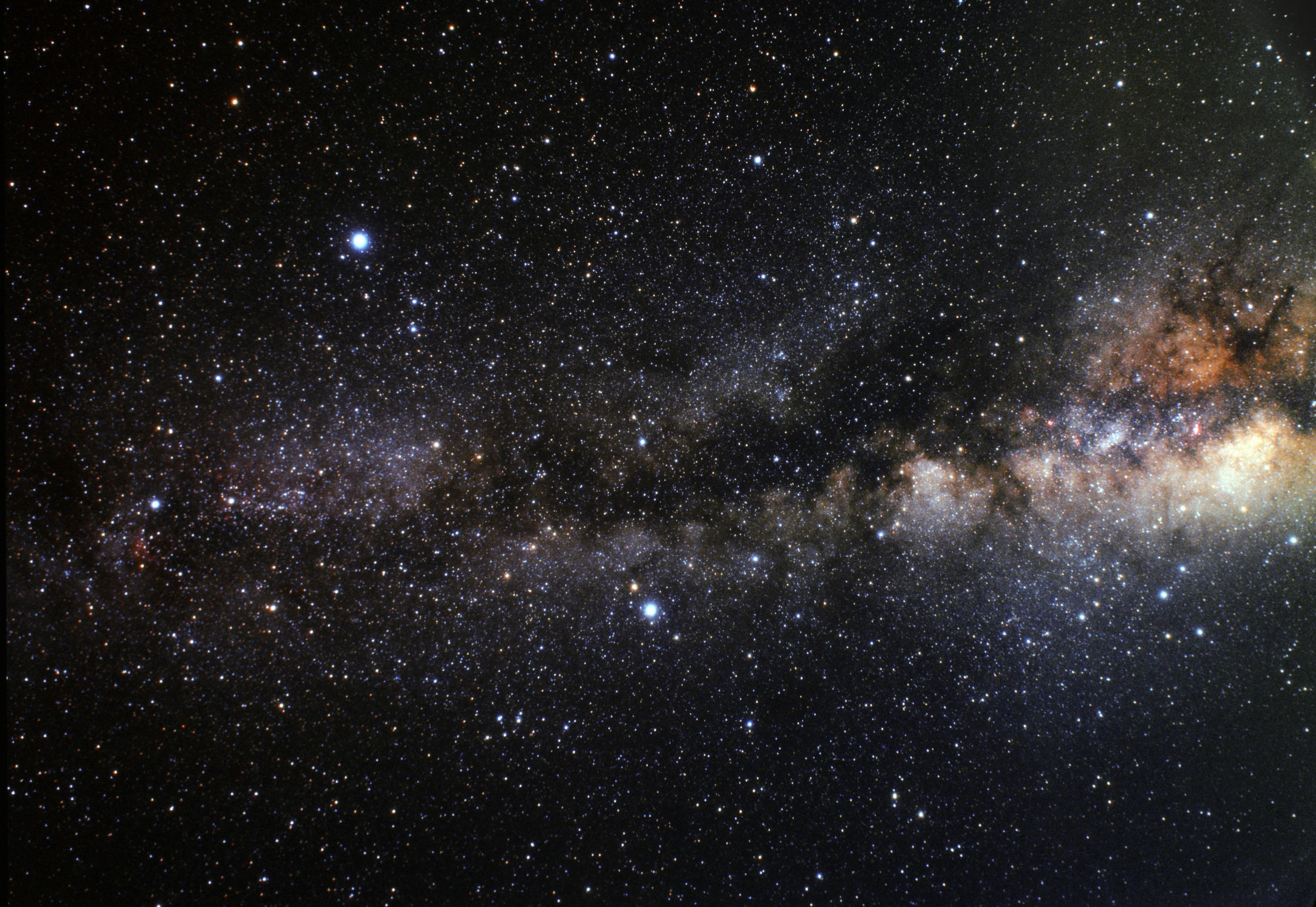 Overview
Directed by Josh Gladstone
The skies above have moved us to explore, imagine and express ourselves regardless of who we are or where we live. Across time and nations, the planets, moons and stars we see in our dark skies, the great telescopes and observatories we have created to view and study those wonders, and the spacecraft we have built to explore the heavens, have inspired and added meaning to all our lives. It is not surprising that such experiences have been eloquently–and sometimes humorously–expressed by poets.
Please join Hamptons Observatory and Guild Hall for this free public presentation. Dava Sobel, bestselling author and Poetry Editor of the magazine, "Scientific American," will discuss how the skies have served to inspire poets. A trio of gifted actors – Nehassaiu deGannes, Laura Hix and Isaac Klein – will recite a selection of celestially-inspired poems which will be accompanied by related visuals, including Apollo by Elizabeth Alexander, Annie Pearl Smith Discovers Moonlight by Patricia Smith, and Three Views of Mars by Jessica Goodfellow.
Registration Required – Free or additional donation
Link will be emailed 24 hours prior to those who register
Dava Sobel

Dava Sobel, a former New York Times science reporter, is the author of Longitude (Walker 1995 and 2005, Penguin 1996), Galileo's Daughter (Walker 1999 and 2011, Penguin 2000), The Planets (Viking 2005, Penguin 2006), and A More Perfect Heaven (Walker / Bloomsbury, 2011 and 2012). She has also co-authored six books, including Is Anyone Out There? with astronomer Frank Drake.

A long-time science contributor to Harvard Magazine, Audubon, Discover, Life, Omni, and The New Yorker, she continues to write for several on-line and print publications.

Ms. Sobel received the 2001 Individual Public Service Award from the National Science Board "for fostering awareness of science and technology among broad segments of the general public." Also in 2001, the Boston Museum of Science gave her its prestigious Bradford Washburn Award for her "outstanding contribution toward public understanding of science, appreciation of its fascination, and the vital role it plays in all our lives." In October 2004, in London, Ms. Sobel accepted the Harrison Medal from the Worshipful Company of Clockmakers, in recognition of her contribution to increasing awareness of the science of horology by the general public, through her writing and lecturing. In 2008 the Astronomical Society of the Pacific presented her with its Klumpke-Roberts Award for "increasing the public understanding and appreciation of astronomy." Her 2014 Cultural Award from the Eduard Rhein Foundation in Germany commends her "for using her profound scientific knowledge and literary talent to combine facts with fiction by merging scientific adventures and human stories in order to give the history of science a human face."

From January through March 2006, Ms. Sobel served as the Robert Vare Non-fiction Writer in Residence at the University of Chicago, where she taught a seminar in science writing while pursuing research for her stage play about sixteenth-century astronomer Nicolaus Copernicus, called "And the Sun Stood Still." Her play was commissioned by Manhattan Theatre Club through the Alfred P. Sloan Initiative, and was also supported by a Fellowship from the John Simon Guggenheim Memorial Foundation.

In May 2011, as the Elizabeth Kirkpatrick Doenges Visiting Artist/Scholar, Ms. Sobel taught a course called "Writing Creatively about Science" at Mary Baldwin College in Staunton, Virginia. In fall 2013 she began a two-year appointment as the Joan Leiman Jacobson Visiting Nonfiction Writer at Smith College in Northampton, Massachusetts. Invited to stay on for a third academic year, Ms. Sobel is happy to continue her association with the Smithies through May 2016.

Longitude went through twenty-nine hardcover printings before being re-issued in October 2005 in a special tenth-anniversary edition with a foreword by astronaut Neil Armstrong. Soon after its original publication in 1995, the book was translated into two dozen foreign languages and became a national and international bestseller, much to Ms. Sobel's surprise. It won several literary prizes, including the Harold D. Vursell Memorial Award from the American Academy of Arts and Letters and "Book of the Year" in England. Together with William J. H. Andrewes, who introduced her to the subject of longitude, Ms. Sobel co-authored The Illustrated Longitude (Walker 1998 and 2003).

She based her book Galileo's Daughter on 124 surviving letters to Galileo from his eldest child. Ms. Sobel translated the letters from the original Italian and used them to elucidate Galileo's life work. Galileo's Daughter won the 1999 Los Angeles Times Book Prize for science and technology, a 2000 Christopher Award, and was a finalist for the 2000 Pulitzer Prize in biography. The paperback edition enjoyed five consecutive weeks as the #1 New York Times nonfiction bestseller.

A sequel, Letters to Father, containing the full text of Galileo's daughter's correspondence in both English and Italian, was published by Walker in 2001. An English-only edition, a Penguin "Classic," followed in 2003.

The PBS science program "NOVA" produced a television documentary called "Lost At Sea — The Search for Longitude," which was based on Ms. Sobel's book. Granada Films of England created a dramatic version of the story, "Longitude," starring Jeremy Irons and Michael Gambon, which aired on A&E as a four-hour made-for-TV movie. A two-hour "NOVA" documentary based on Galileo's Daughter, called "Galileo's Battle for the Heavens," first aired on public television in October 2002, and won an Emmy in the category of historical programming.

Lecture engagements have taken Ms. Sobel to speak at The Smithsonian Institution, The Explorers' Club, NASA's Goddard Space Flight Center, The Folger Shakespeare Library, The New York Public Library, The Hayden Planetarium, the U. S. Naval Observatory, The Royal Geographical Society (London), and the American Academy in Rome. She has been a frequent guest on National Public Radio programs, including "All Things Considered," "Fresh Air," "Science Friday," and "The Diane Rheem Show." Her television appearances include C-SPAN's "Booknotes" and "TODAY" on NBC.

A 1964 graduate of the Bronx High School of Science, Ms. Sobel attended Antioch College and the City College of New York before receiving her bachelor of arts degree from the State University of New York at Binghamton in 1969. She holds honorary doctor of letters degrees from the University of Bath, in England, and Middlebury College, Vermont, both awarded in 2002. In December 2015, she is to receive an honorary doctor of science degree from the University of Bern, Switzerland.

A play based on Galileo's Daughter, written by Timberlake Wertenbaker and directed by Sir Peter Hall, premiered in Bath, England, in July 2004. In October 2005, a play by Sir Arnold Wesker, based on Longitude, directed by Fiona Laird, enjoyed a successful limited engagement at the Greenwich Theatre near London.

Ms. Sobel's own play, "And the Sun Stood Still," was performed by the Boulder Ensemble Theater Company, Colorado, in March and April 2014, with grant support from the National Endowment for the Arts. A radio play version has been recorded and distributed by L.A. Theater Works.

The editor of the collection Best American Science Writing 2004, published by Ecco Press, Ms. Sobel has served as a judge for the Los Angeles Times Book Prizes, the Pulitzer Prize in General Nonfiction, the PEN / E. O. Wilson Literary Science Writing Award, and the Lewis Thomas Prize awarded by Rockefeller University to scientists who distinguish themselves as authors.

Hamptons Observatory

Hamptons Observatory (HO), a 501(c)(3) NYS nonprofit that relies on public support has served the South Fork since 2005. Its mission: to foster interest in science, particularly astronomy, through educational programs. Lectures, star parties, portable planetarium shows and other events are held throughout the South Fork, often in collaboration with other nonprofit organizations. HO has established the first astronomical observatory on the South Fork (on the campus of the Ross School in East Hampton), complete with Long Island's largest research-grade telescope; these facilities will soon be accessible over the internet to students, teachers, researchers and the general public. Hamptons Observatory offers all of its programs free-of-charge to encourage participation regardless of economic status. For further information or to make a tax-deductible donation to support our mission, please go to our website www.HamptonsObservatory.org and click on Donate. To join our list for news and event notices, email HamptonsObservatory@gmail.com.

Laura Hix

Laura holds graduate degrees in Drama Therapy (NYU) and Psychology (Wake Forest University) as well as a BFA (SMU) in theatre. She currently works in psychological research, investigating wellbeing in college students. She recently received an Educational Design Fellowship at University of North Carolina School of the Arts, where she assisted in the development of a program in creative practice. Favorite theatre NY credits include: Gun Play (NYU As Performance Series), Scarlett O'Hara and the War on Tara (La MaMa ETC), Mo[u]rnin'. After.(The Wild Project), References to Salvador Dali Make Me Hot (Hangar Theatre). Laura lives in North Carolina with her husband and dog, and enjoys practicing and teaching yin/restorative yoga.

Isaac Klein

Isaac Klein is a writer, director, teacher, and performer born and raised in East Hampton, New York. He is thrilled to be returning virtually to Guild Hall! Isaac is the author of the book The School of Doing: Lessons from theater master Gerald Freedman. His work has been seen in theaters all around the country, perhaps most notably as the assistant director of the Broadway revivals of Gypsy (2007) and West Side Story (2009). Isaac is a founding member of SPACE on Ryder Farm, and a company member at Exit, Pursued By A Bear. He has a BFA in Drama from the UNC School of the Arts, where he has often returned as a guest artist and teacher. Isaac lives in North Carolina with his wife Laura and their dog, Cricket. He is currently pursuing his master's in Journalism at UNC Chapel Hill. isaac-klein.com

Nehassaiu deGannes

Nehassaiu deGannes (she/her/hers) has appeared in a range of classical and contemporary roles Off B'way, regionally and internationally, including Stratford Festival of Canada, Chicago Shakespeare Theater, Studio Theatre, DC, Alabama Shakespeare Festival, Soho Rep, LaMaMa, Cleveland Play House, and John Drew/ Guild Hall in EQUUS with Alec Baldwin, directed by Tony Walton. Cited "Best Performance In A Play 2017" by The Wall Street Journal for her portrayal of "Esther" in Lynn Nottage's Intimate Apparel at Shakespeare & Co., she is also recipient of the 2016 Berkshire Theatre Award for Outstanding Supporting Actress for her nimble comedic tripling as Nell Gwynne, Maria, and Lady Davenant in Liz Duffy Adams' Or,. Off-Broadway, Nehassaiu originated "Angie" in Soho Rep's Obie Award winning production of Aleshea Harris' Is God Is and "Arkadina" in The Assembly's world premiere SEAGULLMACHINE. She has twice served as featured performer for The UN Trust Fund to End Violence Against Women and plays "Krystal Rullan" in Taheim Bryan's timely indie-feature, Equal Standard, co-produced by Ice-T. Her solo-show Door of No Return, originally produced by Rites and Reason Theatre at Brown University, has been presented at several theatres and colleges in NY and the Northeast, including Easthampton's Guild Hall. Recipient of fellowships from Vermont Studio Center, Soul Mountain, Community of Writers, and The Rhode Island State Council on The Arts, Nehassaiu's poems have been published in literary journals such as American Poetry Review, Callaloo, PoemMemoirStory and elsewhere, two poetry chapbooks––– Undressing The River, selected by Kimiko Hahn for the 2011 Center For Book Arts National Letterpress Prize, and Percussion, Salt & Honey, selected by Michael Harper for the Philbrick Poetry Prize––– and Music for Exile, her debut book-length collection, available now from Tupelo Press. She holds an MFA in Poetry from Brown University, an MA in African American Studies, and trained at Trinity Rep Conservatory. Based in Brooklyn, Nehassaiu is a 52nd St Project Volunteer, a proud member of AEA, and is represented by The Talent House, New York & Toronto. Recipient of an Assembly Theater Deceleration Lab Grant, her current work-in- progress, EBB & lo', unveils the Jamaican Creole identity of the renown Victorian poet, Elizabeth Barrett Browning, thereby rescuing the world's "greatest love poems" from being white-washed.  

 
Event Sponsors
Theater Programming supported in part by the Helen Frankenthaler Foundation, Barbara Slifka, The Schaffner Family Foundation, Brown Harris Stevens, Michael Balmuth, Lang Insurance, and funding from The Ellen and James S. Marcus Endowment for Musical Programming and The Melville Straus Family Endowment
Become a Sponsor