Hamptons Institute
The Youth Climate Movement Could Save the Planet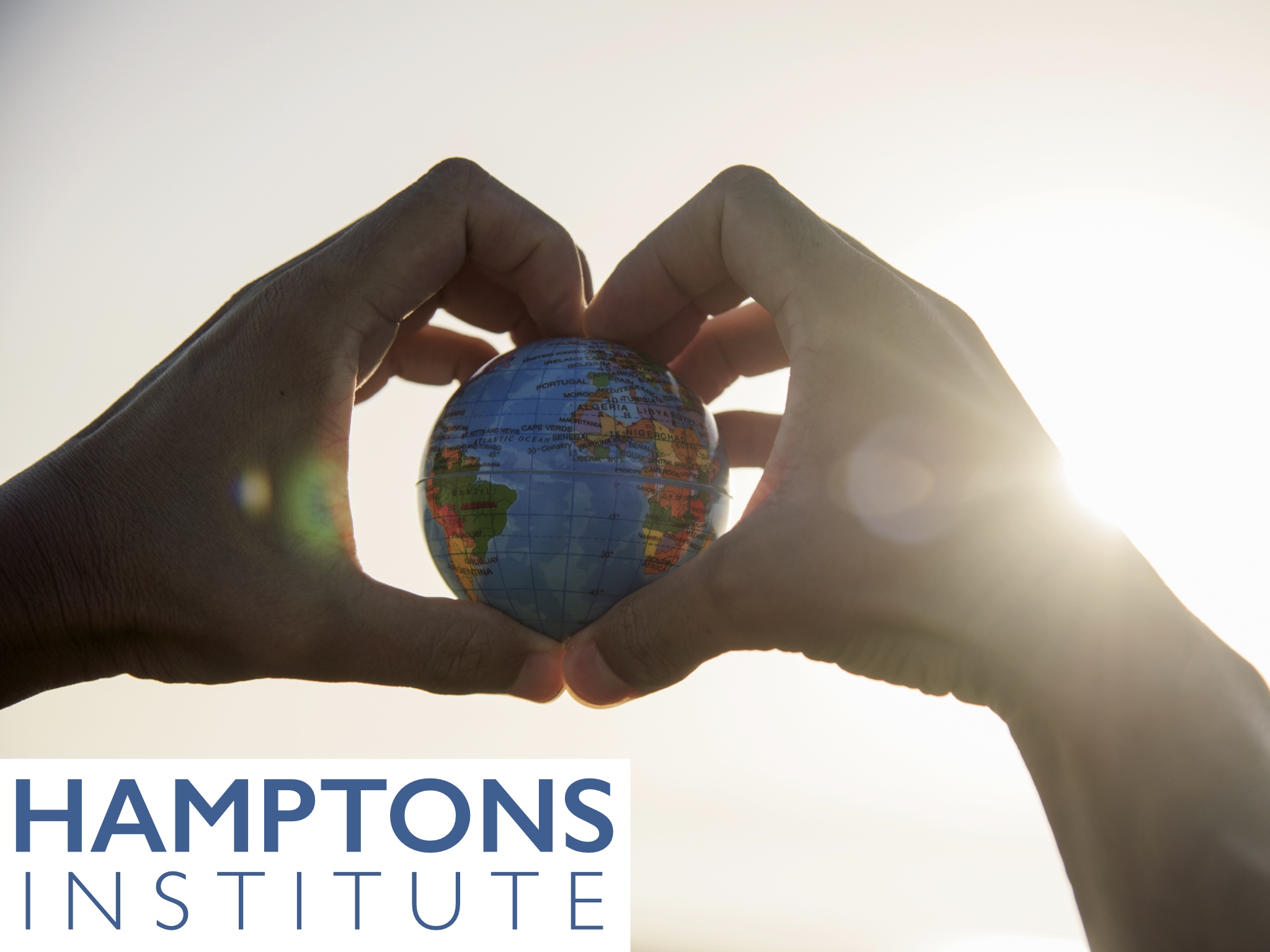 Overview
Produced by Tracy Marshall and Sheraton Kalouria
The youth shall inherit the earth…and they plan to take care of it. The growing youth activist movement has continued to expand across the world, and politicians are taking notice. Our panel will address the latest science and focus on the young people around the globe that are taking action and impacting change.
This panel will open up with a discussion with Alexandria and Jerome, our youth activists who will set the stage and share their experiences and how they were moved to action. Michael and Gordian will join them afterward to address the science and renewable energy solutions. We will close the discussion with a town hall style discussion featuring young local activists led by Jerome. The mission is to educate and raise awareness about how people can become involved in local and national efforts.
Panelists:
Alexandria Villaseñor, a Co-founder of US Youth Climate Strike and founder of Earth Uprising
Jerome Foster II, student of Washington Leadership Academy, founder of TAU VR
Dr. Michael Mann, Director of the Earth System Science Center, Penn State University
Gordian Raacke, Executive Director of Renewable Energy Long Island
Moderator:
Jessy Tolkan, Chief Campaigns Officer and Executive Director of Purpose Labs
Hamptons Institute: Latino Immigration Issues on the East End and Beyond – August 12
Hamptons Institute: The Future of Women in Leadership – August 19
Alexandria Villaseñor

Alexandria Villaseñor is a 13-year-old climate justice activist located in New York City. She is involved with the Fridays For Future movement that was sparked by Greta Thunberg in Sweden. She is also a co-founder and co-director of US Youth Climate Strike.

Jerome Foster II

Founder of TAU VR & The Climate Reporter | House of Representatives Intern | Environmental Activist

Jerome Foster II is a student that attends Washington Leadership Academy a Public Charter School in Washington DC. Jerome started his own VR company called TAU VR (officially recognized by Washington DC), which focuses on revolutionizing the education and training industry around the world through using Virtual Reality Experiences for students. This idea has allowed him to win 3rd place in the World Series of Entrepreneurship in 2017. Jerome hopes to attend either Princeton Unversity, Massachusetts Institute of Technology, Brown University, California Institute of Technology, or Yale and major in Quantum Physics and Computer Science and minor in Architecture and Graphic Design. Jerome is motivated by the notion of changing the world for the better, he wishes to aid the UN's efforts to complete the Sustainable Development Goals. He has started helping through his Climate Change blog called, The Climate Reporter. 

Dr. Michael E. Mann

Dr. Michael E. Mann is Distinguished Professor of Atmospheric Science at Penn State, with joint appointments in the Department of Geosciences and the Earth and Environmental Systems Institute (EESI). He is also director of the Penn State Earth System Science Center (ESSC).

Dr. Mann received his undergraduate degrees in Physics and Applied Math from the University of California at Berkeley, an M.S. degree in Physics from Yale University, and a Ph.D. in Geology & Geophysics from Yale University. His research involves the use of theoretical models and observational data to better understand Earth's climate system.

Dr. Mann was a Lead Author on the Observed Climate Variability and Change chapter of the Intergovernmental Panel on Climate Change (IPCC) Third Scientific Assessment Report in 2001 and was organizing committee chair for the National Academy of Sciences Frontiers of Science in 2003. He has received a number of honors and awards including NOAA's outstanding publication award in 2002 and selection by Scientific American as one of the fifty leading visionaries in science and technology in 2002. He contributed, with other IPCC authors, to the award of the 2007 Nobel Peace Prize. He was awarded the Hans Oeschger Medal of the European Geosciences Union in 2012 and was awarded the National Conservation Achievement Award for science by the National Wildlife Federation in 2013. He made Bloomberg News' list of fifty most influential people in 2013. In 2014, he was named Highly Cited Researcher by the Institute for Scientific Information (ISI) and received the Friend of the Planet Award from the National Center for Science Education. He received the Stephen H. Schneider Award for Outstanding Climate Science Communication from Climate One in 2017, the Award for Public Engagement with Science from the American Association for the Advancement of Science in 2018 and the Climate Communication Prize from the American Geophysical Union in 2018. In 2019 he received the Tyler Prize for Environmental Achievement. He is a Fellow of the American Geophysical Union, the American Meteorological Society, the Geological Society of America, the American Association for the Advancement of Science, and the Committee for Skeptical Inquiry. He is also a co-founder of the award-winning science website RealClimate.org.

Dr. Mann is author of more than 200 peer-reviewed and edited publications, numerous op-eds and commentaries, and four books including Dire Predictions: Understanding Climate Change, The Hockey Stick and the Climate Wars: Dispatches from the Front Lines, The Madhouse Effect: How Climate Change Denial is Threatening our Planet, Destroying Our Politics, and Driving Us Crazy and The Tantrum that Saved the World.

Gordian Raacke

Gordian Raacke is executive director of Renewable Energy Long Island, a not-for-profit organization working to accelerate the transition to 100% renewable energy systems.

He works with municipal governments, regional electric utilities, and the private sector to advance renewable energy initiatives. With a quarter century track record on regional energy issues, Mr. Raacke is regarded as a trusted expert by the regional media and elected officials.

Gordian is a founding member of the Long Island offshore wind coalition, helped build the solar markets on Long Island, and was trained by Vice President Al Gore to present and mentor as a Climate Leader. In 2011, he led an initiative to study a 100 percent renewable electricity future for the region. He served as chair of the Energy Sustainability Committee of the Town of East Hampton and on the Town of Southampton Sustainability Committee, helping to formulate and implement the community-wide 100% renewable energy goals.

Mr. Raacke holds a degree in civil engineering and lives in his energy-efficient solar-powered home in East Hampton, NY.

Distinguished Professor of Atmospheric Science

Director, Earth System Science Center

Jessy Tolkan

Partner, Chief Campaigns Officer, and Executive Director of Purpose Labs

Jessy is a Partner, Chief Campaigns Officer and Executive Director of Purpose Labs. Jessy has spent more than 15 years building people-powered movements. From climate change to voting rights to women's leadership, she has specialized in unlocking new strategies and approaches to creating transformative and lasting change.

Jessy has consulted with some of the leading social change organizations in the U.S., having led an international effort to build electric vehicle infrastructure for several major auto companies and as a senior advisor to the Working Families Organization and the Center for Working Families. She served as Co-Executive Director of both Citizen Engagement Laboratory and Energy Action Coalition and as State Director of the New Voters Project, where she helped register more than 130,000 young voters, facilitating one of the highest youth turnout rates in the country and providing the foundation for the historic youth strategies employed in the 2008 presidential election. She also led the largest youth gathering on global warming in U.S. history – POWER SHIFT 2009, a conference of more than 12,000 youth representing all 50 states which culminated in the single largest lobby day on Capitol Hill focused on global warming. POWER SHIFT has since spread to more than 25 countries, and the first Global Power Shift has since convened in Europe.

Jessy received her B.A. in Political Science from the University of Wisconsin-Madison.

She's been featured in Time Magazine, Glamour Magazine, The New York Times, Hardball with Chris Matthews, and Vanity Fair Magazine. In 2008, Rolling Stone Magazine named her one of the 100 agents of change in America.
Event Sponsors
All Education Programming supported by The Patti Kenner Arts Education Fellowship, with additional funding by an anonymous donor, Kate W. Cassidy Foundation, Lewis B. and Dorothy Cullman Endowment Fund, and The Melville Straus Family Endowment. All Theater Programming is supported in part by Ellen Myers, Marders, the Daryl & Steven Roth Foundation, and funding from The Ellen and James S. Marcus Endowment for Musical Programming, The Harold and Mimi Steinberg Charitable Trust, Hess Philanthropic Fund, The Melville Straus Family Endowment, The Schaffner Family Foundation, and Vital Projects Fund, with additional support from Brown Harris Stevens, Saunders & Associates, and public funds provided by Suffolk County. Lead Sponsors: The Hayden Family Foundation, Susan and Steven Jacobson, Joyce F. Menschel, Alice Netter, and Leila Straus
Additional program support provided by Carol Leibenson
Special thanks to Citarella
Become a Sponsor