GUILD HALL: OFFSITE
Hamptons Fine Art Fair Bastille Day Vernissage Benefiting Guild Hall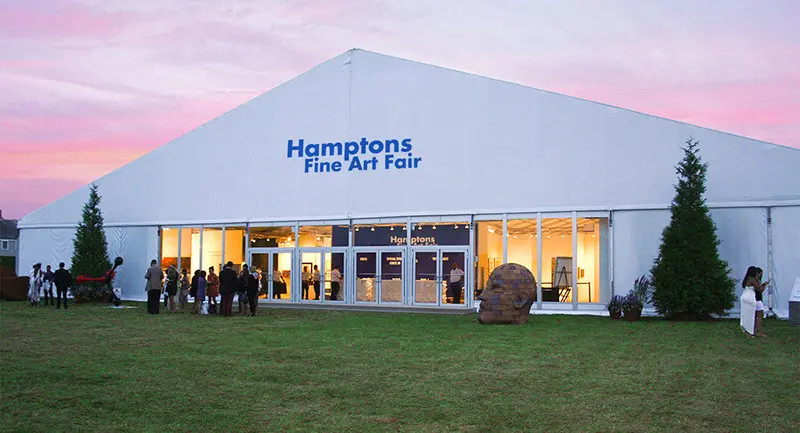 Overview
Opening Night, July 14 Bastille Day Vernissage, benefiting Guild Hall
Exclusive Media Partner: Luxe Interiors + Design
Gold VIP Pass ($150): Special entry at 4PM
VIP Pass ($100): 5-9:30PM
Come celebrate this memorable opening with a timely Francophile theme. Enjoy complimentary French wines/tastings and French hors d'oeuvres, provided by our talented onsite chefs, The Plaza Café, Flatliners, and MF Events.
Be among the first to "storm" the art bastille into the spectacular 40,000 sq. ft. Pollock Pavilion, and seize control of the long respected Hamptons art scene, by viewing and acquiring valuable art works before the fair opens to the public on  Friday. 
Live music sets the fair's Parisian tone with the emotionally charged live performance by the uber popular French recording star, Chloe Perrier and the French Heart Jazz Band. 
The east end will witness a wide, curated and deep selection of high caliber 20th and 21st century art for acquisition – ranging from Renoir to Mr. Brainwash. Art treasures galore. HFAF is slated to be the art buying event of the summer, and the largest in the nation – the  ultimate place to "see and be seen."
In cooperation with their French aligned galleries: Frederic Got Gallery, Paris, France |  Fremin Gallery, New York, NY  |  Galerie Calderone, Dinard, France  |  Galerie L'Atelier, New York, NY  |  Helwaser Gallery, New York, NY  |  The Selects Gallery, New York, NY  | Mark Hachem Gallery, Paris, France
Dress style: distinctly, glamorously French.
No need for dinner reservations: Offering dinner alfresco, in their art park until 9:30pm.
Pommery Bar serving Champagne by the bottle or glass.