Annual Patrons Trip
The Nashville Art & Music Scene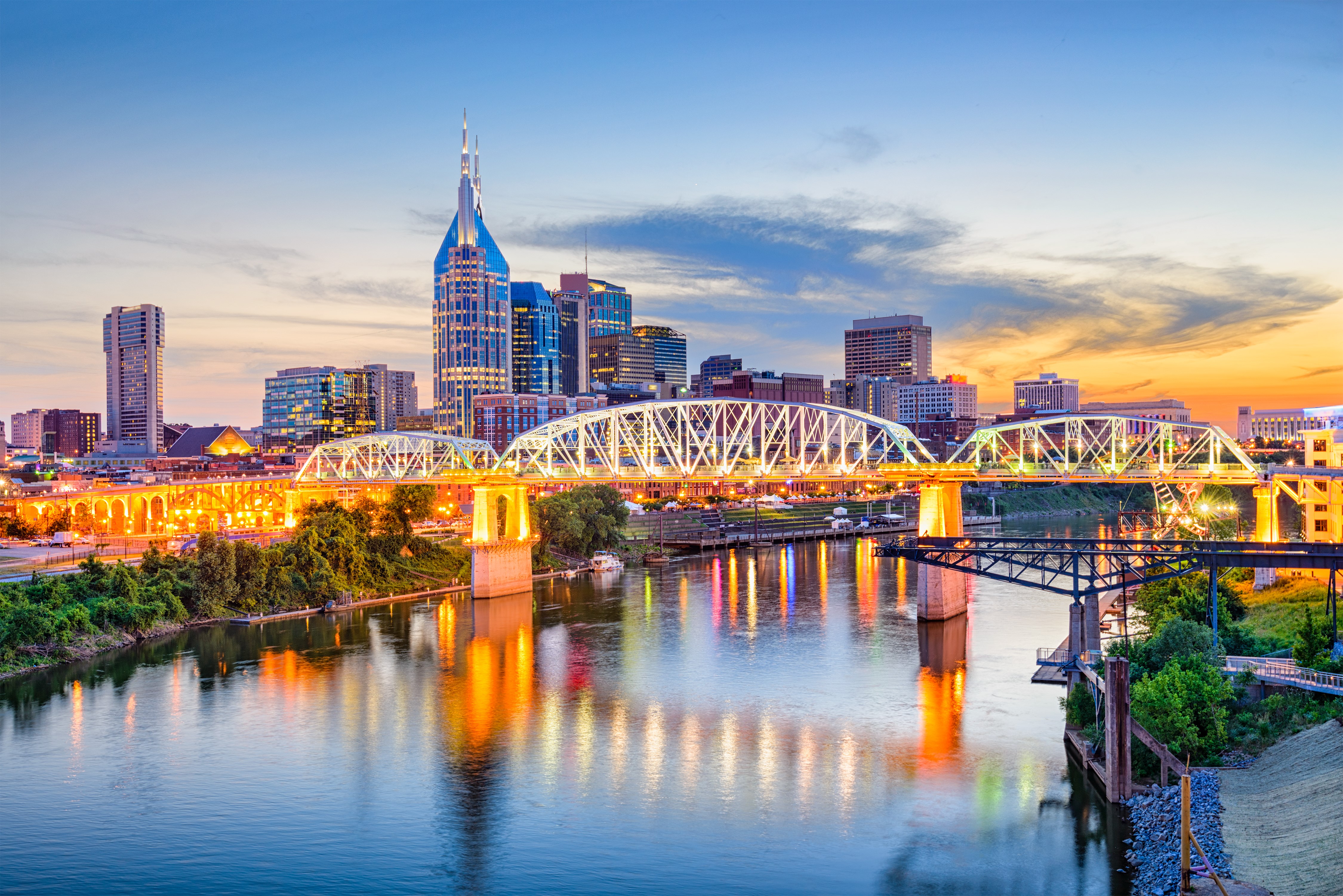 Overview
Experience | Taste | Discover
The 2019 Guild Hall Annual Patrons Trip is headed to one of the most vibrant cities of the South – Nashville, Tennessee! Deemed by many as the destination for art-minded individuals, join us for an intimate, in-depth exploration of the country music capital of the world.
Together we'll hit the Nashville high notes by exploring historical buildings, visiting the Country Music Hall of Fame, stopping by a private art collector's home, observing an in-studio songwriting session, touring the Frist Art Museum with the Chief Curator, enjoying Cheekwood Estate and Gardens, sampling authentic local cuisine, and some more surprises along the way!
Package includes
• 3-nights at the 21c Museum Hotel, located in downtown Nashville
• All meals, beverages, taxes and gratuities during the program
• Private tours, music, attractions, entrance fees (unless noted)
• Ground transportation
• Airport transfers from Nashville (BNA) or private airport (FBO)
– group arrivals and departures
DAY 1 – Saturday, April 13
2:30 PM 21c Museum Hotel Nashville – Hotel Check-In
Yung Jake- Artist Suite
Woven into the fabric of downtown yet providing an art-filled escape from it all, the 21c Nashville is a boutique hotel, restaurant + contemporary art museum. The building was constructed in 1900, originally home to the Gray & Dudley Hardware Co.The hotel features three artists' suites, one of which was created by Guild Hall's 2019 exhibiting artist, Yung Jake.
Broadway's lively music venues are only two blocks away and the hotel is within walking distance to many Nashville attractions.
3:00 PM Group Departure- meet in the lobby.
3:15 PM The Frist Art Museum – Dorothea Lange: Politics of Seeing Exhibition.
Our first stop in Nashville is the Frist Art Museum for a private tour of the Dorothea Lange exhibit, led bySusan Edwards, Executive Director of the Museumand a photography historian. Susan also specializes in the time period during which Lange was working.
Since opening in 2001, the museum has hosted a spectacular array of art from the region and around the world. Unlike any traditional museum you've evervisited, the Frist Art Museum has become a magnet forNashville's rapidly expanding visual arts scene. Their exhibition schedule has new art flowing through the magnificent art deco building and spacious galleries every 6 to 8 weeks.
5:00 PM Arrive at hotel
6:45 PM Group Departure- meet in the lobby
7:00 PM Dinner – Henrietta Red
Henrietta Red is a contemporary American restaurant offering seasonal cooking and an oyster bar. The dream of Nashville-native chef Julia Sullivan and her business partner, general manager and sommelier, Allie Poindexter, Henrietta Red boasts a lively convivial barroom. The restaurant focuses on simple, fresh ingredients and is known for oysters in all their glorious forms: raw, wood-roasted with green curry, made into fritters, and non-seafood items like braised lamb with polenta and Meyer lemon.
7:00 AM Breakfast at your leisure- Gray & Dudley, hotel lobby level. *Breakfast voucher provided
8:45 AM Group Departure – meet in lobby
9:00 AM Sharing the Art of Songwriting
We're jumping right into country music and we need your vocal cords! The group will be writing and recording a song with one of Nashville's most- renowned songwriters. Quintessential Nashville!
10:15 AM Country Music Hall of Fame and Museum & Hatch Show Print
Take a self-guided tour through the Country Music Hall of Fame and Museum and explore its growing collection of over 2.5 million artifacts. Among them find one-of-a-kind recordings, films, instruments, and more. Discover the connections between countrymusic's past and artists of today with interactive galleries showcasing everything from Hank Williams' cherished Martin guitar to Elvis Presley's customCadillac, and outfits and instruments from the likes of Allison Krauss to Carrie Underwood.
Hatch Show Print is also worth a quick visit to see its iconic letterpress print and design shop.
12:00 PM The Ryman Auditorium Tour
Ryman Auditorium, The Mother Church of Country Music is where bluegrass was born – where Johnny Cash met June Carter, where souls were saved, and a slice of history was nearly lost. It's where country music found an audience beyond its own back porch, and countless careers took off as deals were signed on napkins and paper scraps backstage. This is a building where anything is possible: a soul can find redemption, a crumbling building can find salvation, and an unknown kid with a guitar can find their name in lights!
1:15 PM Lunch – Martin's BBQ
West Tennessee's legendary whole-hog BBQ tradition is the cornerstone of Martin's Bar-B-Que Joint, which has been featured on the Food Network, Travel Channel and the Cooking Channel. Pat Martin, founder, learned the art and craft of West Tennessee-style smoke and meat 25 years ago in the tiny town of Henderson, TN before making Nashville his home. It became a consuming passion that eventually led to a business when he opened the first Martin's Bar-B-Que joint just south of Nashville in Nolensville, Tennessee. Today, there are eightMartin's locations in the Nashville, Louisville, and Birmingham areas.
3:00 PM Curator tour of 21c Museum Hotel & The SuperNatural Exhibition by Alice Gray Stites, Museum Director & Chief Curator of 21c Museum Hotels
21c Nashville welcomes both visitors and locals to enjoy the rotating exhibitions and cultural programming within the hotel. With 10,500 square feet of contemporary space, you'll find art showcased throughout.
The SuperNatural exhibition features images of the post-industrial world which transform into the bytes and pixels of today's digital age; where the sublime becomes the supernatural. Chief Curator for 21c hotels, Alice Gray Stites, is flying-in to lead our exclusive tour, including the work of Edward Burtynsky.
4:30 PM Wild Horse Saloon – Line Dance Lesson (Optional)
5:30 PM Group Departure- meet in the lobby
6:00 PM An Evening at Southern Ground Recording Studio
Tonight, we get an inside pass to the Nashville music scene at the iconic recording studio Southern Ground. Our evening is hosted by the Americana Music Association whose mission is to advocate for the authentic voice of American Roots Music around the world. Jed Hilly, the organization's Executive Director, will educate us on the Americana genre, how it stands apart from country music and the enormous success of the annual Americana Music Festival. Jed has also invited an artist to speak with us about their songwriting process and share a few songs with us.
We end this special access evening with a whiskey tasting and dinner in the studio.
7:00 AM Breakfast at your leisure- Gray & Dudley, hotel lobby level. *Breakfast voucher provided
9:00 AM Group Departure – meet in lobby
9:30 AM Private Home: The Hays Collection
Marlene and Spencer Hays amassed a significant collection of 19th century and early 20th century masterworks which will be bequeathed to the Muséed' Orsay and was commemorated at a dinner hosted by the President of France in 2016. Works include the seventh panel of Édouard Vuillard's Public Gardens as well as works by Bonnard, Ranson and Roussel, andseveral of Vuillard's enchanting paintings. The Hays'passion for France also inspired their Nashville home design, which is built using imported French stones and 18th-century floors– even the doorknobs were made in France!
11:00 AM Cheekwood Estate & Gardens
Once the family home of Mabel and Leslie Cheek, this extraordinary 1930's estate, with its Georgian mansion and 55 acres of cultivated grounds and expansive vistas, today serves the public as a botanic garden, woodland sculpture trail, and art museum.
We will have Cheekwood Estate & Gardens all to ourselves as we tour the home and view the current exhibition Derived from the Decorative. Enjoy lunch on property and see the Dogwoods in full bloom when you explore the enchanting gardens.
12:00 PM Lunch at Cheekwood Estate & Gardens
Sitting at the crest of a hill with a stunning panoramic view, the Frist's home is a visual feast for the eyes, including photographs by Richard Avedon, Chuck Close, Annie Liebovitz, and Robert Mapplethorpe. Featured in Architectural Digest, their home offers an instant feeling of balance and harmony while housing a significant photography collection.
The relationship between the structure and the art begs the question, which came first? Was the space planned around the art or vice versa? It is quickly evident that the composition didn't happen by accident but is the result of a very well thought out plan. With the help of artist and museum designer Hans Schmidt-Matzen, each photograph went through a thoughtful selection and placement process.
1:00 PM Private Home: Jennifer and Billy Frist
Who doesn't love chocolate? We're getting our hands dirty and making candy! Taste the original Goo Goo combination candy bar made in the USA! It's a brief but sweet activity to learn about Nashville's beloved candy and make your very own Goo Goo to take home. You'll even select your own special secret ingredient to make your Goo Goo unique.
3:45 PM Free time
4:30 PM Wild Horse Saloon – Line Dance Lesson (Optional)
6:45 PM Group Departure- meet in the lobby
7:00 PM Dinner – Adele's
Restaurateur and Chef, Jonathan Waxman, namedAdele's after his late mother, and the restaurant features an open kitchen with a large fireplace grill and wood-burning oven, white quarter-sawn oak bar, andchef's counter. The menu focuses on seasonal and accessible ingredients creating comfort food sourced from local farms and purveyors.
DAY 4 – Tuesday, April 16
7:00 AM Breakfast at your leisure- Gray & Dudley, hotel lobby level. *Breakfast voucher provided
Feel free to explore more of Nashville on your own!
Departures
Private transfers from 21c Museum Hotel to FBO & BNA until 1:00 PM
*Itinerary subject to change
Event Sponsors
All Education Programming supported by The Patti Kenner Arts Education Fellowship, with additional funding by an anonymous donor, Kate W. Cassidy Foundation, Lewis B. and Dorothy Cullman Endowment Fund, and The Melville Straus Family Endowment.
Become a Sponsor