Guild Hall Contemporaries Circle at Johannes Vogt Gallery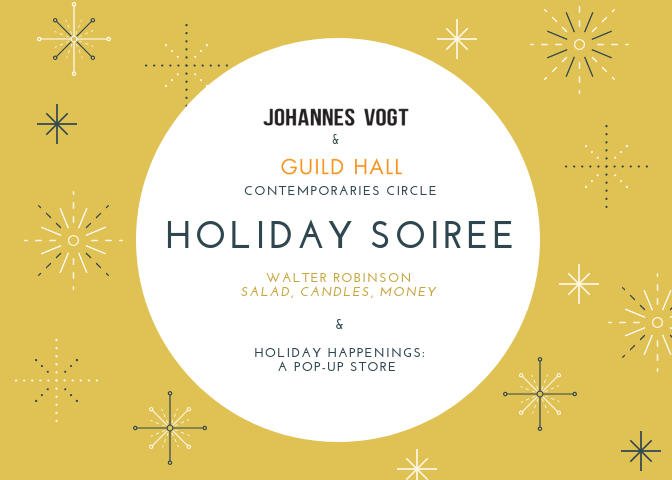 Overview
Dust off your velvets and tartans and join Johannes Vogt Gallery and the Guild Hall Contemporaries Circle for cocktails, holiday cheer, and the opening of Walter Robinson's Salad, Candles, Money. 
Featuring a Pop-Up Shop in collaboration with Artware, Dieu Donné, Dashwood Books, Printed Matter, Inc., Exhibition A, and artbook– for all your imminent gift-giving needs!
Johannes Vogt Gallery is committed to bringing attention to the complex artistic and cultural ties that bind New York to Europe, the Americas, and beyond. The gallery program features a strong roster of emerging to mid-career artists and has become known for reintroducing established artists to new audiences, including Garth Evans, Mernet Larsen, and Abby Leigh, among others. Founded in 2011, Johannes Vogt first opened at 526 West 26th Street in New York City's Chelsea neighborhood, where it resided before relocating to 55 Chrystie Street in the Lower East Side. In September 2018, the gallery relocated to the Upper East Side.