Guild Hall and HamptonsFilm present
Met Under Moonlight: The Gershwin's Porgy and Bess – Live in HD Encore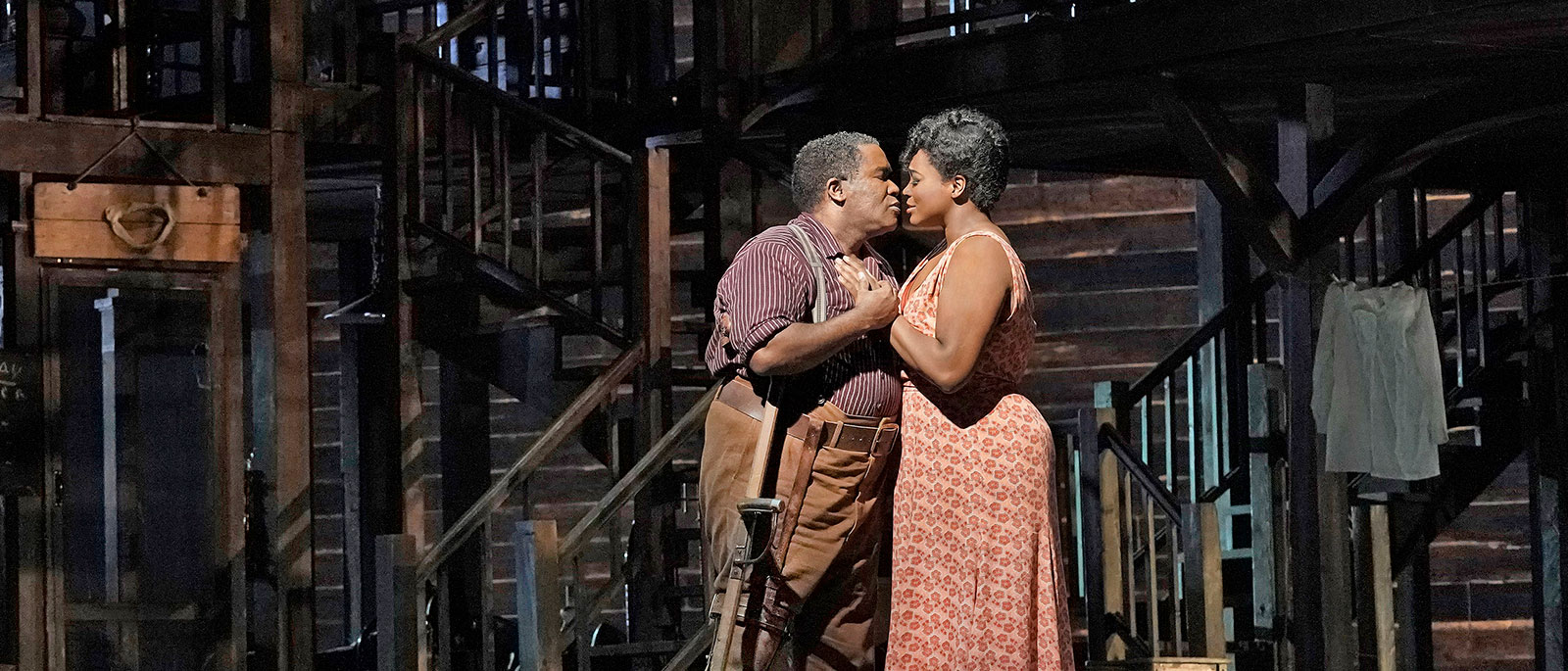 Overview
James Robinson's vibrant production of America's favorite opera was a smash hit of the Met's 2019–20 season. Bass-baritone Eric Owens and soprano Angel Blue star in the title roles, headlining a phenomenal ensemble cast. David Robertson conducts this beloved score, which includes a number of melodies that have become classic American standards.
Run Time: 3 hours and 6 minutes including one 10 minute intermission
BUT FIRST… Get "Behind the Screen" with Bel Canto Boot Camp on April 29! Join Chanae Curtis, soprano, who made her debut as Annie in the MET's production of Porgy and Bess to get an inside perspective on being part of this monumental, timely Opening Night production. Click HERE for more info.
*Please note that the screening is weather dependent and may be cancelled due to rain or extreme cold. If cancelled due to inclement weather, refunds will be available.*
Event Sponsors
Theater Programming supported in part by the Helen Frankenthaler Foundation, Barbara Slifka, The Schaffner Family Foundation, Brown Harris Stevens, Michael Balmuth, Lang Insurance, and funding from The Ellen and James S. Marcus Endowment for Musical Programming and The Melville Straus Family Endowment
All Musical Programming supported in part by The Ellen and James S. Marcus Endowment for Musical Programming The Met Opera simulcasts at Guild Hall are made possible in part through the generosity of:  Grand Tier: Dr. Ralph Gibson, in memory of Andy Jacobyansky, who generously shared his passion, knowledge and support for the opera, The Ellen and James S. Marcus Endowment for Musical Programming, Howie and Louise Phanstiel, The East Hampton Star, and Norbert Weissberg, in memory of his brother, Dr. Joseph H. Weissberg, a Wagner scholar 
 
Dress Circle: Maureen Bluedorn, Norma Giorgetti in memory of Mary-Anne Szabaga, Barbara Horgan, Patti Kenner, Alex Laughlin, David Seeler and Ngaere Macray, Maryam K. Seley, and Irene and Sidney Silverman 
 
Balcony Circle: Gabrielle Bamberger, Harriet Edwards, Jeannette and H. Peter Kriendler Charitable Trust, Laughlin Memorial Library, Mr. and Mrs. Robert Osborne, Stephen F. Patterson in memory of George W. Stewart, Veronica Stephens, Mary Stone, Sandra Thorn, Peter Van Hattum in memory of Harold Simmons 
 
Family Circle (*Gold): Carolyn and Gioacchino Balducci, Arlene Bujese and Marcel Bally*, Ann and George Davis, Robert F. Luckey*, Pamela and Robert Lund, Marcia Previti and Peter Gumpel*, Cornelia and Lawrence Randolph, Debbie and Alex Walter*, and Jane Wood 
Become a Sponsor