YouTube Premiere Concert
GE Smith presents PORTRAITS featuring Loudon Wainwright III & Wesley Stace (aka John Wesley Harding) produced by Taylor Barton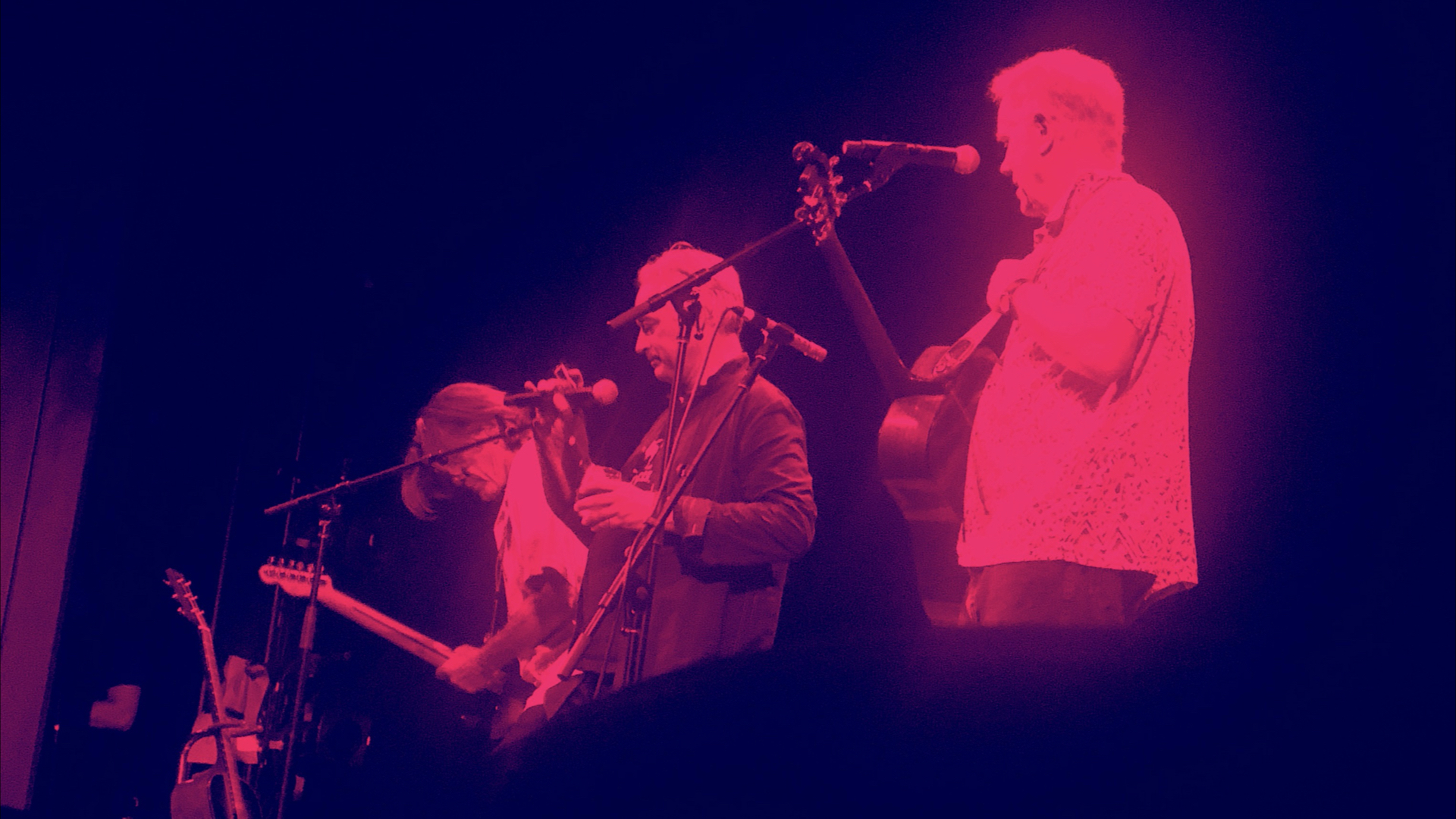 Overview
YouTube Premiere and chat with artist GE Smith during the concert.
A musical series with very rare couplings, highlighting conversations, stripped down to the bone, with exclusive artists in a highly intimate setting.
Recorded Live in our John Drew Theater at Guild Hall on June 28, 2019.
Artists Taylor Barton and GE Smith along with Loudon Wainwright III and Wesley Stace have generously allowed us to release this archival footage.
Loudon Wainwright III

Born in Chapel Hill, N.C. in 1946, Loudon Wainwright III came to fame when "Dead Skunk" became a Top 20 hit in 1972. He had studied acting at Carnegie-Mellon University, but dropped out to partake in the "Summer of Love" in San Francisco, and wrote his first song in 1968 ("Edgar," about a lobsterman in Rhode Island). 

He was soon signed to Atlantic Records by Nesuhi Ertegun, and was lured by Clive Davis to Columbia Records, which released "Dead Skunk." His songs have since been recorded by Bonnie Raitt, Johnny Cash, Earl Scruggs, Kate & Anna McGarrigle, his son Rufus Wainwright, and Mose Allison, among others. Wainwright has recorded 27 albums including his 2010 Grammy Award-winning 'High, Wide & Handsome.' 

In Fall 2018, Loudon will release 'Years In The Making' (StorySound Records), a 42-song treasury of rare and unreleased Loudoniana. This 2-disc, 60-page hardbound audio-biography of his 40-year career includes orphaned album cuts, lovingly lo-fi home recordings, radio appearances, demos, live performances and beyond. It features appearances by Kate McGarrigle, Suzzy Roche, Bill Frisell, Van Dyke Parks, Chaim Tannenbaum, David Mansfield, and the Wainwright children Rufus, Martha, Lucy and Lexie. 

In 2017, Wainwright published his memoir, 'LINER NOTES' (Blue Rider Press), which led to appearances on Fresh Air with Terry Gross and WTF with Marc Maron. The NY Times said the book "makes your heart wobble on its axis." 

Wainwright also created a one-man theatrical show, Surviving Twin, which combines his songs and the writings of his late father. Initially developed as part of University of North Carolina's Playmakers series, it focuses on fatherhood—both being a father and having one—and also explores the issues of birth, self-identity, loss, mortality, fashion, and of course, pet ownership. Surviving Twin has been performed in limited theater engagements and will debut as a Netflix special later this year, produced by Judd Apatow and directed by Christopher Guest. 

Additionally, Wainwright has co-written with songwriter/producer Joe Henry on the music for Judd Apatow's hit movie Knocked Up, written music for the British theatrical adaptation of the Carl Hiaasen novel Lucky You, and composed topical songs for NPR's Morning Edition and All Things Considered and ABC's Nightline. An accomplished actor, he has appeared in films directed by Martin Scorsese, Hal Ashby, Christopher Guest, Tim Burton, Cameron Crowe and Judd Apatow. Wainwright has also starred on TV in M.A.S.H. and Undeclared, and on Broadway in Pump Boys and Dinettes. More recently, he appeared in the film Pleased To Meet You (with fellow music legends John Doe, Aimee Mann and Joe Henry). 

Wesley Stace (aka John Wesley Harding)

Wesley Stace was born in Hastings, Sussex, in 1965, and educated at the King's School, Canterbury, and Jesus College, Cambridge. He released 17 albums under the name John Wesley Harding. His most recent album, Self-Titled, for which he returned to his given name, was released by Yep Roc in 2013. He has also published four novels.
Wesley Stace's Cabinet of Wonders, his variety show based at City Winery in NYC, continues to sell out. Since the Cabinet's inception in 2009, the show has become a virtual who's who of contemporary performers, writers, and comedians. It's "one of the finest nights of entertainment this city has to offer" (New Yorker), "a brilliant evening of laid-back fun" (Village Voice), and "one of the most whip-smart variety shows on the market" (Portland Tribune). The show is ongoing and currently booking for 2016.
Stace has been joined onstage by Lou Reed, Rosanne Cash, Iggy Pop, John Prine, and Bruce Springsteen (with whom he recorded a duet on his album Awake), among many others. He appeared on Late Night with Conan O'Brien, The Late Show with David Letterman, and The Tonight Show with Jay Leno. His songs have featured in films (including High Fidelity) and TV (Transparent) and been covered by many other artists. and covered by other artists.
His first novel, the international bestseller Misfortune, was published to great acclaim in 2004. It was nominated for the Guardian First Book Award, the Commonwealth Writers' Prize, and the James Tiptree, Jr. Award, listed as one of the books of the year in the Washington Post and the Boston Phoenix, and was one of Amazon's Top Ten Novels of the Year. His second, By George, (2007) was one of the New York Public Library's Books To Remember of 2007, and Booklist Editor's Choice for books of the year. His third, Charles Jessold, Considered as a Murderer, (2010) was called "the most confident musical fiction I have read in years" (New Statesman), and an "Inventive black comedy unfolding with Nabokovian precision" (Financial Times): Isaac Mizrahi has recently bought the film rights. His fourth novel, Wonderkid,is being optioned by NBC/Universal to be developed as a sitcom.
Stace currently teaches a course at Swarthmore College called "Novel Beginnings/Beginnings Novel." He has twice taught a songwriting course ("How To Write a Song") at Princeton University with poet Paul Muldoon. He has also taught creative writing at Fairleigh Dickinson University. Stace's work has itself been the subject of a university course, "The Allusive John Wesley Harding/Wesley Stace," at Central Connecticut State University. He has reviewed for the Times Literary Supplement, the Wall Street Journal, the New York Times, and the Philadelphia Inquirer.
He has lived in America since 1991, and resides in Philadelphia with his wife Abbey, daughter Tilda, and son Wyn.

Taylor Barton & GE Smith

Taylor Barton (Producer) and GE Smith ( Host of Portraits ) have been writing and performing together for 30 years.  Smith is known for his amazing career as sideman to Hall & 0ates, Bob Dylan and Roger Waters. He held tenure at Saturday Night live from 85'-95'. He hosted  History of the Electric Guitar for PBS, led many radio shows for Smithsonian on NPR and has played with just about every musician out there. He was bandleader for Dylan's 30 anniversary at MSG, backing the beloved George Harrison, Tom Petty and more. They return for their third season at Guild Hall. https://gesmithmusic.com/about/ 

Taylor Barton has created a distinctive body of work and has earned many awards that established her as the distinguished songwriter she is today.  Barton has produced over fifty events worldwide, most notably Summerstage Gala at Central Park and four seasons of PORTRAITS featuring A-listers from The Avett Brothers to Dawes. Rolling Stone calls Barton beguiling and says, "she writes of beauty and grace in a sullied world."  Smith and Barton will be appearing at many venues in 2019 and 2020. www.taylorbarton.com