Full of Noises: A Village Soundwalk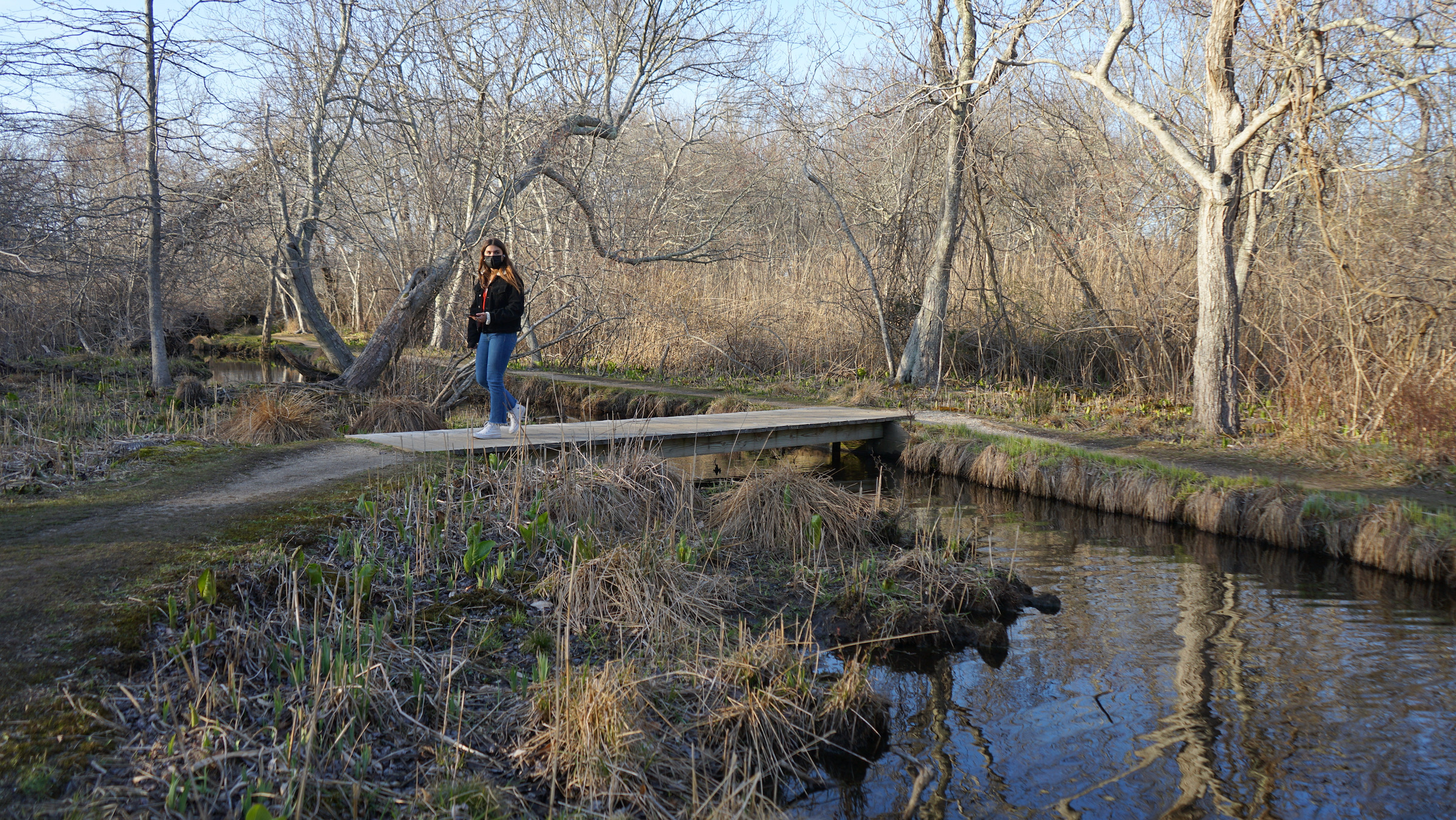 Overview
Through our walking feet we can listen for traces of previous walkers, for stories from the earth, for echoes of history, and for our own memories. The essence of a place is revealed to the feet that move through it and listen. 
Full of Noises is a self-guided soundwalk for the Village of East Hampton that leads the public through known spaces with new, heightened, and playful listening.  
Composed and narrated by sound artist, Viv Corringham, Full of Noises links the cultural gifts of Mary Woodhouse – Guild Hall, The Duck Pond, and Clinton Academy –, with prompts for finding, imagining, and remembering sounds. Simply download the free app. on your phone, pop-in a pair of headphones, and listen.  
Producer, Anthony Madonna
Technical Director, Patrick Dawson 
INSTRUCTIONS FOR YOUR SELF-GUIDED SOUNDWALK 
1) Once registered you will receive instructions for how to access the soundwalk through the free app., Gesso. Instructions will be sent to the email you used to register.  
2) The soundwalk begins at Guild Hall, leads you through The Duck Pond on Davids Lane, and finally to East Hampton Historical Society's Clinton Academy. 
3) The walk itself is a little over an hour, though you may decide to pause the audio at times and spend more time in certain locations. We suggest wearing sturdy walking shoes, bringing a bottle of water, and carrying a portable charger for your mobile device.  
4) We encourage playfulness.

Viv Corringham

Viv Corringham is a British vocalist, composer and soundscape artist who studied and worked with Pauline Oliveros for many years, and holds a Certificate to teach Deep Listening. She facilitates workshops in listening and sounding, most recently in Hong Kong, Mexico, London, Bangalore, New York, Kolkata and Manila. 

Her work includes concerts, soundwalks, and audio installations, exploring people's sense of place and the link with personal history and memory. She received an MA in Sonic Art from Middlesex University London and her awards include two Composer Fellowships from McKnight Foundation, through American Composers Forum. Her work has been presented in twenty-six countries including Hong Kong Arts Centre, Fronoteca Nacional de Mexico, Issue Project Troom New York, Onassis Centre Athens, ICA London, Serralves Museum Portugal, Ohrenhoch Berlin, Arts University Taiwan, Shantou University China, and Tempo Reale Florence. 
Event Sponsors
Education Programming supported by The Patti Kenner Arts Education Fellowship, Lucy and Steven Cookson, The Hearthland Foundation, the Helen Frankenthaler Foundation, Milton and Sally Avery Arts Foundation, and funding from the Lewis B. and Dorothy Cullman Endowment Fund, and The Melville Straus Family Endowment.
Become a Sponsor