Free Clean Money, performance art piece by Katherine McMahon with pianist Ray Angry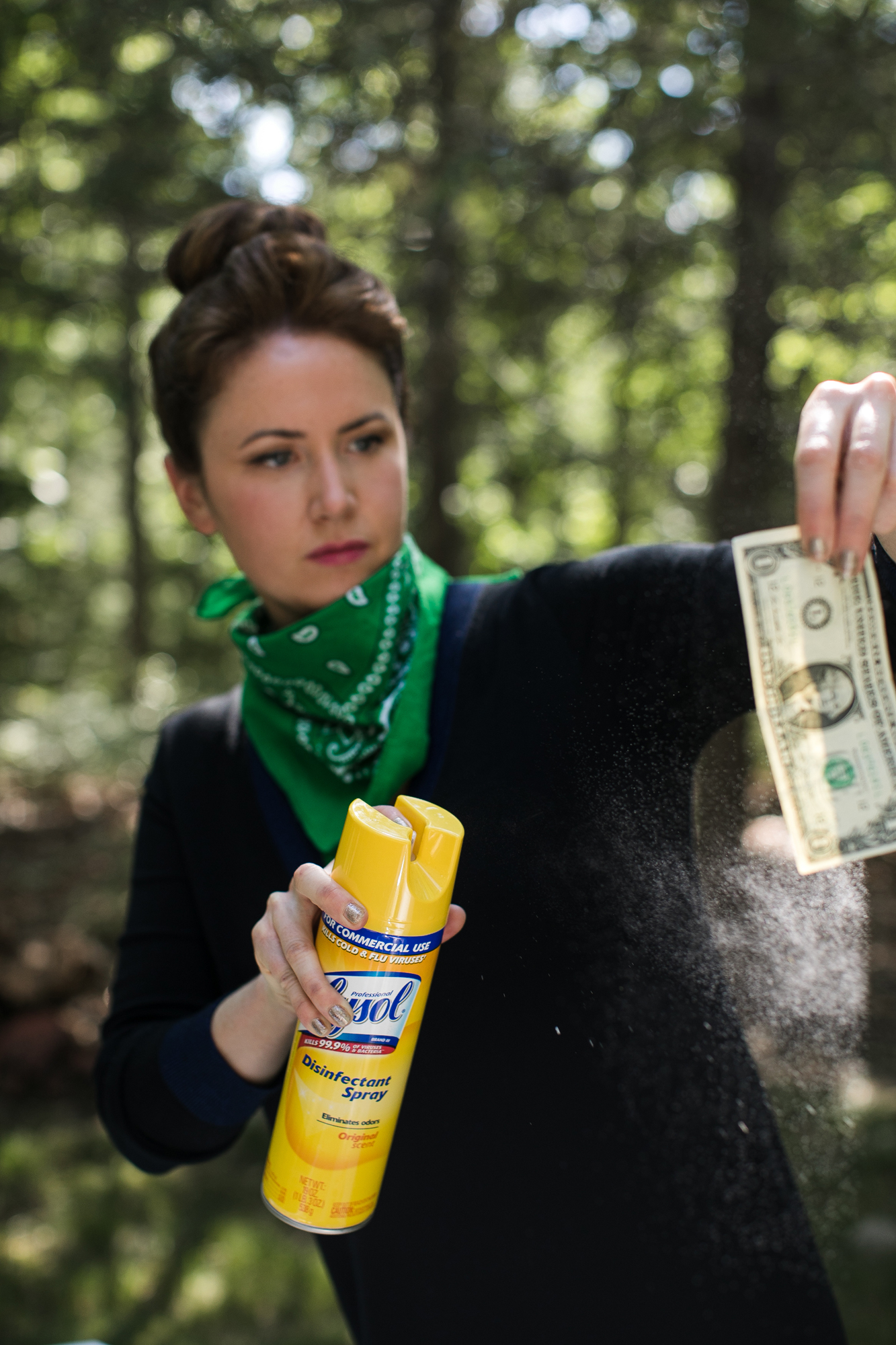 Overview
Free Clean Money, a collaborative piece by Katherine McMahon and Ray Angry, is an outdoor art installation and performance that will debut at Guild Hall of East Hampton, NY during the Phase 4 reopening in New York State. Exploring the powerful emotional response triggered by money, "Free Clean Money" evaluates the perception of value, privilege, and the ethics associated with a dollars' origins and who has access to it. It is an exploration into the freedom that money offers as well as the mental and societal barriers it imposes. "Free Clean Money," presented outdoors at Guild Hall, will feature $500 of the artist's own money on silver platters while a composition entitled "The Protest" by Ray Angry plays on loop. The money is on offer to visitors of the exhibition with no other conditions. The dollars will be routinely disinfected by the artist. This project contends with the individual's hardwired attraction to money, the hoarding of wealth and an attempt at detachment from it. It is an exploration of the principle of reciprocity and the quandaries that arise when money is offered in unconventional ways, devoid of any obligation of repayment. Presented in the wealthy enclave of the Hamptons, the piece will also function as a social experiment and an opportunity to expand and transform the participants sense of place.
Katherine McMahon

Katherine McMahon is an artist whose primary subject matter is portraiture. Formerly the Creative Director and photography/writing contributor at ARTnews, she is now based in East Hampton, New York. Her work often explores society's relationship to imagery and portraiture through the channels of pop culture and social media. Her work ruminates on how these projections shape our understanding of the self and our interpretation of the outside world. She has shown with SITE: Brooklyn, Anna Kaplan Contemporary, and most recently mounted her paintings in the windows of the Silver Lining Diner in Southampton, NY. 

Ray Angry

Ray Angry is an American keyboardist, record producer, and composer. He has collaborated with Elvis Costello, John Legend, Patti Labelle, Mobb Deep, Mark Ronson and more. In 2010 he was the musical director for Off the Wall: A Michael Jackson Tribute. In 2013 he received a Grammy nomination as part of The Roots' record Undun. In 2018 he released his solo album Ray Angry One. 
Event Sponsors
Special thanks to Marty and Michele Cohen, Ben Krupinski Builder, Hollander Design, and Groundworks Landscaping All Museum Programming supported in part by The Melville Straus Family Endowment, The Michael Lynne Museum Endowment, Crozier Fine Arts, The Lorenzo and Mary Woodhouse Trust, an anonymous donor, and public funds provided by New York State Council on the Arts with the support of Governor Andrew M. Cuomo and the New York State Legislature Free admission is generously funded by BNB Bank and Landscape Details
Become a Sponsor