FAN FAIR: Silent Disco Dance Party!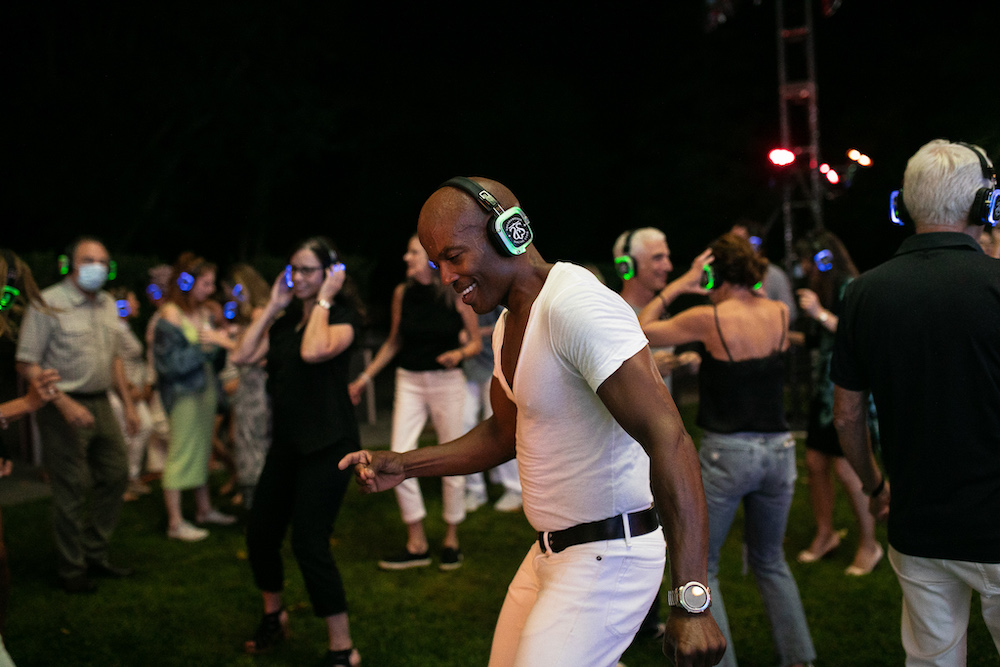 Overview
Come kick off Fan Fair weekend with us by dancing to the beat of your own playlist. Quiet Events Silent Disco DJ's will be spinning songs from the 70's to today that will play on wireless headsets with three channels. The dance party will take place in indoors LTV's big studio, so grab your family, friends, neighbors, and strangers and head over for the most fun you will ever have!
Skip the lines and reserve your headphones in advance – which also guarantees you will get them on arrival! Headsets can be rented on site, but advance reservations are recommended.
Drinks and snacks will be available for purchase.
---
GUILD HALL FAN FAIR: A 3-Day Celebration of Art and Community
FRIDAY, OCTOBER 21– SUNDAY, OCTOBER 23
LTV, 75 Industrial Road, Wainscott
FRIDAY, 10/21
5-6:30PM: Members-Only Art Sale Preview (Free)
7-10PM: Silent Disco Dance Party ($10/$8 for Members)
SATURDAY, 10/22
10AM-5PM: Public Fair Hours (Free)
7PM: Guild Hall Teen Arts Council Open Mic Night (Free)
SUNDAY, 10/23
10AM-5PM: Public Fair Hours (Free)
Join us this fall as we celebrate the artistic individuals in our community. Guild Hall Artist Members will have the opportunity to participate in Fan Fair with an art sale or by sharing their talent in scheduled performances and presentations over the course of the weekend. The fair is open to the public to support Guild Hall and our local artists by purchasing artwork and to simply enjoy the variety of entertainers talking the stage. A full schedule will be posted online prior to the opening.
Guild Hall Artist Members – if you would like to participate with the sale of unframed works on paper and photography prints, or photographs of sculptures, you have a dance group or band, singer/songwriter, poet, filmmaker, fashion designer, culinary artist – you name it, you can sign up to sell your work* or reserve a slot on the main stage to perform or present. Email info@guildhall.org for more details and to get started!
Not a Member – Click HERE to join!
*Sales are artwork are split 50/50 between the artist and Guild Hall. The purchase of artwork is not tax-deductible.