Falls for Jodie by Eric Micha Holmes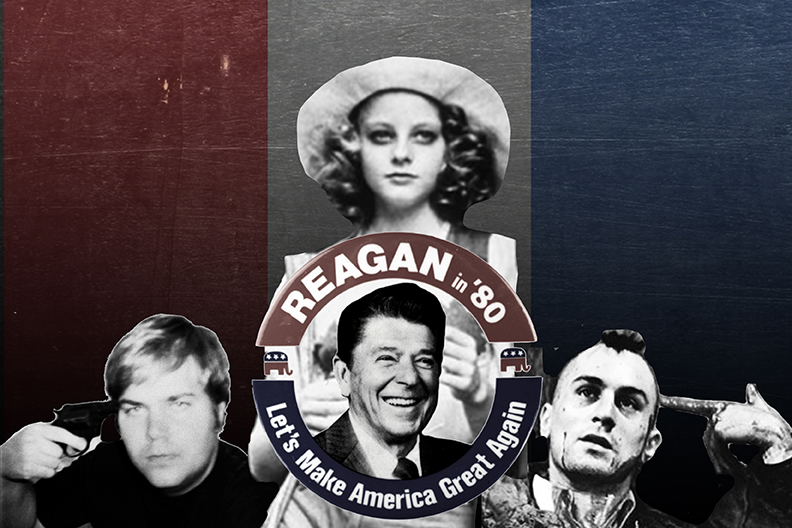 Overview
Directed by Bill Burford and featuring Trevor Vaughn and Michael Paul.  

Inspired by the months before John Hinckley's attempted assassination of Ronald Reagan, "Falls for Jodie" is an imagined account of Hinckley's strange partnership with a concierge at a hotel next to the Yale campus, who tries to help Hinckley win the affections of his child-star crush. 
Trevor Vaughn

Actor, singer/songwriter Trevor Vaughn is thrilled to be back on the boards of the John Drew Theater! Previous work at Guild Hall includes J. Stephen Brantley's Swan Song with Toyah Feldshuh and as lead singer of his rock band Reserved For Rondee. Locally, Trevor is a proud collaborator with the Neo Political Cowgirls, as Perseus in Kate Mueth's Andromeda. He also coaches with Kate in her anti-bully workshop Project Hero for EH middle schoolers. New York: Into The Hazard (Walker Space), Vanessa Walter's Ripening (Triskelion) Regional: Twelfe Night (Bristol Riverside Theatre) General Desdemona (Proctors Theater) TV/Film: The Amy Sedaris Show, Big Dogs. Trevor's band Reserved For Rondee has headlined major NY venues like Bowery Ballroom, Gramercy Theater, and Music Hall of Williamsburg. Trevor also makes music with Brooklyn Pearl, Lost Dog Constellation, and Omar Zubair out of his recording studio in DUMBO, called Brooklyn Pearl.  Training: BFA in acting from the University of North Carolina School of the Arts, where he met friend, collaborator, and Springs native Isaac Klein. The two have worked on numerous projects together including The Prophecy of Isaiah, Legend of the Voice, and Mulford Farms' The Mystery of Irma Vep, directed by Mueth. Isaac initially directed Falls For Jodie UNT workshop last October and is currently teaching at UNCSA. Huge thanks to Bill Burford, Josh Gladstone, his mom Devora Williamson, and his life long friend Michael Paul.

Michael Paul

Michael is grateful to be making his Guildhall debut, working on piece with his old pal Trevor Vaughn.

Bill Burford

At the Strand Street Theater in Galveston's historic district, Bill produced and directed new plays, classics, musical plays, reviews, concerts, and dance performances, developed a creativity program for kids, and curated an art film series. In Sag Harbor, NY he served as general manager with the Bay Street Theater, a company producing shows with leading West End and Broadway artists. He wrote and directed Jean LaFitte of the Maison Rouge and The Mitchell Express. His Better than a Feral Cat appeared in The Southampton Review. He produced and directed Peter Weiss' rarely seen Night with Guests at the New York International Fringe Festival, and directed Je Christine (www.jechristine.com), a touring show adapted by Suzanne Savoy from the works of poet, writer, and women's advocate Christine de Pizan (1364-1429). He taught playwriting with Stony Brook University's Creative Writing MFA program in Southampton and Manhattan, for the Southampton Writers Conference, for SBU's Young Artists and Writers Project, and for the Bay Street Theater. He's taught acting, directing, and production for colleges and theaters in New York, Texas, and California. At Brooklyn Pearl he co-directed The Shake-Up, a podcast series re-imagining mortality and the supernatural in Shakespeare's plays. A member of the national Society for Directors and Choreographers, Bill most recently directed Eric Micha Holme's new play Falls for Jodie, a study of John Hinckley, Jr., for the John Drew Theater at Guild Hall in East Hampton, NY.

Eric Micha Holmes

A playwright and audio dramatist whose work has been heard on BBC Radio (Care Inc.) He's a Dramatist Guild Fellow and Audible Playwrights Commission recipient. In February of 2019 Holmes' play Mondo Tragic, will be presented at The National Black Theater in Harlem, New York.
Event Sponsors
All Theater Programming is supported in part by Barbara Slifka, Marders, and the Daryl and Steven Roth Foundation, and funding from The Ellen and James S. Marcus Endowment for Musical Programming, The Harold and Mimi Steinberg Charitable Trust, Hess Philanthropic Fund, The Melville Straus Family Endowment, The Schaffner Family Foundation, and Vital Projects Fund, with additional support from Brown Harris Stevens, Saunders & Associates, and public funds provided by Suffolk County.
Become a Sponsor