Sara Mejia Kriendler
In Back of Beyond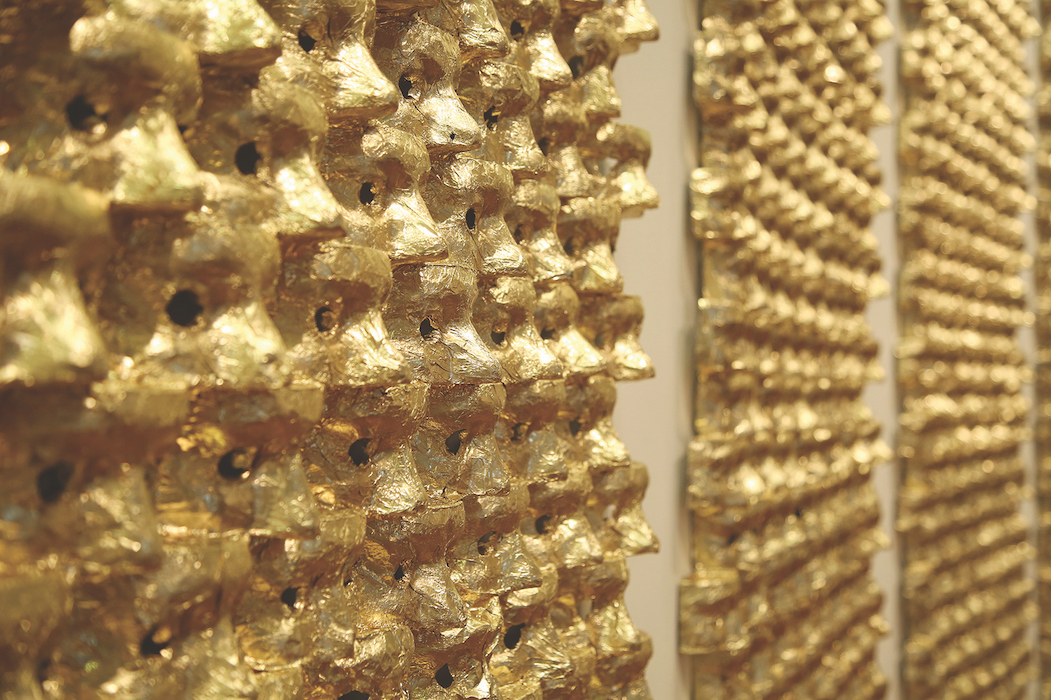 Overview
Spiga Gallery
Curated by Casey Dalene – Registrar/Curatorial Assistant/Lewis B. Cullman Associate for Museum Education
Sara Mejia Kriendler's solo exhibition in the Spiga Gallery was awarded in 2016 when she received the Top Honors Prize in Guild Hall Museum's 78th Annual Artist Members Exhibition. Kriendler's work was chosen out of 424 artists by the guest awards judge Jia Jia Fei, Director of Digital at the Jewish Museum in New York City.
Kriendler's installation at Guild Hall will consist of all new works, variations on her current body of work, exhibited for the first time at the Museo de Arte de Pereira (The Museum of Fine Arts of Pereira) this past Spring. This body of work investigates her maternal Colombian roots inspired by pre-Columbian gold, the history of the Spanish conquest of the new world, and the legend of the el dorado.
At first glance Kriendler's sculptures are reverent artifacts in gold leaf, terracotta and plaster, but after closer consideration recognizable mass-produced contemporary products make up the basic forms.  Historical references in material choice and color palette give way to ideas of consumerism, a reminder that the products of today will tell the story of our time.
Event Sponsors
All Museum Programming supported in part by Crozier Fine Arts, Gerry Charitable Trust, The Lorenzo and Mary Woodhouse Trust, The Melville Straus Family Endowment, The Robert David Lion Gardiner Foundation, and public funds provided by Suffolk County. Free Admission sponsored by:
Become a Sponsor