Ray Johnson
Please Send To: Ray Johnson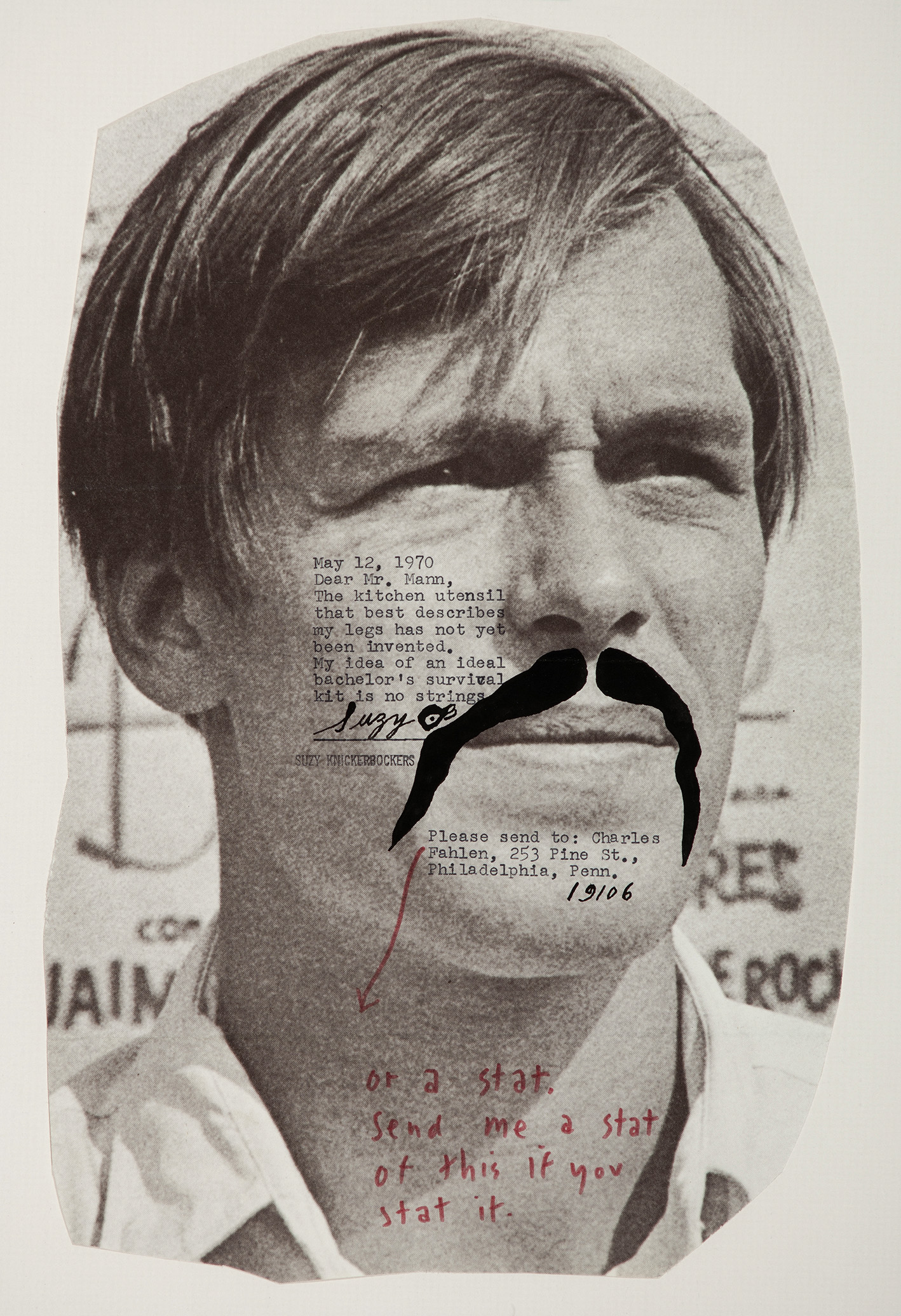 Overview
Please Send To: Ray Johnson, Selections from the Permanent Collection
Woodhouse Gallery
Saturday, October 20 at 5pm
Sunday, November 25 at 4pm
Film Screening
by John W. Walter and Andrew L. Moore
Sunday, December 2 at 12:30pm
Drawn from Guild Hall's permanent collection, Please Send To: Ray Johnson features over 30 works by the famously reclusive artist, the majority of which are classified as Mail Art, a movement pioneered by Johnson in the 1950s. The artist sent small, mixed-media works to a network of fellow artists through the post, instructing them to intervene in the original work or forward the materials to another person. Mail Art offered Johnson alternative modes of circulating ideas and gaining recognition, and one could argue that these subversive methods anticipated the digital dissemination of images through platforms like Instagram and Facebook.
The cryptic arrangements of notes, doodles, newspaper clippings and rubber stamped texts in these works offer great insights into the shifting social dynamics of this fertile period in American art. As viewers try to decode the visual information presented, they are drawn into Johnson's complex observations about his immediate art orbit and society at large. Despite regular exhibitions with Feigen Gallery and a 1970 show of his Mail Art at the Whitney Museum of American Art, the artist remained wary of the public eye. When he retreated to a suburb on Long Island, limiting his communications to the telephone and post, his work became increasingly populated by narratives surrounding the celebrities and members of the art scene he had vacated.
In January of 1995, Johnson ended his life by jumping off the Sag Harbor – North Haven Bridge, a mysterious gesture that was true to his life's work. This final performance was orchestrated to include a legacy in the form of thousands of works, carefully arranged in his otherwise empty home in Locust Valley. In Johnson's absence, his works became more readily available for public consumption, and historians began to recognize these works as early examples of Pop art and Conceptual art.
This extensive and important cache of material entered Guild Hall's Permanent Collection through the Tito Spiga Bequest, for whom one of the museum's galleries is named. As with all of the museum's holdings, the works reveal the rich culture and relationships to the region, and the museum's commitment to preserving that history.
Curated by Jess Frost, Associate Curator/Registrar of the Permanent Collection
Programs:
Film Screening: How to Draw a Bunny
Sunday, November 26, 4pm–5:30pm
How to Draw a Bunny (2002), 90 mins, with an introduction by Frances F. L. Beatty, Ph.D., Managing Director of the Ray Johnson Estate.
In conjunction with the exhibition Please Send To: Ray Johnson, Guild Hall presents a free screening of John Walter and Andrew Moore's award-winning documentary, which explores the fascinating world of artist and underground icon Ray Johnson. When Johnson jumped off the Sag Harbor – Noyac Bridge in 1995 he was last seen backstroking into the distance. His suicide left both his intimate admirers and the general public wondering if this was a final "performance." The film begins to unravel this mystery, but more so it celebrates the influence Johnson had on generations to come. Film score by Max Roach.
Gallery Talk with Jess Frost
Sunday, December 2, 12:30pm–1:30pm
Event Sponsors
Sponsored in part by the Robert David Lion Gardiner Foundation. Additional support from the Gerry Charitable Trust and the Robert Lehman Foundation. All Museum Programming supported in part by Crozier Fine Arts, Gerry Charitable Trust, The Lorenzo and Mary Woodhouse Trust, The Melville Straus Family Endowment, The Robert David Lion Gardiner Foundation, and public funds provided by Suffolk County. Free Admission sponsored by:
Become a Sponsor