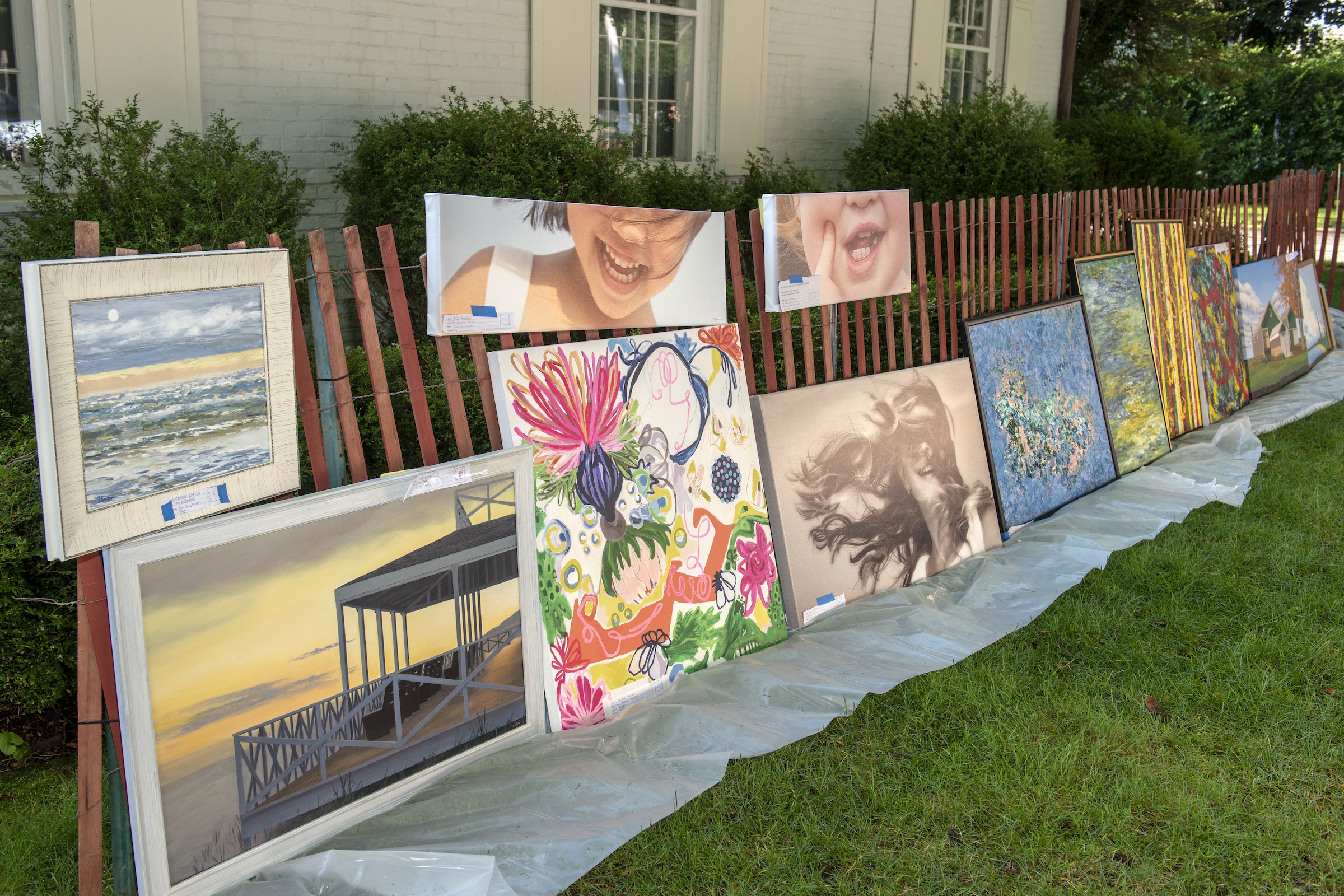 Overview
The Clothesline Art Sale is one of the most beloved and affordable art traditions in the Hamptons since its inception in 1946. For almost 74 years, it has provided accessible artwork to the community, while supporting the local artists who thrive here. Throughout our history, great artists such as Alfonso Ossorio, James Brooks, John Little, Jackson Pollock, Lee Krasner, and Elaine and Willem de Kooning have shared their talents to support Guild Hall in this unique annual fundraising effort.
While our summer season will look much different this year, we continue to reimagine our programs and how we can bring them to the public safely. We are so excited to continue the tradition of the Clothesline Art Sale, but it will look drastically different this year!
The sale will be held on the grounds of Guild Hall, following all social-distancing protocols and government safety guidelines. In the event of rain, the sale will be held on July 26 from 9am-4pm. We will be sure to inform you of any changes that occur prior to the date. Please note, all artwork will be displayed outside. If you do not want your artwork displayed outside but would like to take part in the sale virtually, please email kcurcie@guildhall.org to ensure that your artwork is kept inside.
REGISTRATION 
Registration will be done online ONLY through our website here. The deadline for registration is July 23, 2020 at 12pm. If you have any questions while registering, please email kcurcie@guildhall.org for assistance. 
GUIDELINES
COMMISSION: For this special benefit sale, Guild Hall retains a 50% commission.
We are accepting a maximum of 3 pieces this year, but they may be priced anywhere between $75 to $5,000. Please keep in mind when pricing your pieces that one of the great features of this sale is the accessibility of affordable artwork to the local community. 
MEDIUMS: Oil, acrylic, watercolor, prints, small sculpture, photographs, and collage. No crafts and jewelry. Works need not be framed; however all works on paper must be matted and plastic wrapped for their protection. All other works must have wires, from one side of the frame to the other, for hanging.  No other wires or hook will be accepted. No wet paintings accepted.
PRINTS: Only original prints, such as lithograph, silkscreen, etching, drypoint, and monoprint are acceptable. Posters or reproductions from books, newspapers, magazines or computer print-outs are not acceptable. Please do not submit multiple images of any one print. Giclee prints are only accepted if they have been hand-embellished or are certified as edition 1 of 1.
SIZE: No larger than 45" x 45" including frame. Oversized works will be rejected.
LABELS: You will receive labels for your artwork via email within 7-10 days of registering. Affix labels to the front and back of your work before you deliver to Guild Hall.
DROP-OFF/PICK-UP

Drop-off and pick-up of artwork will be done by reservation only. A link for reserving your time slots will be emailed once you register. If your artwork sells, a member of our staff will contact you to let you know that your pick-up is not needed.
Drop-off:
July 15-17: 2:30pm-5:30pm
July 20-21: 2:30pm-5:30pm
July 22-23: 11:30am-5:00pm
Pick-up:
July 27-31: 11:30am-5:00pm
Artists with sold artwork will receive a check 30 to 45 days after the sale, due to the pandemic. We will contact artists for a W9 in order to process payment. We appreciate your patience and understanding.  
We are so grateful for your continued support and are excited to bring this newly envisioned event to life with your help. Thank you!