BENEFIT EVENT
CLOTHESLINE ART SALE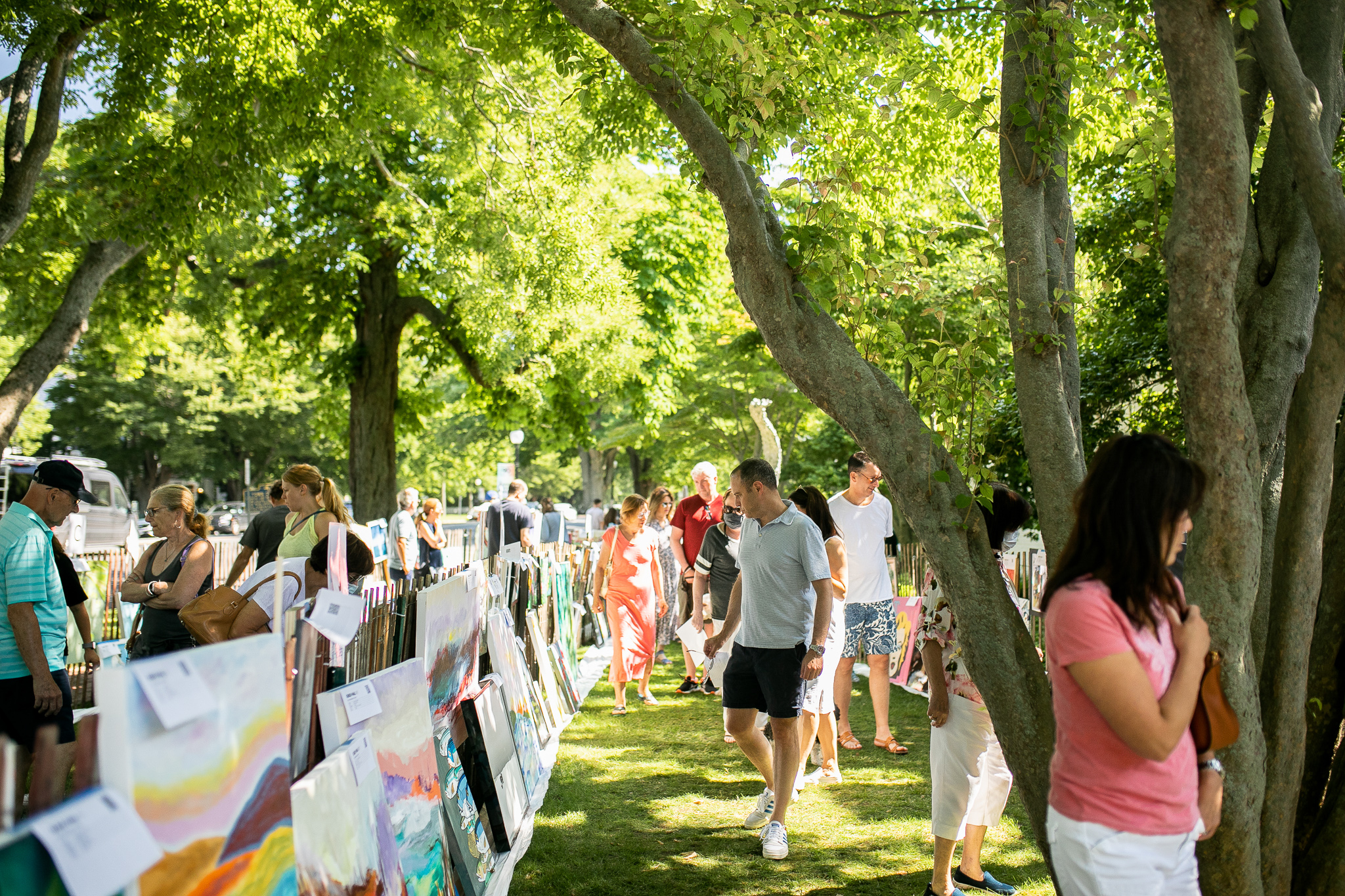 Overview
The Clothesline Art Sale is one of the most beloved and affordable art traditions in the Hamptons since its inception in 1946. For 76 years, it has provided accessible artwork to the community, while supporting the local artists who thrive here. Throughout our history, great artists such as Alfonso Ossorio, James Brooks, John Little, Jackson Pollock, Lee Krasner, and Elaine and Willem de Kooning have shared their talents to support Guild Hall in this unique annual fundraising effort.
Over 230 artists have entered the sale this year, and art lovers everywhere will flock to Guild Hall looking for their next masterpiece. Works range in price from $75 to $3,500, with all proceeds split 50/50 between the artist and Guild Hall.
The 2023 Clothesline Art Sale is dedicated in memory of Barbara McClancy, a longtime volunteer who was the heart and soul of this event.
---
IMPORTANT DETAILS:
– The event will be held BEHIND Guild Hall on Saturday, July 22 from 9 am-2 pm. In the event of rain, the sale will take place on Sunday, July 23 during the same hours.
– Please make sure to bring a phone that has internet access or cellular data in order to purchase art. 
– Please be prepared to show your receipt upon exiting the sale. 
– ONLY CREDIT/DEBIT CARDS WILL BE ACCEPTED—no cash or checks.
– No returns or refunds.
---
PARTICIPATING ARTISTS PLEASE READ CAREFULLY!
PARTICIPATION Artist must be 15 years of age (under 18 must have a signature from a parent or guardian).
Galleries may not participate – artists only. Works shown in past Clothesline Art Sales are not accepted. While it is not necessary to be a member of Guild Hall to participate, your membership is encouraged and appreciated.
ENTRY Each artist is required to pay Guild Hall a $15 registration fee.
MEDIUMS Oil, acrylic, watercolor, prints, small sculptures, photographs, and collage. No crafts or jewelry. Works need not be framed; however, all works on paper must be matted and plastic wrapped for their protection. All other works must have wires, from one side of the frame to the other for hanging. No other wires or hooks will be accepted. No wet paintings accepted.
PRINTS Only original prints, such as lithographs, silkscreens, etchings, and monoprints, are acceptable.
Posters or reproductions from books, newspapers, magazines, or computer prints are not acceptable. Please do not submit multiple images of any one print. Giclee prints are only accepted if they have been hand-embellished or are certified as edition 1 of 1.
SIZE No larger than 45" X 45" including frame. Oversized works will be rejected.
PRICING To keep this sale accessible to all in the community, please follow the below pricing structure. Each artist may submit up to 3 works* (see conditions below). Works are to be priced as follows:
1st work at $500 or less
2nd and 3rd works at $3,500 or less*
Minimum price: $75. All 3 works may be priced at $500 or under.
Note: If work is framed, the price must include the frame. All artists must adhere to this pricing schedule.
COMMISSION For this benefit sale, Guild Hall retains a 50% commission. Artists will be paid within 30 days as long as a W9 is provided.
W9s Please email your W9 form to events@guildhall.org or bring it with you when you drop off your artwork.
LABELING Please label your works with the labels emailed to you before drop off. Use masking tape to attach.
ART DELIVERY Monday, July 17, 10am -3pm Tuesday, July 18, 10am -3pm Thursday, July 20, 12pm-6pm
Appointments are NOT required. Works will NOT be accepted the morning of the sale. Works must be delivered in person.
ART PICK-UP Artwork pick-up is Saturday, July 22, from 3–5pm only. We do not have facilities for storage.
For security purposes, if you, the artist, are not picking up your own work, the name of the party authorized to do so must be provided at registration. Works not picked up shall be deemed abandoned. Guild Hall reserves the right to donate or discard works as it sees fit with no compensation to the artist.
NOTE Guild Hall does not insure artists' work for this show. Guild Hall is not responsible for loss or damage. The general policy of Clothesline Art Sale is to hang artists' work separately, not as a unit