Bel Canto Boot Camp
March Sunday Matinées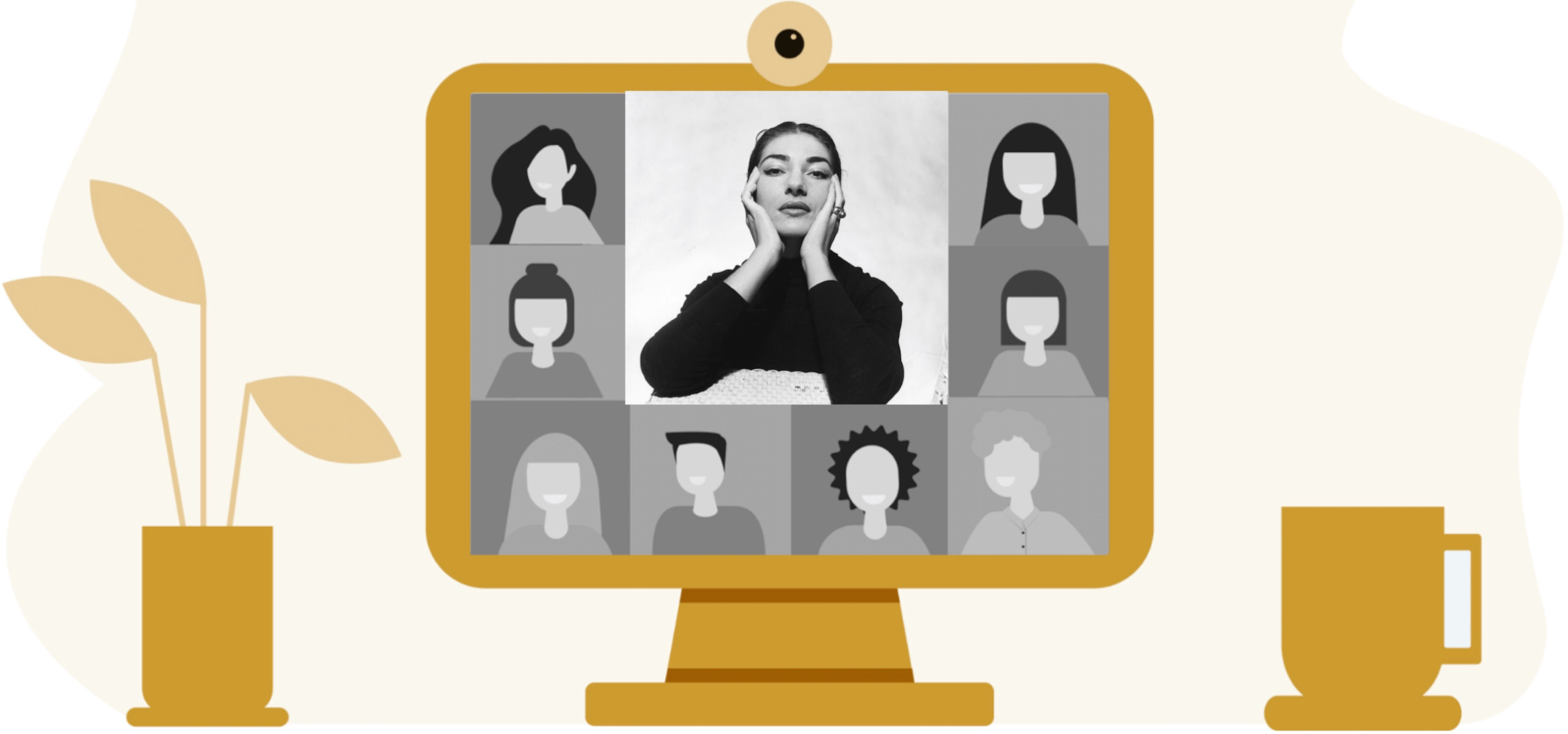 Overview
For the past three months, every Sunday at 3 o'clock dozens of singers and lovers of singing from across the world have met to listen topically curated recordings from the past 120 years. Inspired by the success of its Audiophile Society, Bel Canto Boot Camp (BCBC) has expanded their program and collaboration with Guild Hall in a new series, Sunday Matinées. 
Sunday Matinées is a weekly salon series exploring the ways in which we listen, react, and connect with opera and the vocal arts. Led by Rachelle Jonck and Derrick Goff, BCBC cofounders, and Steven Tharp, curator of Audiophile Society and expert on all things recorded, we will learn together what to listen for in historical recordings, and where the technology needs our ears and minds to "fill in" what might not be there. The sessions heavily use the chat feature on zoom, allowing participants to "pass notes" in real time while the music is happening. At a BCBC session, we do not have to wait till intermission to share our thoughts and excitement about what we hear! 
 The March series also includes a special two-part lecture on "The Life and Deaths of Maria Callas," facilitated by guest artist, Will Crutchfield, and a unique focus on the science behind vocal technique.  
SCHEDULE 
How High Can You Go? Whistle Tone Exploration?: Sunday, March 7
A listening-based dive into the vocal register called whistle tone, enabling sopranos to sing the highest of high notes. BCBC is joined by Dr. Kimberly Gratland James of UNLV, Dr. Dana Long Zenobi of Butler University, and whistle-tone expert soprano Julia Radosz for an explanatory discussion of singing in the rafters! 
The Life and Deaths of Maria Callas: Sunday, March 14
What went wrong with Callas? Will Crutchfield joins BCBC to discuss his 1996 New Yorker article on the mystery (article will be sent once registered). 
Listening to Maria Callas: Sunday, March 21
Steven Tharp is rejoined by Will Crutchfield for a curated listening session to follow the discographical traces left by the diva. 
Looking at Singing: Sunday, March 28
The past several decades saw an explosion of technology developed to understand and explain the human voice – the only instrument we can hear but not see! Join BCBC and our resident voice science experts as we discuss what great singing looks like. 
Rachelle Jonck

Rachelle Jonck is a South Africa-born coach/pianist/conductor based in New York City. She is the Principal Coach of Teatro Nuovo and teaches at Westminster Choir College. Above all these her first love is her private coaching studio. While her main field of study is bel canto, she often explores the wider applications of its principles in other styles and languages. Last summer she led Rossini's La gazza ladra at the Rose Theater from the fortepiano as part of Teatro Nuovo's 2019 season. She received an honorable mention in the Conducting Category of the Annual Excellence in Opera Awards (aka a Freddie). She was amazed that she made it onto quite the illustrious list of conductors while sitting down and not conducting. She is technologically challenged so this entire endeavor is basically a miracle brought about by an amazing team of people – she can take no credit for anything making it all the way from her brain to computer and phone screens around the globe! If she is not busy with Bel Canto Boot Camp she is doing Kinstretch® or cooking her way through her favorite cookbooks. rachellejonck.com

Derrick Goff

Derrick Goff is an alumnus of the Metropolitan Opera's Lindemann Young Artist Development Program and will return to the MET music staff as an Assistant Chorusmaster next season.  Derrick has recently accompanied art song recitals at the Bruno Walter Auditorium in New York and at Caramoor. He has enjoyed many years of collaboration with Rachelle and Will Crutchfield at Teatro Nuovo, a continuation of the young artist program of Bel Canto at Caramoor, where he is resident as a coach, chorusmaster, and Italian teacher. Despite mostly now being paid to play the piano, he holds degrees in organ and voice from Westminster Choir College. Derrick is always looking for something new to learn about a foreign language (сейчас он хочет говорить по-русски) and can often be found with an alarmingly large iced coffee struggling to finish the NYTimes crossword. 

Steven Tharp

Missouri-born tenor Steven Tharp's operatic credits include performances with the Metropolitan Opera, New York City Opera, Netherlands Opera, among many other houses. Handel and Mozart are well represented in Mr. Tharp's repertoire of more than 60 operatic parts, and his keen interest in 18th- and early 19th-century opera has led to many roles in operas of Gluck, Haydn, Scarlatti, Conti, and others. In concert, Mr. Tharp has appeared with the New York Philharmonic, Chicago Symphony, Philadelphia Orchestra, and the Cleveland Orchestra, among others. His concert repertoire includes the Bach, Mozart, Handel, and Haydn masterpieces of the 18th and 19th century and extends to Elgar's Dream of Gerontius, Schönberg's Gurre-Lieder, the Verdi Requiem, and Britten's War Requiem. A dedicated song recitalist, Mr. Tharp has appeared at New York's Metropolitan Museum of Art, the 92nd Street Y, Carnegie's Weill Hall, venues in Europe, Japan, and South America. His interest in musical theater and cabaret led to his appearance in 3 Tenors in Search of an Act in a sold-out run at Don't Tell Mama in New York. Steven has recorded for Decca, Delos, Newport, Albany and Naxos, earning a Grammy Award nomination. He has also served as stage director for the Manhattan School of Music and for Caramoor. He lives in Columbia, Missouri with his adorable Westie, Hector, and is Associate Professor of Voice at the University of Missouri. 

Dr. Kimberly Gratland James

Dr. Kimberly Gratland James, Mezzo-Soprano, joined the UNLV School of Music faculty in 2017 as an Assistant Professor with more than 20 years of professional performance and teaching experience in vocal music. Previously, she was an Associate Professor of Music at the University of Montana, where she primarily taught applied voice, voice pedagogy, and diction for singers. 

Dr. James maintains an active performance career, particularly as a concert artist and recitalist. She has performed in concert with the London Sinfonietta, the New World Symphony, the Los Angeles Symphony, and on stage with New Orleans Opera, Chautauqua Opera, Opera Theatre of St. Louis, among other organizations. Her performance repertoire is quite diverse, encompassing oratorio works by Bach, operatic repertoire from Purcell to Adamo, and concert works by Verdi, Mahler, Ravel, and contemporary composers. She is passionate about culturally-situated art and looks forward to exploring Las Vegas and the U.S. Southwest, Mexico, and the Central & South Americas in performance venues and repertoire. 

James's growing passion for bridging the gap between the hard sciences and singing began in 2008 when she completed a vocology certificate program at the National Center for Voice and Speech under Dr. Ingo Titze. Her work has been published in the Journal of Voice(multi-institutional research study) and Journal of Singing (book review). She presents posters and invited sessions regularly at regional, national, and international conferences. Dr. James is a member of the Pan American Vocology Association (PAVA) and has been an active leader in the National Association of Teachers of Singing (NATS) at the local, regional, and national levels, as well as the College Music Society (CMS). 

In addition to her vocology certificate, James also earned degrees from Texas Christian University (B.S.), Rice University (M.M.), and Indiana University (Performer Diploma, D.M.A). 

Dana Long Zenobi

An active recitalist and concert performer, Dana Long Zenobi's work as an interpreter of art song by women composers has garnered both regional and national attention. On the opera stage, she has earned critical acclaim for roles ranging from Mozart heroines Donna Elvira and Konstanze to Verdi's Violetta Valéry. She appeared in the American Premiere of Philip Glass's Waiting for the Barbarians with Austin Opera, and performed with Lyric Opera Cleveland in the first production of Mark Adamo's Little Women directed by the composer. 

Zenobi has taught Vocal Diction, Vocal Pedagogy, Song Literature and first-year Theory and Ear Training, as well as an interdisciplinary course in Music and Gender Studies. Her studio teaching was nationally recognized in 2014, when The American Prize competition issued her an "Inspiration in Teaching" award. 

Zenobi created Southwestern University's Sarofim Vocal Competition for high school singers. She also founded BELTA.org, a nonprofit that provides free crowdfunding services and entrepreneurial support to artists and musicians. She holds a dual degree in Music and Women's Studies from Duke University, as well as both an MM and a DMA from The University of Texas at Austin. 

Will Crutchfield

Will Crutchfield has divided his opera career between conducting, musicology, and education. As Director of Opera for the Caramoor International Music Festival from 1997 to 2017, he has conducted over 30 titles by Rossini, Donizetti, Bellini and Verdi with the Orchestra of St. Luke's and soloists including Lawrence Brownlee, Angela Meade, Vivica Genaux, Ewa Podleś, Sumi Jo, Jennifer Larmore, Georgia Jarman, John Osborn, Michael Spyres, and Hei-Kyung Hong. He has also held posts as Music Director with the Opera de Colombia (Bogota) and Principal Guest Conductor of the Polish National Opera (Warsaw), and has made guest appearances with many theaters, including the Rossini Opera Festival (Pesaro), the Canadian Opera Company, the Washington National Opera, and the Minnesota Opera among others. For Ricordi and the Fondazione Rossini he prepared the critical edition of Aureliano in Palmira, also conducting the production at Pesaro that won first place as "Best Rediscovered Work" in the 2015 International Opera Awards. In the same year he was named a Fellow of the Guggenheim Foundation in recognition of his operatic work, and in 2017 he was named as one of Musical America's thirty "Movers and Shapers" for his leadership in innovative training and performance. He has contributed articles on historical performance practice to the New Grove Dictionaries of Music and numerous scholarly journals, and is currently completing a book on the same subject for Oxford University Press. 
Event Sponsors
Education Programming supported by The Patti Kenner Arts Education Fellowship, Lucy and Steven Cookson, The

Wunderkinder

Foundation, the Helen Frankenthaler Foundation, Milton and Sally Avery Arts Foundation, and funding from the Lewis B. and Dorothy Cullman Endowment Fund, and The Melville Straus Family Endowment

All Musical Programming supported in part by The Ellen and James S. Marcus Endowment for Musical Programming

The Met Opera simulcasts at Guild Hall are made possible in part through the generosity of:  Grand Tier: Dr. Ralph Gibson, in memory of Andy Jacobyansky, who generously shared his passion, knowledge and support for the opera, The Ellen and James S. Marcus Endowment for Musical Programming, Howie and Louise Phanstiel, The East Hampton Star, and Norbert Weissberg, in memory of his brother, Dr. Joseph H. Weissberg, a Wagner scholar 
 
Dress Circle: Maureen Bluedorn, Norma Giorgetti in memory of Mary-Anne Szabaga, Barbara Horgan, Patti Kenner, Alex Laughlin, David Seeler and Ngaere Macray, Maryam K. Seley, and Irene and Sidney Silverman 
 
Balcony Circle: Gabrielle Bamberger, Harriet Edwards, Jeannette and H. Peter Kriendler Charitable Trust, Laughlin Memorial Library, Mr. and Mrs. Robert Osborne, Stephen F. Patterson in memory of George W. Stewart, Veronica Stephens, Mary Stone, Sandra Thorn, Peter Van Hattum in memory of Harold Simmons 
 
Family Circle (*Gold): Carolyn and Gioacchino Balducci, Arlene Bujese and Marcel Bally*, Ann and George Davis, Robert F. Luckey*, Pamela and Robert Lund, Marcia Previti and Peter Gumpel*, Cornelia and Lawrence Randolph, Debbie and Alex Walter*, and Jane Wood 
Become a Sponsor