GUILD HALL: OFFSITE
The Church and Guild Hall present Behind the Work: The Jazz Continuum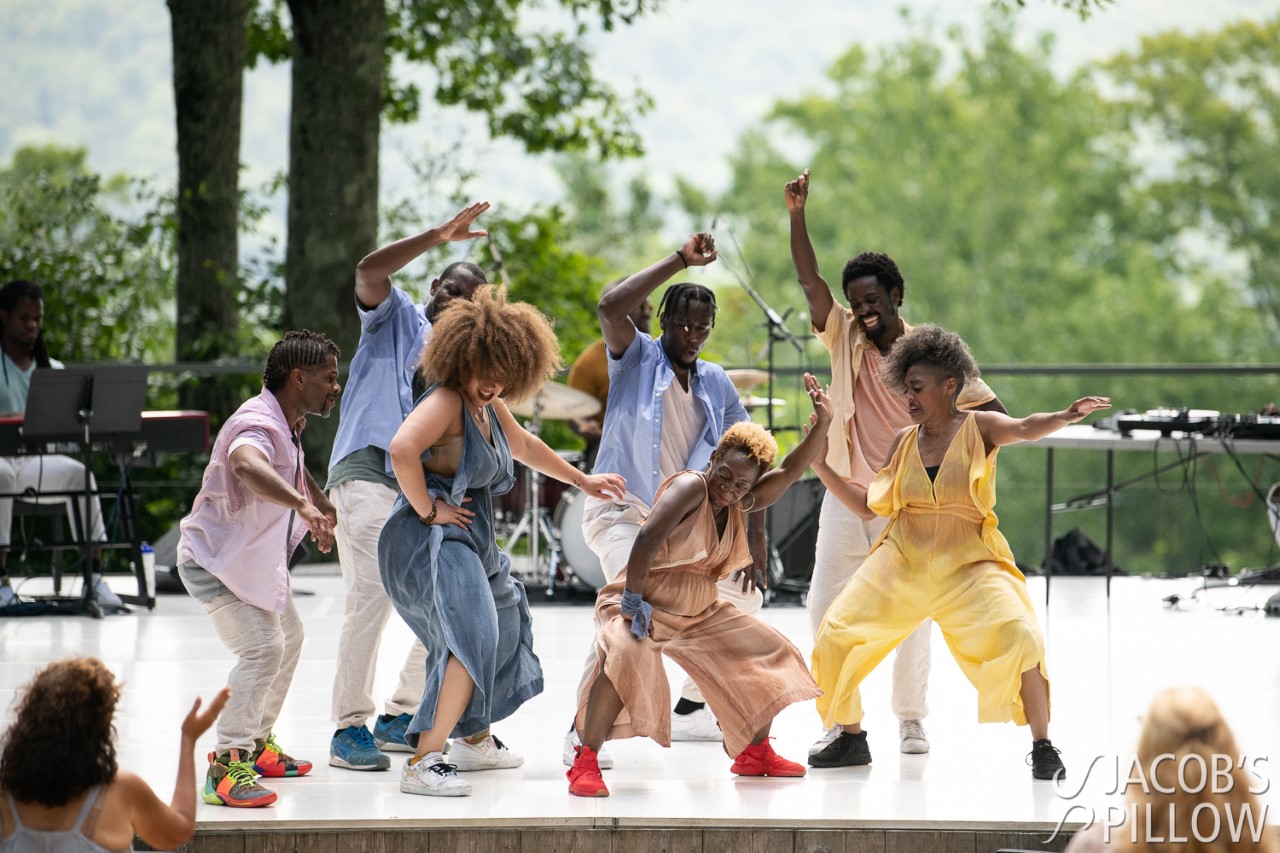 Overview
Join us for an in-depth conversation with Bessie Award Winner, dancer, choreographer, educator, and Tradition-bearer of Black American Social Dance, LaTasha Barnes. Programmed as part of LaTasha Barnes' residency at The Church, the conversation will focus on the development of Barnes' most recent project, The Jazz Continuum, which will premiere at the Joyce Theatre in Fall 22.
The Jazz Continuum centers the prolific artistry of Jazz music and dance as a cornerstone of Black American dance forms. Through this project, LaTasha Barnes and her cast of masterful dancers and musicians embody, amplify, and showcase the power of Jazz dance and Lindy Hop to their personal dance journeys and the artform as a global phenomenon. Barnes reaches back nearly 100 years, making the connection between the dances that sprang from America's Black jazz music to today's house and hip hop dance vernacular. Each performer embodies their personal dance and music journeys, investigating the energetic and generative relationships within Jazz and Lindy Hop as they share their imaginings of its reapplication.
The conversation will be moderated by The Jazz Continuum's costume director, Mary Jane Marcasiano. Joining LaTasha Barnes in conversation will be collaborator Reyna Nunez and other members of the project. 
Behind the Work is an ongoing series at Guild Hall that brings together performing arts collaborators for an open dialogue on the creative process and development of new works. This iteration of the series is presented with The Church as part of Guild Hall's 2022 OFF-SITE Season. Behind the Work is co-produced with Mary Jane Marcasiano.
LaTasha Barnes

Awarded a 2021 Bessie for Outstanding Performer, LaTasha Barnes is an internationally recognized dancer, choreographer, educator, and Tradition-bearer of Black American Social Dance from Richmond, VA. She is globally celebrated for her musicality, athleticism, and joyful presence throughout the cultural traditions she bears: House, Hip-Hop, Waacking, Vernacular Jazz, and Lindy Hop, among them. Barnes' expansive artistic, competitive and performative skills have made her a frequent collaborator to Dorrance Dance, Singapore based Timbre Arts Group, Ephrat Asherie Dance, and many more. The NY Times said of her most recent collaboration with Caleb Teicher in Swing Out: "Barnes is especially extraordinary for the way the past and the present can pass through her..." Barnes leadership and business skills have placed her in positions of service as Chair of the Board of Trustees for Ladies of Hip-Hop FestivalR, Vice President of Marketing & Outreach for the International Lindy Hop Championship, Co-director HellaBlackLindyHop, Board Member of the Black Lindy Hoppers Fund, the Frankie Manning Foundation and a contributing member to the NEFER Global Movement Collective. Expanding the scope of impact for the communities she serves, Barnes completed her selfdesigned Masters in Ethnochoreology, Black Studies and Performance Studies thru New York University Gallatin School (2019). Her thesis and continuing research are working to bridge the gap between communities of practice and academic cultural dance research, performance, preservation and pedagogy. In concert with these efforts, she is deeply honored to be a part of the Brain Trust that developed the ground- breaking stage production Swing Out, bringing the passion and power of Lindy Hop and its community to the concert stage. Barnes is also honored to be the visionary and Artistic Director of the intergenerational and intercommunal cultural arts experience The Jazz Continuum, supported and presented by Guggenheim Works & Process and Jacob's Pillow Dance Festival in 2021. In support of this dialogue, Barnes is a contributing author to the forthcoming text Rooted Jazz Dance: Africanist Aesthetics and Equity in the Twenty-First Century - Univ. FL Press (2021). Ensuring future artists and dance scholars maintain authentic cultural context as they move through the world bearing forth Black dance traditions, Barnes joined the faculty of Arizona State University School of Music, Dance & Theater as Asst. Prof of Dance in fall, 2021. Across all her efforts, Barnes' eternal purpose is to inspire fellow artists and arts enthusiasts to champion artivism through cultivating an authentic sense of self and intention in their creative expressions and daily lives.

Mary Jane Marcasiano

Mary Jane Marcasiano designs costumes for dance, film, theater, and performing artists. Marcasiano founded her eponymous design company in 1978, after graduating from Parsons School of Design, and has received the Cartier, DuPont, Cutty Sark, and Wool Knit Awards. Marcasiano has designed costumes for DanceBrazil, the New York City Ballet, RythMEK at Jacob's Pillow, Cleo Parker Robinson Dance, and Michael Thomas Lab Dance Company. In 2009 Marcasiano collaborated with artist Eric Fischl on costumes for his suite of sculptures, "Ten Breaths ", exhibited in galleries and museums in Germany.
Event Sponsors
The Jazz Continuum Residency at The Church was made possible by funding from Sara R. Throne, Treasurer of The SHS Foundation and the support of Guild Hall of East Hampton.

Guild Hall's Learning & Public Engagement programming is supported by The Patti Kenner Arts Education Fellowship, The Hearthland Foundation, Stephen Meringoff, Susan and Stephen Scherr, and funding from the Lewis B. and Dorothy Cullman Endowment Fund, and The Melville Straus Family Endowment.

The Jazz Continuum was supported and presented by Guggenheim Works & Process and Jacob's Pillow Dance Festival in 2021.
Become a Sponsor