Art Break
with Elizabeth Karsch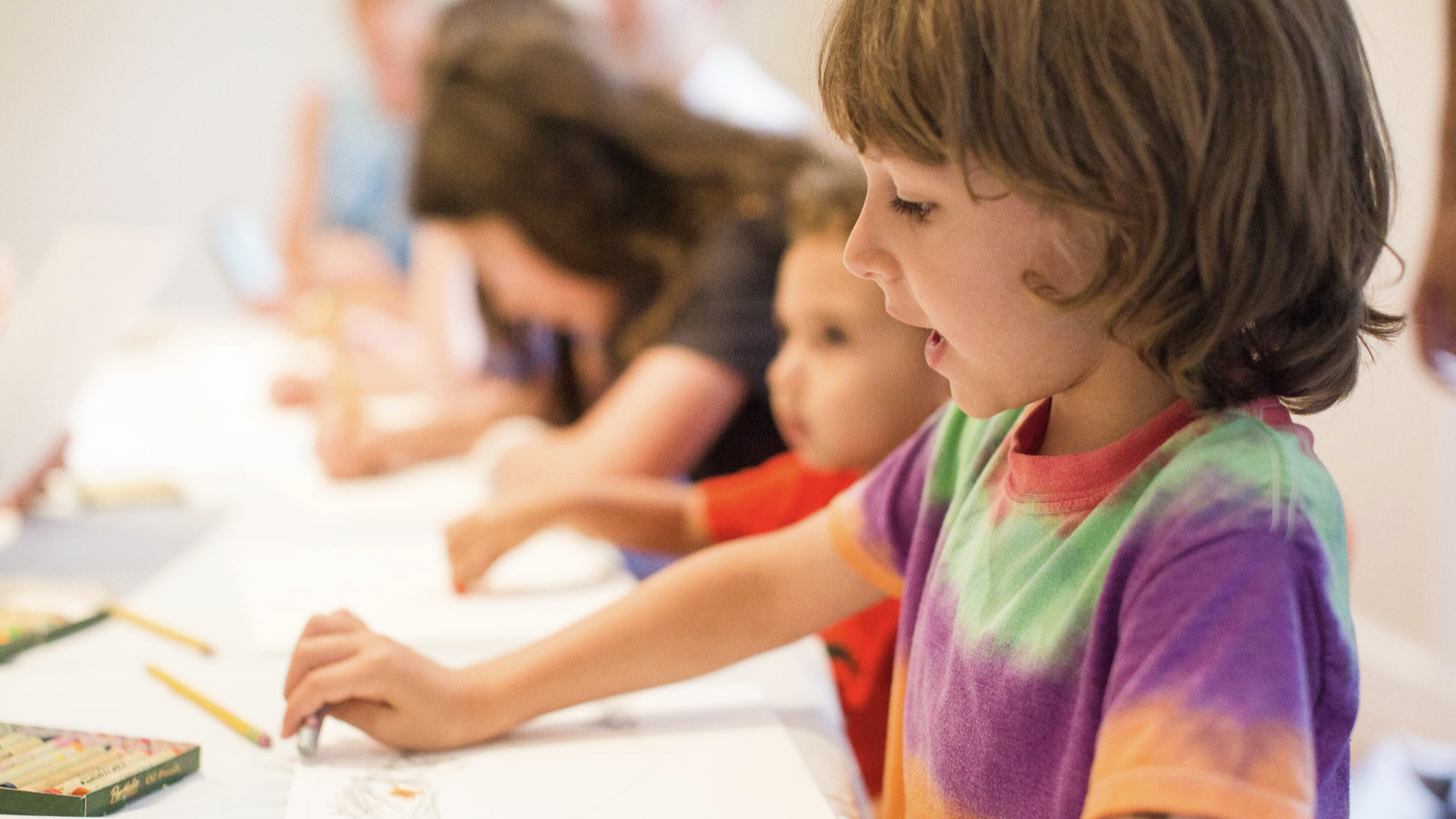 Overview
Guild Hall invites you into the studios of our closest artist friends and supporters for a weekly art break. Utilizing simple materials found at home, learners of all ages will explore new ways of bringing creativity into their everyday by virtually visiting and creating with an East End artist.  
In this episode, join artist Elizabeth Karsch and her family for a workshop on artist release: 
"Navigating through life's challenges can be difficult, especially while we shelter at home, but mark-making offers a simple way to tap into and release some of the feelings we're experiencing. Making quick pencil lines, painting smooth brush strokes, or smudging charcoal onto paper offers a physical release of our internal chatter and a bit of therapeutic relief.  We might "map out" a feeling with compositional arrangements, or paint a certain color to represent someone we long for. There are no mistakes because it's all about the process, and a funny-looking mark or an unintentional drip of paint will offer a new way to look at the situation.  Paint it over, tear it up, or leave it alone to ponder its possibilities…"
Materials List:
paper, cardboard, or other flat surface to paint/draw on
any paint (watercolor, acrylic, old house paint)
colored pencils or crayons 
pastels or charcoal (if available)
paintbrush
water
dishtowel or rag
New episodes, led by a different artist, will be posted on our website and Instagram each Friday afternoon at 1pm. If you post your art to social media, be sure to hashtag it with #GHARTBREAK
Elizabeth Karsch

Elizabeth Karsch is a visual artist in Sag Harbor, NY.  Born in New York City in 1980 and raised on Long Island, Karsch is a 2002 graduate of Skidmore College, Saratoga Springs NY, and studied at Studio Art Centers International in Florence, Italy.  She has lived on the East End since 2004 and finds the dramatic shifts of energy in the region to influence her work heavily; from the quiet solitude of winter months to the intensity of the summer frenzy, her mixed-media paintings are reflections of the world around her and she channels this energy into the marks on each page.  Color, line and form is an alternative language for the artist, as she uses her studio process to work through personal challenges and to create visual manifestations of her mind's internal chatter. 
Event Sponsors
All Education Programming supported by The Patti Kenner Arts Education Fellowship and Lucy and Steven Cookson, with additional funding by Kate W. Cassidy Foundation, Lewis B. and Dorothy Cullman Endowment Fund, The Melville Straus Family Endowment, and Catherine Freudenberg Traykovski – The Freudenberg Arts Foundation.
Become a Sponsor