Art as Ecosystem: Building Community through Artist-led Transformative Spaces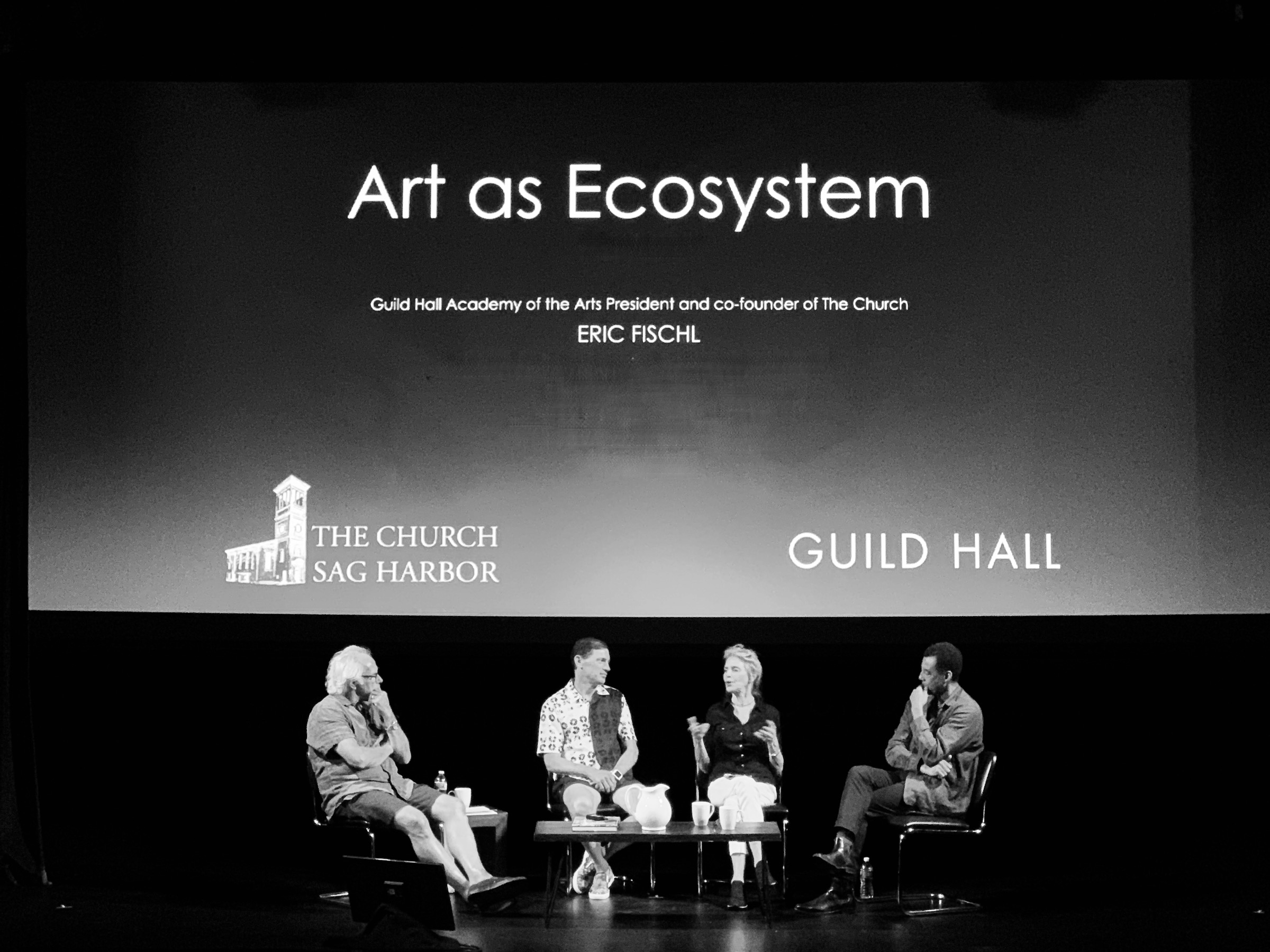 Overview
A Zoom Conversation with Eric Fischl (The Church), Stephen Petronio (The Petronio Residency Center) and Emily Simoness (SPACE on Ryder Farm)
Moderated by Mary Jane Marcasiano
As multi-dimensional members of the art ecosystem, these three artists have elaborated on or transformed their original artistic careers to include community building. What motivated these art innovators to expand their work to include social issues and community? What were the most significant challenges in envisioning and building their actual physical spaces? How do they define community in the context of their projects? How do they consider equity issues within their programming?
 In 2019, Eric Fischl, Guild Hall, and The Church launched a new series of talks, ART AS ECOSYSTEM, drawing together artists and arts advocates for a conversation examining the art ecosystem's health, looking beyond the current focus on the "Art Market." 2019 Part one brought together FLAG Art Foundation's Glenn Fuhrman, Roy Lichtenstein Foundation President Dorothy Lichtenstein, and MacArthur Genius artist Rick Lowe. The conversation continued with the series second talk between Christine and Andy Hall of the Hall Art Foundation, renowned President of New York Academy of Art, David Kratz, and business strategist and PaceX CEO, Christy MacLear. Guild Hall and The Church are continuing this series in 2021 with two new conversations, focusing on building community through artist-led transformative spaces.
Presented by the Guild Hall Academy of the Arts in association with the Church, produced by Mary Jane Marcasiano and co-produced by Elise Trucks.
Free or suggested donation to support Guild Hall.
A link to the private Zoom will be emailed to ticket holders 24 hours in advance. If you purchase a ticket after that, the link will be emailed automatically in your ticket receipt. Please note that you do need to be signed up for a free Zoom account ahead of time to attend.
Eric Fischl

Eric Fischl is an internationally acclaimed American painter and sculptor. His artwork is represented in many distinguished museums throughout the world and has been featured in over one thousand publications. His extraordinary achievements throughout his career have made him one of the most influential figurative painters of the late 20th and early 21st centuries.

Fischl was born in 1948 in New York City and grew up in the suburbs of Long Island. He began his art education in Phoenix, Arizona where his parents had moved in 1967. He attended Phoenix College and earned his B.F.A. from the California Institute for the Arts in 1972. He then spent some time in Chicago, where he worked as a guard at the Museum of Contemporary Art. In 1974, he moved to Halifax, Nova Scotia, to teach painting at the Nova Scotia College of Art and Design.

Fischl's paintings, sculptures, drawings and prints have been the subject of numerous solo and major group exhibitions and his work is represented in many museums, as well as prestigious private and corporate collections, including The Metropolitan Museum of Art, The Whitney Museum of American Art, The Museum of Modem Art in New York City, The Museum of Contemporary Art in Los Angeles, St. Louis Art Museum, Louisiana Museum of Art in Denmark, MusÈe Beaubourg in Paris, The Paine Weber Collection, and many others. Fischl has collaborated with other artists and authors, including E.L. Doctorow, Allen Ginsberg, Jamaica Kincaid, Jerry Saltz and Frederic Tuten.

Eric Fischl is a Fellow at both the American Academy of Arts and Letters and the American Academy of Arts and Science as well as President of the Academy at Guild Hall.

He lives and works in Sag Harbor, NY with his wife, the painter April Gornik.

Mary Jane Marcasiano

A recent NYU Gallatin masters graduate, Marcasiano is a fashion designer, film producer and social entrepreneur. After founding her eponymous design company in 1978, she was honored with the Cartier, DuPont, Cutty Sark and Wool Knit Awards, and now designs costumes for dance, film, theater and Grammy winning singer and Unicef Ambassador Angelique Kidjo. She serves as director of special projects and development to Cinema Tropical, a nonprofit promoting Latin American cinema in the US, and to IMPACT Repertory Theater in Harlem, a performance/education program for under-resourced community youth. In 2007 Marcasiano created the Made with Love Project, dedicated to raising funds for women and children in need in Brazil, Africa, and Haiti through design and production. A recurring theme in Marcasiano's work is the culture of Africa and the African Diaspora and her master's thesis concerned itself with the intersection of Art, Nonprofits and Social Change. She is currently working on turning her thesis UpScale: Scaling Up Nonprofit Capacity by Putting the Tools into the Hands of the Stakeholders into a book. Her current areas of concern are decolonizing, reframing and reimagining the nonprofit space through self-representation and how can nonprofits return to their community roots. She is currently designing costumes for a new theatre production Yemandja with Kerry James Marshall, Angelique Kidjo and Cheryl Lynn Bruce.

Stephen Petronio

For over 35 years, Stephen Petronio has honed a unique language of movement that speaks to the intuitive and complex possibilities of the body informed by its shifting cultural context. He has collaborated with a wide range of artists in many disciplines over his career and holds the integration of multiple forms as fundamental to his creative drive and vision. He continues to create a haven for dancers with a keen interest in the history of contemporary movement and an appetite for the unknown. Petronio was born in Newark, New Jersey, and received a B.A. from Hampshire College in Amherst, Massachusetts, where he began his early training in improvisation and dance technique. He was greatly influenced by working with Steve Paxton and was the first male dancer of the Trisha Brown Dance Company (1979 to 1986). He has gone on to build a unique career, receiving numerous accolades, including a John Simon Guggenheim Fellowship, awards from the Foundation for Contemporary Performance Arts, New York Foundation for the Arts, an American Choreographer Award, a New York Dance and Performance "Bessie" Award, and a 2015 Doris Duke Performing Artist Award. His latest project is a book titled IN ABSENTIA, an intimate book that captures the traces of SPC's season lost during the 2020 pandemic. It is a limited edition of 100 signed and numbered and is available at www.petron.io for purchase.

Emily Simoness

Emily Simoness is an entrepreneur, teacher, facilitator, speaker and the Co-Founder and Executive Director of SPACE on Ryder Farm. Emily founded SPACE in 2011 and under her leadership artists and activists including Clare Barron, Alta Buden, Nia DaCosta, Samuel D. Hunter, Branden Jacobs-Jenkins, Rupi Kaur, Young Jean Lee, Kylie Manning, Antoinette Nwandu, Carmen Perez, Johnny Perez, Adam Rapp, Sarah Ruhl, Arabelle Sicardi, Shaina Taub, Rebecca Traister, Mfoniso Udofia and Hope Wabuke have developed new works. In 2019, Emily's growing vision for SPACE was instrumental in joining the nonprofit artist residency program with Ryder Farm's farming operation. A former actress, Emily worked at some of the premier theatrical venues in the nation including The Public Theater and Williamstown Theatre Festival. Additionally, she has developed and taught acting curriculum for NYU and The North Carolina School of the Arts. Outside of her core work in the arts, Emily is a consultant for Bi-Jingo, a management development firm that specializes in communication and leadership skills for executives; she is certified in Myers-Briggs Type Indicator Steps I and II. In 2015 she gave a talk at TEDx Broadway and currently serves on the TEDx Leadership Board. Emily holds a BFA in acting from UNCSA where she was the inaugural Kenan Arts Research Fellow. For eight years, she sat on the Board of Directors for Ryder Farm Incorporated, the family shareholder body that owns and operates Ryder Farm. In 2017, Emily was honored with the Lucille Lortel Visionary Award by the League of Professional Theatre Women. Emily co-founded TieDyen4Biden that helped raise over $165,000 for Democratic candidates during the 2020 election cycle.
Event Sponsors
Theater Programming supported in part by the Helen Frankenthaler Foundation, Barbara Slifka, The Schaffner Family Foundation, Brown Harris Stevens, Michael Balmuth, Lang Insurance, Marders, and funding from The Ellen and James S. Marcus Endowment for Musical Programming and The Melville Straus Family Endowment.
Become a Sponsor