Art as Ecosystem
Eric Fischl with Andy and Christine Hall, Christy MacLear, and David Kratz presented in association with The Church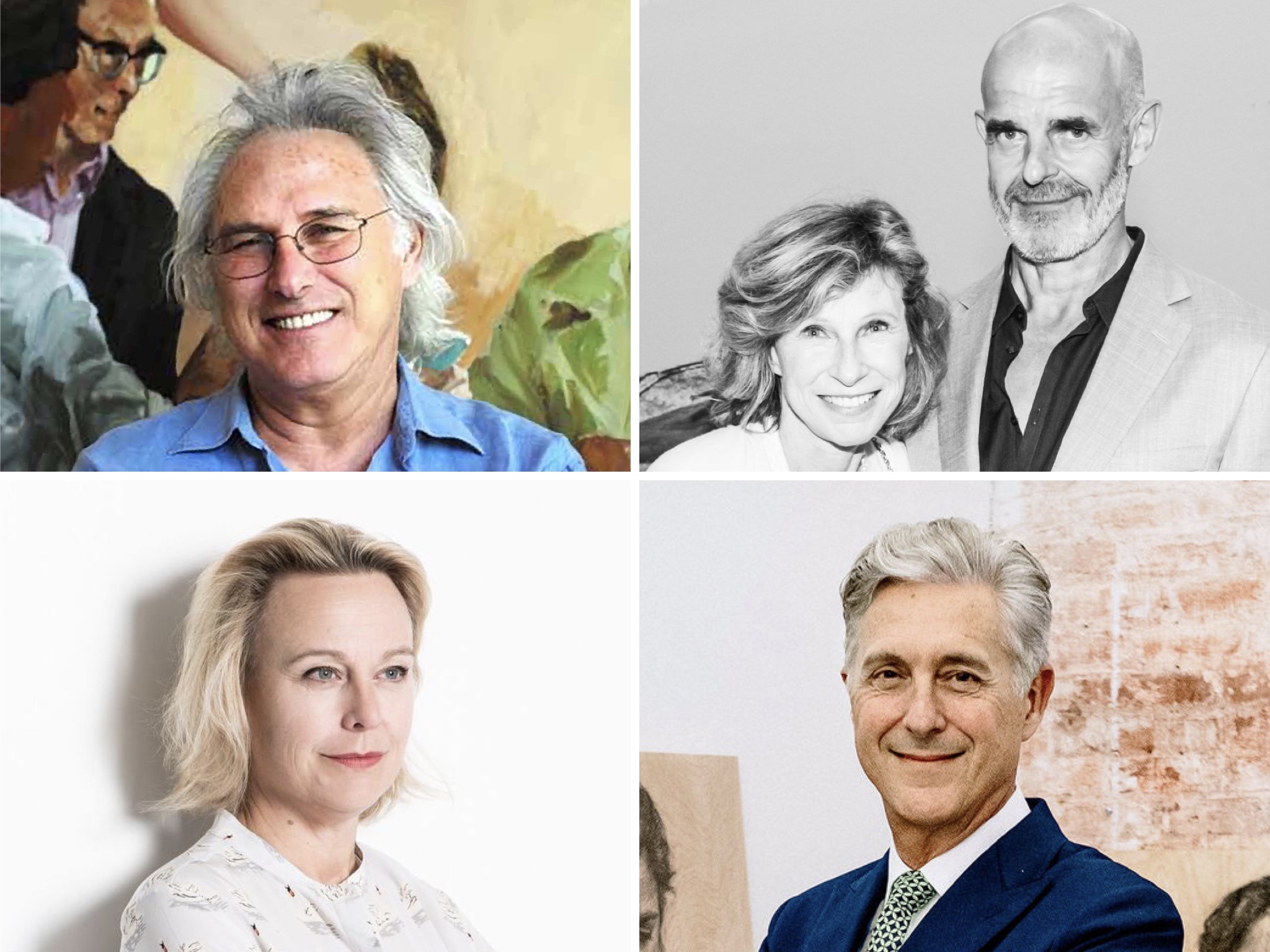 Overview
Guild Hall's Academy of the Arts President Eric Fischl draws together experts to measure art's health and vitality in the second edition of his ground-breaking series. Join Christine and Andy Hall of the Hall Art Foundation; renowned President of New York Academy of Art, David Kratz; and business strategist and PaceX CEO, Christy MacLear to explore art's ecosystem. Take the pulse of the art world with this remarkable collection of art world insiders.
Andrew and Christine Hall

The Hall Art Foundation was founded in 2007 and makes available postwar and contemporary art works from its own collection and that of Andrew and Christine Hall for the enjoyment and education of the public.

The Hall Art Foundation operates two museum spaces:

Hall Art Foundation | Schloss Derneburg Museum is situated in Derneburg, near Hannover, Germany. Originally a fortified castle, the history of Schloss Derneburg stretches back almost one thousand years. For several centuries a monastery, then a residence for the Anglo-Hanoverian Munster family, since 1976 the current Schloss was the home and studio of artist, Georg Baselitz until its sale in 2006. Since then, and in cooperation with the Schloss Derneburg Museum gGmbH, the Schloss has been reunited with the adjacent domain and both have undergone extensive renovations to become a public museum space for the Hall Art Foundation.

Hall Art Foundation | Reading, Vermont is situated on a former dairy farm in Vermont. The site consists of a converted 19th-century stone farmhouse and three barns located in the village of Reading. In 2017, the campus of converted galleries expanded with a new reception center in a nineteenth century clapboard home. Exhibitions are held there seasonally, from May through November, and are open to the public by appointment.

The Hall Art Foundation also has an exhibition partnership with the Massachusetts Museum of Contemporary Art, in North Adams, Massachusetts, the largest contemporary art museum in North America. In September of 2013, the Foundation opened a long-term installation of sculpture and paintings by Anselm Kiefer in a specifically repurposed, 10,000 square-foot building on the MASS MoCA campus. In 2014, the Foundation landscaped the area surrounding this building in order to present long-term installations of outdoor sculpture.

The Hall Art Foundation collaborates with other public institutions around the world to organize exhibitions and facilitate loans from its own collection and that of the Halls. As part of its educational activities, it has published, co- published and/or provided substantial financial support for the publication of about a dozen books relating to the exhibitions it has organized and co-organized.

Together, the Hall and Hall Art Foundation collections comprise over 5,000 works by several hundred artists including Richard Artschwager, Georg Baselitz, Joseph Beuys, Olafur Eliasson, Eric Fischl, Joerg Immendorff, Anselm Kiefer, Malcolm Morley, A. R. Penck, Julian Schnabel, Ed Ruscha, Andy Warhol and Franz West.

Christy MacLear

Christy MacLear has never held a job that existed before.  She's a business strategy person in the cultural realm with expertise in working with artists, realizing start-ups, preservation and place-making.  

She is presently working with Eric Fischl and April Gornik in forming their Foundation and the renovation of the historic church in Sag Harbor to be a cultural incubator; assisting the Eliot Noyes family restore their modernist home as a center for CEO and design leader dialogues; and leading the business strategy for a global slate of Experiential Art Centers.  She was the inaugural director of both the Robert Rauschenberg Foundation and the Philip Johnson Glass House; lead the movement of Lake Shore Drive in Chicago to create a lakefront park and lead the strategy of Disney's new town development called Celebration.  She has a BA from Stanford, MBA from Wharton and serves on the Board of Trustees for Stanford University and Board Chair for the Municipal Arts Society.  

David Kratz

David Kratz is a painter and the President of the New York Academy of Art. In 2008, he received an MFA from the Academy, where he focused on figurative art and won the Vasari Prize for best-in-show painting at the MFA Thesis exhibition. Kratz has shown in group exhibitions at the New York Academy of Art, Lodge Gallery and Sotheby's, and at Eden Rock Gallery in St. Barth. Prior to attending the Academy, Kratz was the founder and CEO of Magnet Communications, a leading public relations firm. A graduate of Dartmouth College and Boston University School of Law, Kratz has served on the boards of Citymeals-on-Wheels, the Lifelines Center, and the New Group, as well as helping to found One Day's Pay. He became president of the Academy in 2009, and since then developed a new strategic plan, spearheaded a facilities renovation and expansion, overseen the Academy's accreditation from the National Association of Schools of Art and Design and the Middle States Commission on Higher Education, and organized some of the most successful fundraising events the Academy has seen.

Eric Fischl

Eric Fischl is an internationally acclaimed American painter and sculptor. His artwork is represented in many distinguished museums throughout the world and has been featured in over one thousand publications. His extraordinary achievements throughout his career have made him one of the most influential figurative painters of the late 20th and early 21st centuries.

Fischl was born in 1948 in New York City and grew up in the suburbs of Long Island. He began his art education in Phoenix, Arizona where his parents had moved in 1967. He attended Phoenix College and earned his B.F.A. from the California Institute for the Arts in 1972. He then spent some time in Chicago, where he worked as a guard at the Museum of Contemporary Art. In 1974, he moved to Halifax, Nova Scotia, to teach painting at the Nova Scotia College of Art and Design.

Fischl's paintings, sculptures, drawings and prints have been the subject of numerous solo and major group exhibitions and his work is represented in many museums, as well as prestigious private and corporate collections, including The Metropolitan Museum of Art, The Whitney Museum of American Art, The Museum of Modem Art in New York City, The Museum of Contemporary Art in Los Angeles, St. Louis Art Museum, Louisiana Museum of Art in Denmark, MusÈe Beaubourg in Paris, The Paine Weber Collection, and many others. Fischl has collaborated with other artists and authors, including E.L. Doctorow, Allen Ginsberg, Jamaica Kincaid, Jerry Saltz and Frederic Tuten.

Eric Fischl is a Fellow at both the American Academy of Arts and Letters and the American Academy of Arts and Science as well as President of the Academy at Guild Hall.

He lives and works in Sag Harbor, NY with his wife, the painter April Gornik.

The Church

The mission of the Sag Harbor Church (The Church) is to foster creativity on the East End and preserve the great history of Sag Harbor as a "maker" Village.

 

The Church will celebrate old and new technologies as an incubator for future generations through collaboration, education and outreach.
Event Sponsors
All Education Programming supported by The Patti Kenner Arts Education Fellowship, with additional funding by an anonymous donor, Kate W. Cassidy Foundation, Lewis B. and Dorothy Cullman Endowment Fund, and The Melville Straus Family Endowment. All Theater Programming is supported in part by Ellen Myers, Marders, the Daryl & Steven Roth Foundation, and funding from The Ellen and James S. Marcus Endowment for Musical Programming, The Harold and Mimi Steinberg Charitable Trust, Hess Philanthropic Fund, The Melville Straus Family Endowment, The Schaffner Family Foundation, and Vital Projects Fund, with additional support from Brown Harris Stevens, Saunders & Associates, and public funds provided by Suffolk County.
Become a Sponsor