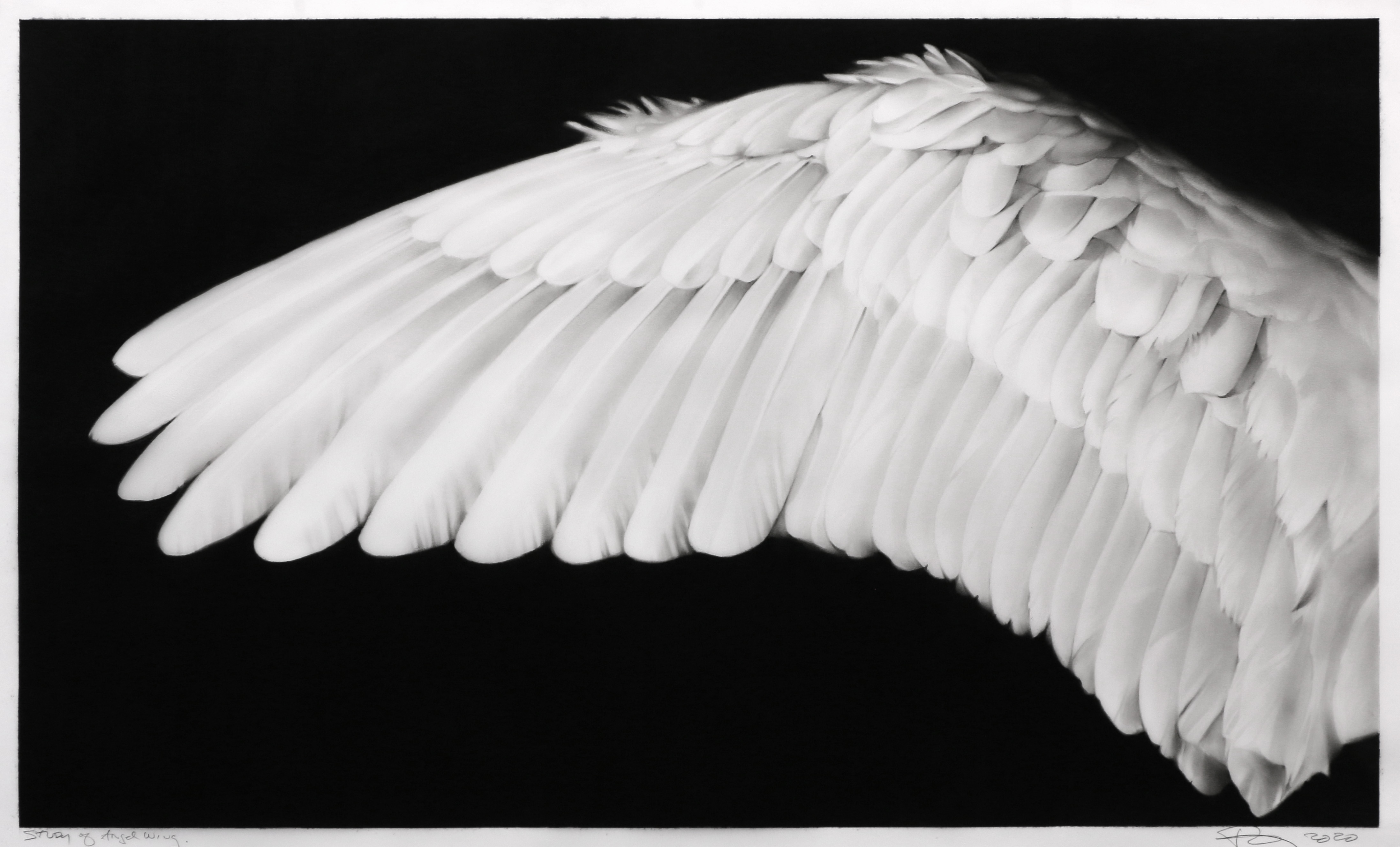 Overview
Ever since I was a child, I have been envious of birds.
The feeling of flight–the gesture of simply outstretching my arms and lifting up to fly, the rush of air underneath–it is a feeling I find myself contemplating far more during these strange trying days of the virus as I imagine us all being lifted up out of this dark storm.
The first version I made of this drawing was not translucent or bright enough to successfully evoke that sensation; I re-made the drawing so it would appear to softly glow from within, playing on the light as it passes through the translucent vellum to the paper behind it. In making this work, I referenced several different images of swan wings so the drawing would have an uncanny artificiality, conjuring a utopic dream. I wanted this drawing to possess an ethereal quality, a real image of Hope.
 – Robert Longo
Renowned American artist Robert Longo has mobilized 60 artists to donate artworks for a special benefit exhibition supporting Guild Hall, the historic multidisciplinary center that has long served the artist community of Long Island's East End. In response to the ongoing impact of the COVID-19 pandemic, All for the Hall includes painting, sculpture, photography and new site-responsive installations by such artists as Laurie Anderson, Philippe Cheng, Jeremy Dennis, Eric Fischl, Rashid Johnson, Shirin Neshat, Enoc Perez, Dorothea Rockburne, Ugo Rondinone, Clifford Ross, Cindy Sherman, Kiki Smith, Karin Waisman, and Robert Wilson, among many others. The museum exhibition will be on view at Guild Hall from August 8 through December 31, 2020, with a corresponding virtual gallery here. All works are available for purchase at accessible price points starting at $500, with all proceeds benefiting Guild Hall. 
Prior to the COVID-19 pandemic, Guild Hall had planned a solo exhibition dedicated to Longo this summer. As the scale and impact of this crisis became known and Guild Hall was forced to cancel its annual Summer Gala and Auction, Longo suggested postponing the exhibition and leading this alternative fundraising initiative, alongside Guild Hall's Museum Director and Chief Curator, Christina Mossaides Strassfield, who is curating the exhibition. The exhibition follows a recent stage fundraiser that was also initiated by the artist community, a virtual staged reading of Same Time, Next Year, directed by Bob Balaban and featuring Alec Baldwin and Julianne Moore. 
Since it was founded in 1931, Guild Hall has served as a cultural cornerstone of Long Island's East End and as a resource for the artist communities that have long existed in the Hamptons. The benefit exhibition reflects the commitment and long-standing relationship between the center and area artists that has developed over the years. The artists featured in All for the Hall include internationally renowned artists as well as those with local acclaim, united by their personal connections to East End, having lived, worked, or consistently visited the region.
PARTICIPATING ARTISTS
John Alexander, Laurie Anderson, Alice Aycock, Elena Bajo, Jules de Balincourt, Kirsten Benfield, Ross Bleckner, Dianne Blell, Ellen Carey, Philippe Cheng, Chuck Close, Renee Cox, Jennifer Cross, Rob Davis, Jeremy Dennis, Anh Duong, Eric Fischl, Margaret Garrett, Ralph Gibson, Wade Guyton, Michael Halsband, Hiroyuki Hamada, Val Hindra, Sheree Hovsepian, Judith Hudson, Bryan Hunt, Yung Jake, Rashid Johnson, Ilya & Emilia Kabakov, Jon Kessler, Bill Komoski, Robert Longo, Katherine McMahon, Joel Mesler, Steve Miller, Sam Moyer, Warren Neidich, Shirin Neshat, John Noestheden, Paulina Olowska, Dennis Oppenheim, Tony Oursler, Carol Peligian, Enoc Perez, Dorothea Rockburne, Alexis Rockman, Ugo Rondinone, Clifford Ross, Toni Ross, David Salle, Mason Saltarrelli, Matthew Satz, Bastienne Schmidt, Cindy Sherman, Taryn Simon, Kiki Smith, Ned Smyth, Adam Straus, Billy Sullivan, Sara VanDerBeek, Karin Waisman, Nick Weber, Robert Wilson, Lucy Winton, Darius Yektai, Nico Yektai, and Almond Zigmund.
Robert Longo

Robert Longo (b. 1953) is a New York-based artist, filmmaker, and musician. After attending Buffalo State University New York, he moved to New York City in 1977. That same year, he showed in Pictures curated by Douglas Crimp, the first exhibition to contextualize a young group of artists who were turning away from Minimalism and Conceptualism and instead towards image-making, inspired by newspapers, advertisements, film, and television. Longo became known as a leading protagonist of the "Pictures Generation," working across drawing, photography, painting, sculpture, performance, and film.

His work is represented in numerous major museums and private collections all over the world, including the collections of the Museum of Modern Art, the Guggenheim Museum, and the Whitney Museum of American Art, in New York; The Broad Collection, the Los Angeles County Museum of Art, and the Museum of Contemporary Art in Los Angeles; the Art Institute of Chicago; the Centre Georges Pompidou in Paris; and the Albertina in Vienna. Robert Longo lives and works in New York and is represented by Metro Pictures, NYC and Galerie Thaddaeus Ropac, London, Paris, Salzburg.
Event Sponsors
Principal Sponsors: Lucio and Joan Noto, Kathy Rayner, and Leila Straus
Lead Sponsors: Fern and Lenard Tessler
Co-Lead Sponsors: Bloomberg Philanthropies, The Ronald and Jo Carole Lauder Foundation, Steve Martin and Anne Stringfield, Amanda and Donald Mullen, and the Yurman Family Foundation
Additional Support: Linda and Gregory Fischbach, Agnes Gund, The Hayden Family Foundation, Dayna and Steve Novenstein, Janet C. Ross, Nicole Salmasi, Alice and Tom Tisch, and Jane Wesman and Donald Savelson
Special Thanks To: Barbara and Richard Lane
Media Sponsor: Galerie Magazine
Additional Support: Akris Museum Programming supported in part by the Helen Frankenthaler Foundation, public funds provided by New York State Council on the Arts with the support of Governor Andrew M. Cuomo and the New York State Legislature, an anonymous donor, Crozier Fine Arts, and funding from The Michael Lynne Museum Endowment, The Melville Straus Family Endowment, and The Lorenzo and Mary Woodhouse Trust Free admission is generously funded by BNB Bank and Landscape Details Special thanks to VJS Studio, Custom Picture Framers, East Hampton, NY and Saunders & Associates
Become a Sponsor