All for the Hall Benefit Art Auction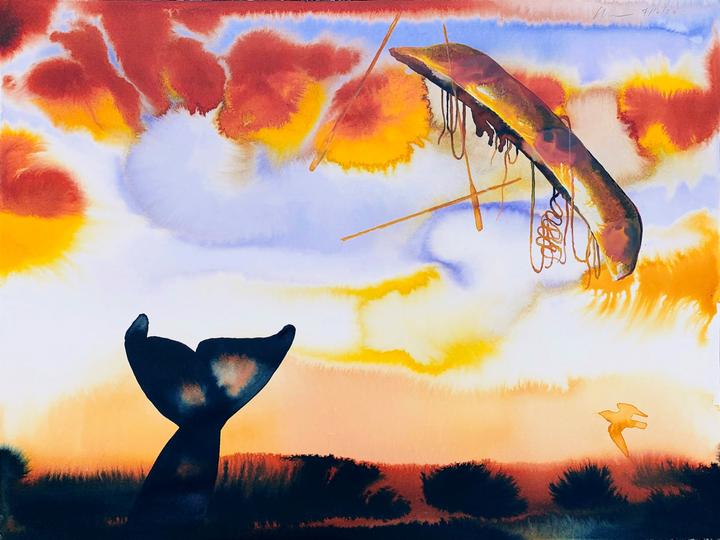 Overview
GIVE THE GIFT OF ART WHILE SUPPORTING GUILD HALL
ALL FOR THE HALL BENEFIT ART AUCTION
Organized by Robert Longo
Click HERE to shop!
In 2020, renowned American artist Robert Longo mobilized 60 artists to donate artworks in support of Guild Hall. In response to the ongoing impact of the COVID-19 pandemic, the All for the Hall benefit exhibition included paintings, sculpture, and photography by such artists as Laurie Anderson, Elena Bajo, Philippe Cheng, Renee Cox, Jennifer Cross, Jules de Balincourt, Jeremy Dennis, Eric Fischl, Michael Halsband, Bryan Hunt, Rashid Johnson, Katherine McMahon, Warren Neidich, Shirin Neshat, Enoc Perez, Dorothea Rockburne, Alexis Rockman, Ugo Rondinone, Clifford Ross, David Salle, Cindy Sherman, Kiki Smith, Karin Waisman, and Robert Wilson, among many others. The museum exhibition was on view at Guild Hall from August 8 through December 31, 2020.
Only a few works are still available, so don't miss this unique opportunity to purchase incredible art while supporting Guild Hall.
Click HERE to give the gift of art!
Robert Longo

Robert Longo (b. 1953) is a New York-based artist, filmmaker, and musician. After attending Buffalo State University New York, he moved to New York City in 1977. That same year, he showed in Pictures curated by Douglas Crimp, the first exhibition to contextualize a young group of artists who were turning away from Minimalism and Conceptualism and instead towards image-making, inspired by newspapers, advertisements, film, and television. Longo became known as a leading protagonist of the "Pictures Generation," working across drawing, photography, painting, sculpture, performance, and film.

His work is represented in numerous major museums and private collections all over the world, including the collections of the Museum of Modern Art, the Guggenheim Museum, and the Whitney Museum of American Art, in New York; The Broad Collection, the Los Angeles County Museum of Art, and the Museum of Contemporary Art in Los Angeles; the Art Institute of Chicago; the Centre Georges Pompidou in Paris; and the Albertina in Vienna. Robert Longo lives and works in New York and is represented by Metro Pictures, NYC and Galerie Thaddaeus Ropac, London, Paris, Salzburg.
Event Sponsors
All for the Hall Sponsors:
Principal Sponsors: Lucio and Joan Noto, Kathy Rayner, and Leila Straus
Lead Sponsors: Fern and Lenard Tessler
Co-Lead Sponsors: Bloomberg Philanthropies, The Ronald and Jo Carole Lauder Foundation, Steve Martin and Anne Stringfield, Amanda and Donald Mullen, and the Yurman Family Foundation
Additional Support: Linda and Gregory Fischbach, Agnes Gund, The Hayden Family Foundation, Dayna and Steve Novenstein, Janet C. Ross, Nicole Salmasi, Alice and Tom Tisch, and Jane Wesman and Donald Savelson
Special Thanks To: Barbara and Richard Lane
Media Sponsor: Galerie Magazine
Additional Support: Akris

Guild Hall's museum programs are made possible by the New York State Council on the Arts with the support of the Office of the Governor and the New York State Legislature, an anonymous donor, Peggy J. Amster, Crozier Fine Arts, and funding from The Michael Lynne Museum Endowment, and The Melville Straus Family Endowment.

Free gallery admission is generously funded by Dime Community Bank and Landscape Details.
Become a Sponsor